By David Ellis.
We're told that there are something like 1,368 different grape varieties used in the world-wide making today of wines under pure varietal labels, and in myriad multi-grape blends.
While increasing numbers of adventurous Aussie vignerons are growing more and more of these varietals, and equally adventurous Aussie winemakers are enjoying making more and more wines from them, it's to be hoped that equally adventurous wine buffs will put their hands in their pockets and have a try of these pure varietals and blends that, let's face it, most of us have never heard of.
One such is a wonderful white called Pinot Bianco that's now being made by Calabria Family Wines at Griffith in the NSW Riverina. This is a varietal that has its origins in Italy, and Chief Winemaker Bill Calabria whose ancestral home was Southern Italy, made it with fruit off vines he imported from his homeland in 2005 to grow there in the Riverina – whose climate is very much akin to Italy's.
Bill is one of no more than a dozen Australian growers of the variety in mainly Victoria, Tasmania and the Riverina, his Calabria Private Bin Pinot Bianco having a soft and creamy palate loaded with flavours of ripe peach, grapefruit and hints of fresh garden herbs. You'll find it ideal with pasta (naturally) served with salmon or other seafood sauces, roast chicken with garden herbs and lemon sauce, or soft and Swiss style cheeses.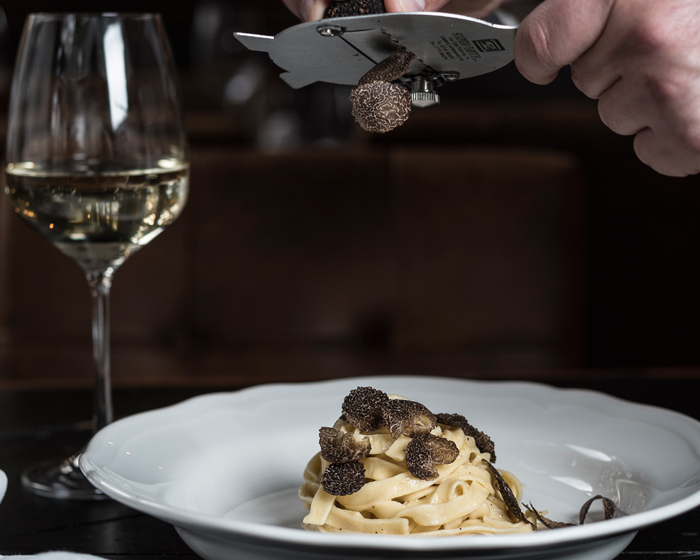 We recommend Otis Dining Hall's Canberra Black Truffle Tagliatelle.
Bill's asking price for this quite unique wine is just $14.95.
One to note: Clare Valley winemakers Tim Adams and Brett Schutz blended fruit from four Clare vineyards to craft their rewardingly flavoursome 2014 Tim Adams Shiraz.
"The 2014 vintage in the Clare Valley felt positive from the word go, with flavour profiles, natural acidity, colour and tannin in the reds looking fantastic at an early stage," Brett said.
"This wine has a strong regional and varietal definition, and further complexity and richness has been built through 24 months of American oak maturation. And it finishes with integrated oak and firm, structural tannins brought about by the warm, dry ripening period leading in to the 2014 vintage," he said.
A great drop to enjoy now, it is also worthy of tucking away to enjoy even more anytime over the next ten years. Pay a nicely-priced $25, and share it with barbequed beef ribs, roast duck or a chilli beef stew.