Because Everything Vegan Somewhere
Vegetarian Times publications are widely read across the globe, offering westernized rhetoric on vegetarianism and veganism which now includes their latest 2011 release entitled Everything Vegan.Though meatless cooking may not be prominent in the menu design of the majority of reknowned chefs, the great ones do acknowledge that to serve extraordinary meat free cuisine requires a mastery of the basics and additional training on palatable alternatives that will inspire eaters.Foodies require diversity in dining and in their kitchens.We can not make a general promise with regards to contemporary restaurants' approach to vegetarian and vegan cooking; however, we can offer that in the pages of Everything Vegan, compassionate vegan cooks will discover more than 250 varied recipes that are fun and easy.
I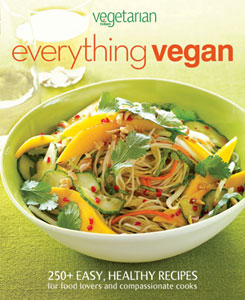 Some Shopping May Be Required for Newbie Vegans
Vegan food lovers who know the basics will require a few resources to prepare the sumptuous dishes lining the pages of their new green hard cover copy of Everything Vegan. If your pantry isn't already lined with the majority of ingredients required, we encourage a bit of grocery shopping. It is definitely worth the spend and a bit of effort - the delicious ends justifies the means.Beginner vegan cooks need only remind themselves how healthy the entire process truly is. For those in need of a reminder or general opinion seekers on the topic of veganism, the foreword by Neal D. Barnard, MD is about the about the empowerment of vegan foods.
Dr. Barnard's conclusion gives reason enough for adopting a vegan lifestyle in that the cuisine itself is typically less caloric, the dishes you eat effectively satisfy your appetite, and at the end of a vegan meal your metabolism shifts into a higher gear, aiding in digestion.Simmering on that, when selecting a few recipes to mention I gravitated to a few problem solver listings; one of the challenges of going veg-o in my mind (and I'm not alone) is food cravings, for cheese and chocolate in particular. Foodies are often fond of their wine and cheese spreads which highlights one of Everything Vegan's many strengths; they fully acknowledging that omnivorous diets are challenging to maintain because of this lack and as such have graced us with not one but four cheese recipes in their "Cheese, Please!" section.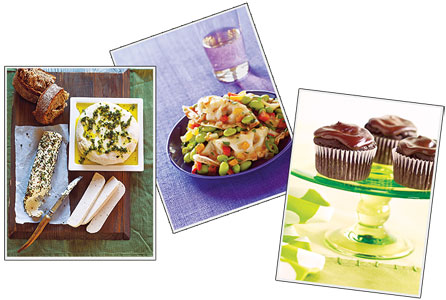 A Few Picks - Recipes for Emerging Vegans (Store Bought Gyoza Allowed)
On our website you will find reference to Almond 'Feta'Cheese with Herb Oil, found on p.21 of Everything Vegan, which makes one 10-oz. round, which in itself can be baked so that it's like a crumbly feta or left as is to be smooth and spreadable as in cream cheese.You'll need a cheesecloth and fresh thyme and rosemary to finish while the other ingredients are even simpler still:blanched almonds, lemon juice, olive oil, garlic and salt.That's it for a healthy dose of cheese!For the chocolate lover (who isn't?) the Glazed Chocolate-Avocado Cupcakes on p. 286, described in good company of other sweet sensations as the book draws to a close, is an exquisite option and is currently seasonal as avocados in autumn are ripe for the picking. We know cooks always have eyes wide open for innovative ways to make a nice n' moist cupcake and this vegan innovation is a welcome addition.
With a cultural climate promoting health and nutrition, ever growing in popularity amongst discerning foodies, the availability of quality literary resources on the matter, including cookbooks, is ever expanding. Everything Vegan sets out a course of menu ideas for celebratory occasions, such as the "Passover Seder" or "Easter Dinner" as food for thought. Though the scope of their layout on the whole is pretty standard, rather than organize by meal plans they categorize the recipes based on when you're cooking in a standard meal order: Chapters include familiar categories such as starters, then drinks, followed by rice and whole grains, and include specialized vegan subject matter represented in sections like tofu, tempeh, and seitan or easy beans and lentils, guiding you all the way to baked goodies – sauces and marinades are included at the end (though in no way should they be an afterthought).It's fun to try something new and Everything Vegan offers a simple and straightforward approach to vegan cooking with gentle reminders for newbies not to go vegan only to op for convenience foods, such as chips and soda.
Thinking Like a Vegan
Those who forgo meat and take the vegan plunge are well advised to do so with good intentions, aiming to fill their plates with vegetables and fruits, beans and wholegrains. Other resources are included in this cookbook alongside the recipes, helpful hints such as their "Dip Tip" is emblematic of the vegan way of thinking. For example, the average sous chef may prepare carrots and celery sticks to pair with hors d'oeuvre dips while a vegan –seasoned in the art of vegetable selection- is likely to think in terms of variety, including plantain or banana chips, Belgian endive leaves, or yellow squash rounds in their spread, probably with a number of other crunchy seasonal delights.Whether you're throwing yourself wholeheartedly into vegan living, cooking ethically and optimizing your waistline, or trying to diversify your salad spread and vegetarian culinary knowledge, Everything Vegan is colourful read full of information outlined in a refreshing "too easy" kind of way.
Everything Vegan is a Vegetarian Times publication released in 2011 distributed in Australia by Wiley http://au.wiley.com/WileyCDA/WileyTitle/productCd-047054788X.html
Review by AGFG staff writer Kelly Korpesio