By Leigh O'Connor.
Like many great dishes, the classic French tarte tatin is said to have been born out of culinary clumsiness.
Legend has the tarte's origins in the kitchens of a railway hotel in the town of Lamotte-Beuvron in north-central France. Owned by the two Tatin sisters, this hotel was known at the turn of the 20th Century for its excellent apple tarts; trying to salvage apples cooking too long, Stéphanie covered the top of the pan with a sheet of pastry and voilà tarte tatin was born.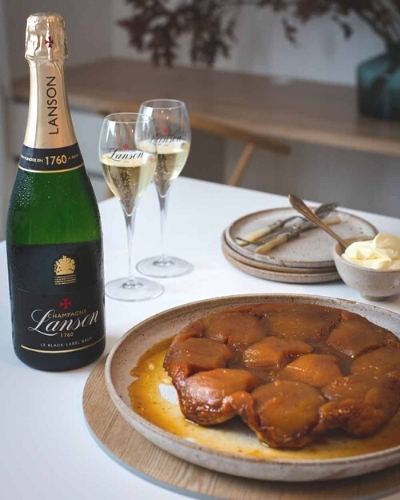 As we prepare to celebrate Bastille Day on Wednesday, July 14 what better dish to serve for any celebration than this
apple and cinnamon tarte
from Celebrity Chef and
Champagne Lanson
Ambassador Justine Schofield.
Host of Channel 10's
Everday Gourmet
and former
MasterChef Australia
star, Justine has partnered with one of the world's oldest Champagne houses Maison Lanson to create bespoke recipes for the brand to match dishes with
Lanson Black Label
and
Lanson Le Rosé
.
Disproving the misconception that Champagne can't be paired with food, Justine's bubbly-inspired dishes were created to not only bring out the flavours of the sparkling wine, but also the ingredients she has chosen.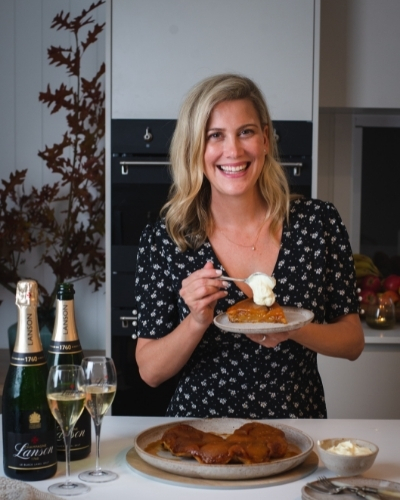 "My decadent apple tarte tatin pairs perfectly with the freshness of Lanson Black Label. It has been such an exciting experience to cook with champagne as the inspiration for the dishes – it took me back to my
MasterChef
days!" Justine tells AGFG.
"I am thrilled to be working with Champagne Lanson, creators of such special and unique champagnes that pair incredibly well with food, which is something many people find a surprise."
With a passion for all things French thanks to her heritage, Justine's love of food and wine makes her the ideal pairing for Lanson.
Established in 1760 in Reims, the capital of the Champagne region, Maison Lanson is one of the oldest and most esteemed champagne houses in France and remains an official supplier to the British Royal Family, since being awarded a Royal Warrant in 1900.
Lanson has also been associated with the Wimbledon tennis championships since 1977 and became the official Champagne at the iconic tournament in 2001.
Champagne Lanson is available now from Dan Murphy's nationally. Black Label RRP $57.99.