By Leigh O'Connor.
Australian Chefs have been exploring our native bush foods for decades, while indigenous Australians have been aware of their many wonderful flavours and properties for more than 40,000 years.
We are now well past the bush tucker phase and into innovative dishes created by Chefs, who are not limited by their imagination, incorporating foraged and native ingredients into recipes that are designed to appease the most discerning palates.
Take Lennox Hastie for example – his Sydney restaurant
Firedoor
uses no gas or electricity yet dishes up amazing fare cooked by two wood-fired ovens, three grills and a wood-burning hearth. He is well known for using native and foraged ingredients celebrating the best Australian produce.
An open kitchen at the restaurant allows guests a clear view of the action as Lennox and his team create mouthwatering offerings like
pipis with garlic and karkalla
. This simple yet delicious recipe is an ideal starter for an Australia Day feast and can also be made with clams or vongoles.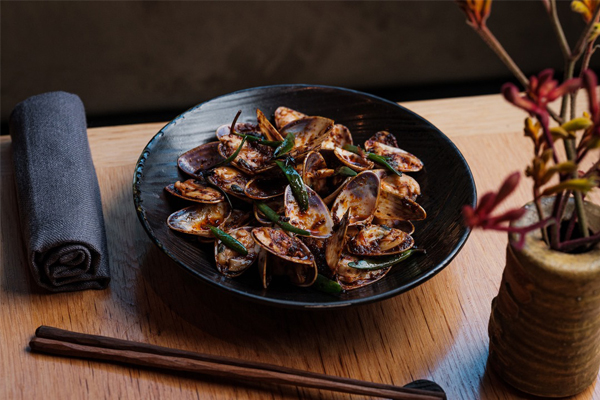 Lennox Hastie's pipis with garlic and karkalla.
Lennox says to prepare the pipis discard any that are chipped, broken or damaged in any way. Tap each one to ensure the shells are tightly closed and discard any that remain open; soak in salted water for 30 minutes to purge any remaining impurities and rinse in freshwater before cooking.
Indigenous Australians traditionally ate karkalla's fruit fresh or dried and paired the salty, fleshly leaves with meat. Also known as 'bain' or 'pig face', this ground-covering bush food succulent is native to coastal regions in Western Australia, South Australia, Victoria and Tasmania and can be used in jams, jellies and cakes, or paired with seafood in savoury dishes.
While Lennox cooks this dish over a wood fire at the restaurant, you can recreate the recipe at home using a cast iron pan. Once cooked, arrange the pipis in a bowl, pour the emulsified juices over and garnish with garlic scapes and karkalla.
Former Caveau Chefs Thomas Chiumento and Simon Evans tell Australia's story through food and their dish of
braised wallaby tail and wild pine mushrooms
came about from wanting to use indigenous meat and at the same time going to pine forests to forage for mushrooms.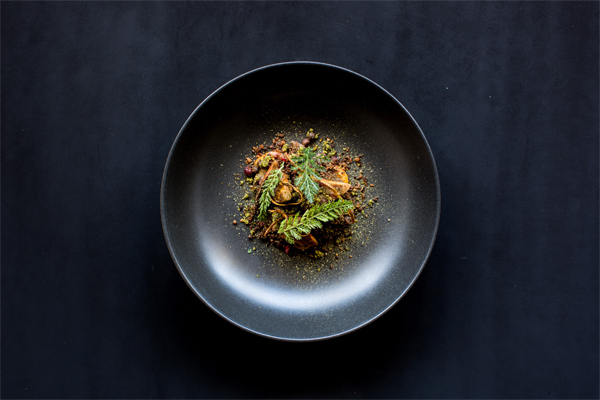 Braised wallaby tail and foraged wild pine mushrooms.
They created a dish from the ingredients they found, plating it to look like the forest floor - such as mushrooms, muntries, macadamias, pine nuts and yarrow leaves. Simon says they wanted to make diners think about the food they eat and why most have not tried, or even heard of some of the ingredients they use.
The wallaby tail is cooked in a cryovac bag in a water bath for about eight hours, or alternatively can be braised in beef stock for six hours until the meat falls away from the bone. Once cooked, remove the bones and place in a saucepan with the reduced beef stock, heat until the stock has been completely reduced and the meat is rich and glossy.
Sauté the pine and enoki mushrooms in hot oil, lightly toast the macadamias, pine nuts, passion berries and raisins until the nuts are golden and the fruit is dehydrated. Blend with rye bread until a large moist crumble is achieved - place meat in the centre of your serving plate, top with muntries, crumb, mushrooms and yarrow leaves.
Davidson plums are known as one of the best native plums, with deep dark purple fruit containing a soft juicy pulp with sharp acidity. This delightful
recipe
from Clayton Donovan is made with Davidson plum to form a sweet and salty reduction, perfect as an accompaniment to lamb, kangaroo, or as Clayton suggests, beignets and roasted vegetables.
For more Australia Day recipes, click
here
.