By Leigh O'Connor.
International travel is looking more and more likely in 2022 as state borders open and we start to plan a dream holiday next year.
First there's Christmas dinner to prepare for family and friends – what better way to get everyone in the mood for more freedom and catching up with worldwide acquaintances than serving a truly global meal on December 25?
We have three great recipes from Italy, Vietnam and France, along with a Bangkok-inspired cocktail to get the festive party started: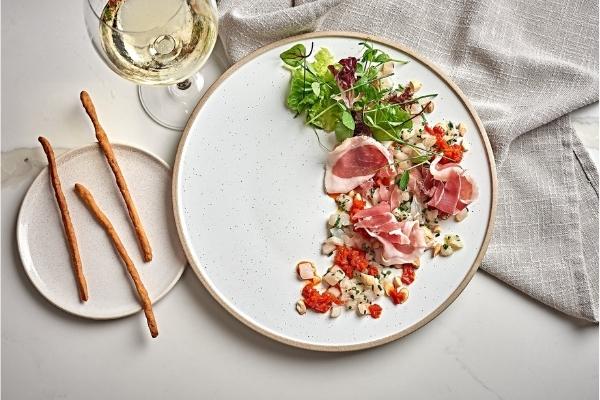 Black kingfish crudo…connecting Queensland, the Hunter Valley and Italy.
This simple, fresh and delicious dish evokes 'surf and turf' elements, marrying the freshest cobia with the finest prosciutto…perfect connectivity between Queensland, the Hunter Valley and Italy, all on one plate.
Take guests to another level with a Christmas main of
caramelised pork hock
, the signature dish from Port Melbourne restaurant
Hanoi Mee
and Chef Ennis Le. Located on Rouse Street, step through the doors to find yourself on the streets of Vietnam, with booth seating and picturesque wall murals promising a memorable dining experience.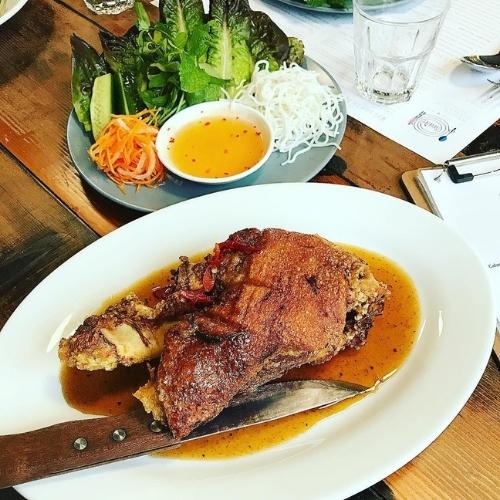 Caramelised pork hock from Hanoi Mee Chef Ennis Le.
The crispy pork hock is served with vermicelli noodles, tamarind caramel sauce, pickled carrot, papaya and daikon, along with nuoc cham sauce; just wait for the look on guests' faces when you place this bad boy in the centre of the table - let your festive feasting begin.
Staying true to French tradition and delivering a refined dining experience,
Bistro Moncur
on Queen Street in Woollahra is an institution on the Sydney culinary scene. With a marble bar, light-filled dining space and black and white wall murals, this elegant venue dishes up decadent temptations like
crème brul

é

e
.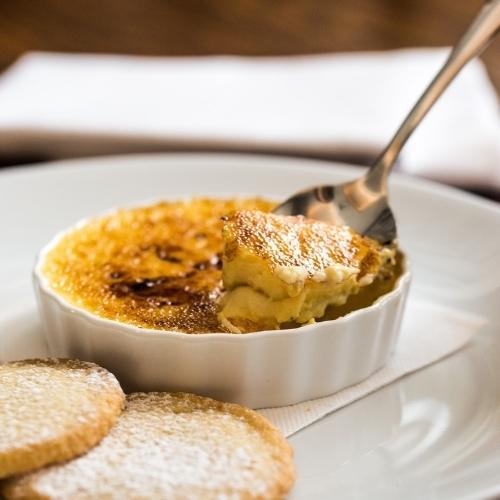 Classic French dessert crème brulee always hits the mark.
Serve this classic French dessert with your favourite tuile, shortbread biscuit, or fresh berries for a Christmas dessert that everyone will remember.
What do you deliver to wash down this global dining extravaganza?
Try this
Bangkok Dangerous cocktail
from vintage-inspired
Canvas Cocktail & Wine Bar
in the heart of Woolloongabba. Delectable drinks, boutique wine, craft beer and rustic food await, so step right in and become part of the living canvas at Brisbane's best kept secret venue.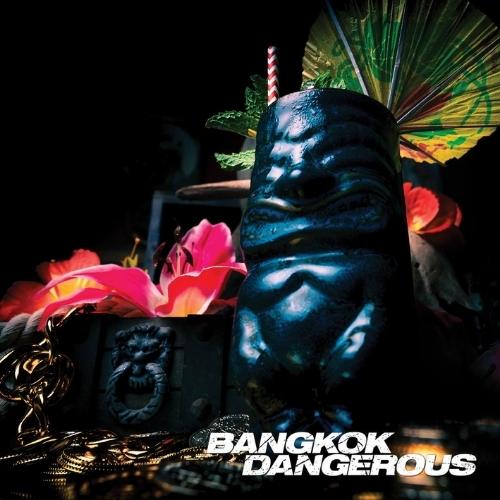 From Bangkok and dangerous…a Christmas cocktail to get the party started.
With two blends of rum, Pedro Ximenez, mango and lime juice, liqueur syrup, vanilla and banana syrup and a dash of walnut bitters, this cocktail epitomises Summer and celebratory sipping.
For more festive dining inspiration, click
here
.