By Freya Ensbey.
The Taste Tweed festival offers a tight schedule to fill your day with as much or as little as you like, ensuring no one's hunger is left unfulfilled. For the adventurous, who enjoy to take in their surroundings while working up an appetite, take to the area on two wheels and witness the sights and scenery that have made this area known as one of the most scenic coastlines of our country.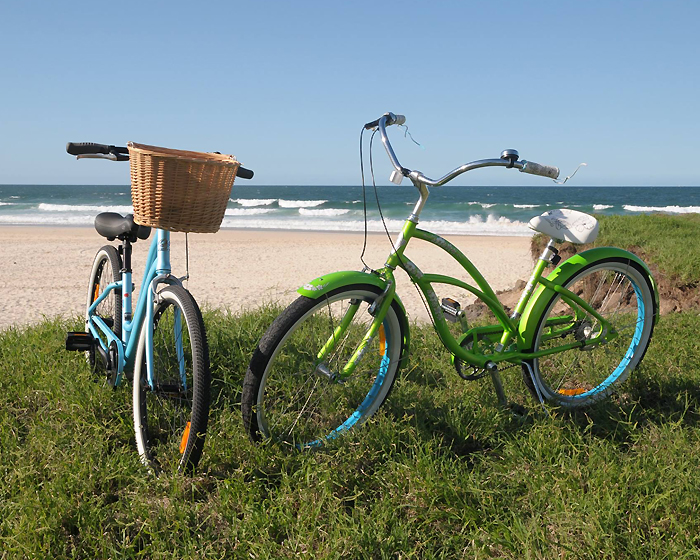 The Tweed Coast offers a number of well-maintained cycleways between Coolangatta, Tweed Heads, Fingal Head, Kingscliff, Casuarina Beach and all the way south to Hastings Point and Pottsville.
For those who are unfamiliar or new to the area, it is suggested to set yourself a trip itinerary to begin with to avoid getting lost. Bikemap is a great place to start to plan your itinerary from start to finish. Once you have a rough idea of where you want to go, you can print your map out or save it to your phone for easy reference along the journey.
You will also need a reliable bike which will get you from A to B without a hiccup. For those in the Cabarita area, we suggest paying a visit to 'Jeff' at Cabarita Beach Cycles along Coast Road. Pick yourself up the perfectly fitted bike or opt for an electric bike for those who prefer to take it a little easier. Family discounts also apply when hiring as a group.
If you are staying in the Kingscliff area, drop into Kingscliff Cycle Centre and select from a range of family friendly bikes which are available to hire for up to 6 days, which will save you having to return them each day, ensuring you see the most of the area while visiting.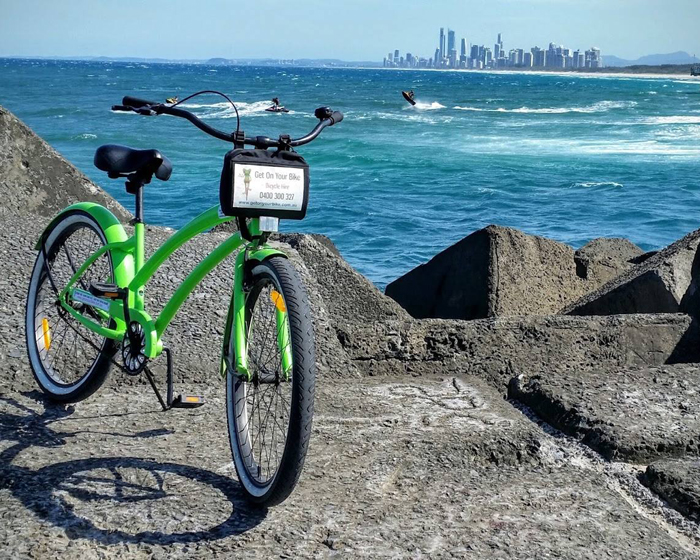 Get On Your Bike, in Coolangatta, will also fit you out with a number of options from mountain bikes, tandems, fat tyre beach bikes and beach cruisers, along with attachable kid seats and trailers for those with little ones.
We recommend starting with the Southern most part of Queensland, which boarders the Tweed Coast at Coolangatta. Cycle to Point Danger and take in the sprawling ocean views to New South Wales, and if you're lucky, perhaps spot a whale or two passing by as they make their migration North for the Winter. Take a photo at the state boarder line, as you place one foot in Queensland and one in New South Wales and cool off with a dip at Snapper Rocks, one of Australia's most well known surf breaks and home of the annual Quicksilver Pro.
Making your way South again, immerse yourself in a little of the region's indigenous culture and heritage with a visit to the Tweed Historic Site and the Minjungbal Aboriginal Cultural Centre. Peruse timeless images of the area's development throughout the years, artworks and artifacts, and grab a souvenir from the gift shop upon leaving to take home with you as a memento of your stay.
Enjoy a ride along the sand at Fingal Head's beach, stopping to take the stairs to the iconic 19th century Fingal Heads Lighthouse perched above the headland, the ideal place to throw out a rug and enjoy a picnic by the ocean.
As you make your way further South, detour along Marine Parade of Kingscliff and stop in for a coffee at one of the many cafés along the strip, before making a loop around the crystal clear river and out to Tropical Fruit World where you will find rare exotic fruits, such as chocolate pudding fruit, as well as kangaroos to hand feed.
Finish your journey in Cabarita and walk the rolling lush headlands, which are protected by national parks before cooling off at one of the many protected beaches.
If you would like to incorporate local culinary experiences to your bike tour, be sure to read our 5 Places You Need to try during Taste Tweed article.