Thai restaurants are now as prominent and popular within most communities as the local fish and chips takeaway. It is a cuisine adopted by Australia for its bold and punchy fresh flavours, its healthiness and lightness, making it an ideal meal option to enjoy in our balmy climate.
Traditionally, Thai food is a symbiotic balance of the 5 tastes; sour, sweet, spicy, bitter and salty. It is believed for a Thai dish to be authentic it needs to incorporate all of the above, as each dish is consciously made for striking the perfect harmony and balance between these five key flavours.
Journey with us as we take you on an authentic Thai tour around the country to discover the most tantalising Thai tastes straight from the motherland.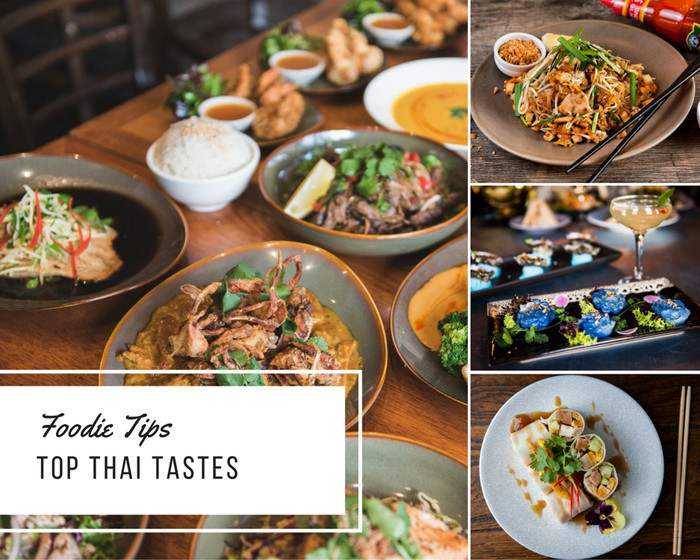 For tasty Thai eats in Mount Hawthorn, head to Perth restaurant Galangal Thai Cuisine to experience a traditional menu which has been influenced by the West, resulting in flavoursome dishes filled with spice and aroma such as their roast duck in red curry with lychee and cherry tomatoes.
Tuptim Thai | QLD
Located below The Sebel building, along Aerodrome Road in the Sunshine Coast's scenic suburb of Maroochydore, resides Tuptim Thai. Take a seat in the alfresco area to enjoy a balmy night whilst you tuck into dishes prepared by Chef, Somkid Nammanong who showcases the authentic taste of his homeland.
Fusiopia | NSW
To experience creative Asian cuisine, visit Fusiopia restaurant located on Raglan Street in central Mosman. Offering a modern and sophisticated space to enjoy authentic Thai eats in contemporary surrounds, guests can be seen delving into the likes of grilled scallops with lemon salsa as well as snow prawns – coconut tempura prawns served with a tangy plum sauce.
Chong Co Thai | QLD
Kick up your feet after a day of shopping on the Gold Coast at Chong Co Thai, conveniently located at both Robina Town Centre and Pacific Fair. A welcoming interior awaits, styled with timber furniture, exposed brick walls and ambient lighting falling from overhead lanterns and creating a modern and relaxed dining space to enjoy a taste of Thailand. Tuck into entrees of chicken satay skewers or perhaps a fresh duck roll with hoisin sauce, whilst tasty main options offer the likes of crispy pork belly pad see eiw with egg or a seafood laksa noodle soup with tofu.
Thai Spice Pacific Fair | QLD
Find tranquil blue and bottle green tones contrasting with the natural textures of basket pendent lighting and dark timber furniture at Thai Spice, Pacific Fair. With dining space sprawling out onto a spacious deck, guests can take in water views over the canal as they dine. Slurp on a hearty sweet lamb Massaman curry with coconut cream or delve into a plate of Pad Thai with prawns, noodles and crunchy peanuts.
Mahsuri Thai | NSW
Located at Salt Village, Mahsuri Thai is a purveyor of fine Thai dining. Seated in the alfresco area, diners are surrounded by tropical ferns, ambient lanterns and natural timber table tops. Sample light tastes like the fresh rice paper rolls with duck or perhaps opt for a hearty Massaman lamb curry with potatoes.
Lucky Buddha Thai | QLD
Conveniently located along the Gold Coast highway in Mermaid Beach is Lucky Buddha Thai. Offering a full menu of Thai delights, opt to begin with an entrée of fish cakes served with sweet chilli sauce before devouring a healthy oyster sauce stir fry with vegetables, crispy pork and garlic.
Eat Thai | NSW
When on the hunt for delicious Thai flavours in South East Sydney, venture along Glenmore Road to Paddington's Eat Thai. Heart-warming dishes are found in abundance, like the pork fillet jungle curry for hearty eaters, whilst lighter noodle dishes like the Bami Goreng with tofu and egg can be enjoyed for a quick meal.
Blue Pearl Waterfront Thai | NSW
For an absolute waterfront location to enjoy a meal out with loved ones, head along Pittwater Road in Bayview NSW to discover Blue Pearl Waterfront Thai Restaurant. Established for over 14 years, Blue Pearl is a local favourite, with residents flocking daily to enjoy tasty meals like the Pla Muk Tod of crumbed tender calamari rings, deep fried and served with sweet chilli mint sauce or a traditional Pad Thai with chicken.
Choc Dee | QLD
For a tropical Thai experience, much like the coastal balmy shores of Thailand, head to far North Queensland's Palm Cove to find Choc Dee. Be seated on the alfresco deck amongst the swaying gardens and bamboo as you are transported abroad with dishes like the fish curry, with locally caught barramundi, coconut cream and Thai herbs or perhaps opt to sample the Tamarind duck with palm sugar, fresh bok choy and seasonal vegetables.
Annola Thai Restaurant | NSW
As the saying goes, big things come in small packages and so is the case for Grafton's resident Thai restaurant, Annola Thai. Perched along Prince Street, this cosy restaurant offers a menu which stays true to tradition. Enjoy dishes like the chicken Pad Sapparot, which is wok fried and sautéed in coconut milk with pineapple and a housemade chilli paste or opt for the Chef's special of Siam duck with vegetables.
Wild Ginger Dining + Bar | NSW
For a sophisticated fusion experience in Sydney, head to The Rocks waterfront dining precinct to discover Wild Ginger Dining + Bar overlooking Circular Quay. Wild Ginger represents traditional Thai techniques and marries them with a Modern Australian twist. Begin with the betel leaf brimming with smoked mountain trout and flying fish roe, before delving into a main of Wagyu beef green curry with eggplant and fresh bamboo.
It's thaim to treat your tastebuds to the flavours, culture and recipes of Thailand which have been centuries in the making, awaiting to tempt your senses and warm your soul. For more Thai tastes around our country search via your location here.