By Leigh O'Connor.
House wine in Australia has always had a bad rap – and rightly so – most of it is entirely undrinkable.
South Brisbane's Bacchus restaurant, under the watchful eye of Sommelier Andrew Giblin, is breaking with tradition and forging a new way forward, announcing their house label for this year as the acclaimed 2015 Kaesler 'Bacchus' Shiraz Mourvedre.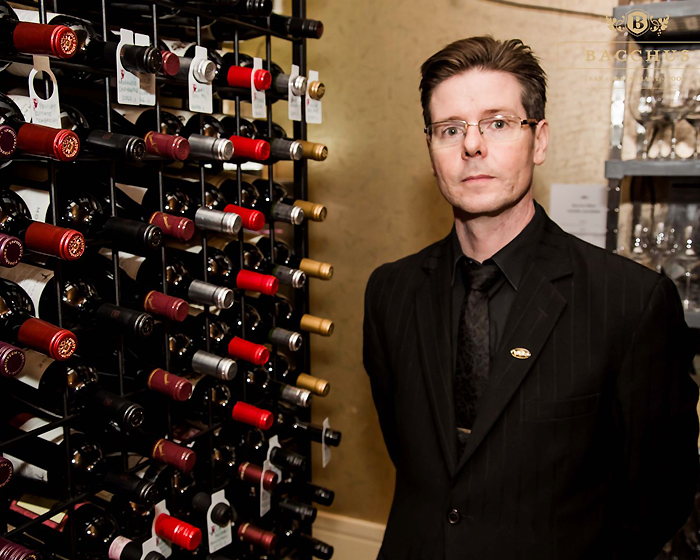 Sommelier Andrew Giblin.

The only restaurant in Australia to have a Kaesler-produced house label, this isn't simply a tale of co-labelling a top drop. This move has been a long time in the making, driven by Andrew's passion for the wine industry – he hails from South Australia - and after 30 years has nurtured many relationships and tasted many vintages.
Throwback to 2008 when in Paris, Andrew was staying in a small apartment off Rue St Etienne Arrondissement 11 and living like a Parisian: eating out every night. He always had the house wine with dinner, because it could be relied on to be excellent.
On his return to Australia, Andrew was soon reminded that house wine in this country is generally terrible.
"It's usually bulk cask wine and is virtually undrinkable," he tells AGFG.
"I couldn't understand why, as Australia is one of the largest wine producing countries in the world. There are lots of excellent wineries producing outstanding wine, yet restaurants and bars continue to offer dreadful house varieties."
When Andrew took up the Sommelier baton at Bacchus five plus years ago, the restaurant was already engaging with producers to make bespoke items such as olive oil, coffee and tea blends.
"I saw this as an opportunity to create a wine product that was representative of our venue, that stocked a quality, sought-after wine we could offer with immense pride and at the same time create a benchmark for the Australian hospitality industry," he says.
Given time constraints, the first house label wines were a Pinot Grigio and Tempranillo. The first Kaesler red under Bacchus was the declassified 2011 Kaesler Avignon, a Grenache-Shiraz-Mataro blend.
"As our house wine, the price was amazing value for money and all-round deliciousness. Since then we have adjusted the blend and label of each vintage. Winemaker Reid Bosward has been to Bacchus to train staff, taste dishes and wine match. I have visited the winery to taste barrel samples, as have many of our staff. It is a whole-of-restaurant commitment."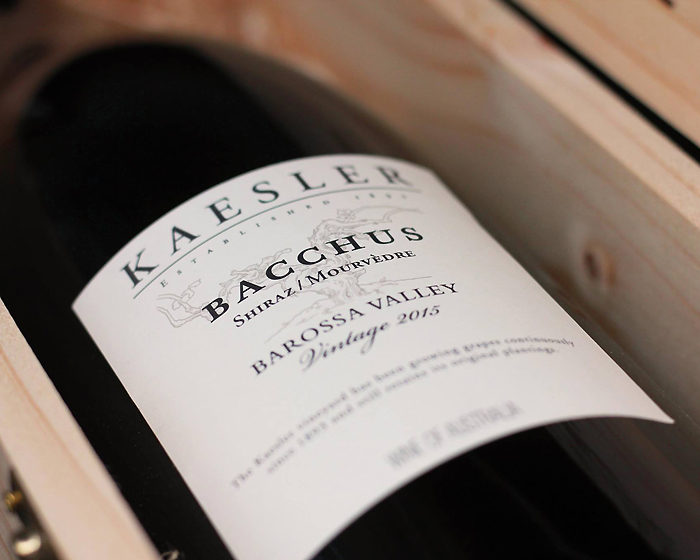 Bacchus's house label: the acclaimed 2015 Kaesler 'Bacchus' Shiraz Mourvedre.
Andrew says this year's house label is the best wine to date, so good that the Shiraz Mourvedre is now under the Kaesler label.
"This is truly an honour. I believe this wine is equal to, if not better, than any house wine I have tasted in Europe. I think we've achieved our goal of having a house label that is truly representative of our house. The future tastes pretty good!"
Bacchus has now announced another coup with award-winning museum vintage selections from McLaren Vale's Kay Brothers being poured at the restaurant. The feature producer at the venue, Kay Brothers have provided vintages such as 2016 Griffon's Key Grenache, which claimed the coveted Bushing Monarch Trophy for best wine of the show at the inaugural James Halliday Grenache Challenge.
This 97-point Grenache was chosen from a field of more than 120 Australian wines, by James Halliday and a panel of experienced judges associated with the McLaren Vale Wine Show.
So, don't let Dad have just any wine this Father's Day… take him to Bacchus and let him enjoy some of the best drops available in this country!