By Leigh O'Connor.
Considered the ultimate cosmopolitan food, smashed avocado has become a staple on any great café menu and the measure of first home buyers' ability to pay their mortgage.
When Australian developer Tim Gurner made headlines by stating millennials couldn't buy property because they were spending too much money on avocado toast and coffee, it sent shock waves around the globe.
It also sent cafés into meltdown to add their own spin to this classic breakfast plate that has taken Australia by storm. The humble avocado has long been a salad favourite, adding a creamy texture and unique flavour to family meals from the country to the coast, but it has now taken on a new persona as the go to brunch dish for trendy café goers.
The two main varieties grown Down Under are Hass and Shepard, with Hass accounting for around 80% of available fruit. With its classic oval shape and distinctive pebbly, textured skin, the Hass changes colour as it ripens from green to black and has a creamy taste.
In comparison, the Shepard, or green skin is only available for a limited time each year from February to April. A longer more elongated fruit, it has a smooth, glossy skin, nutty flavour and buttery texture.
Other varieties include the Reed (large rounder fruit), Wurtz and Sharwill, but these are grown in much smaller quantities and have very limited availability.
Also known as the alligator pear, avocados should be stored in a paper bag at room temperature to ripen and then in the fridge, where they should last for two or three days.
Want some ideas on how to spice up your next weekend brunch at home with a Chef's take on smashed avocado? Read on and make your next breakfast treat a winner with all the family…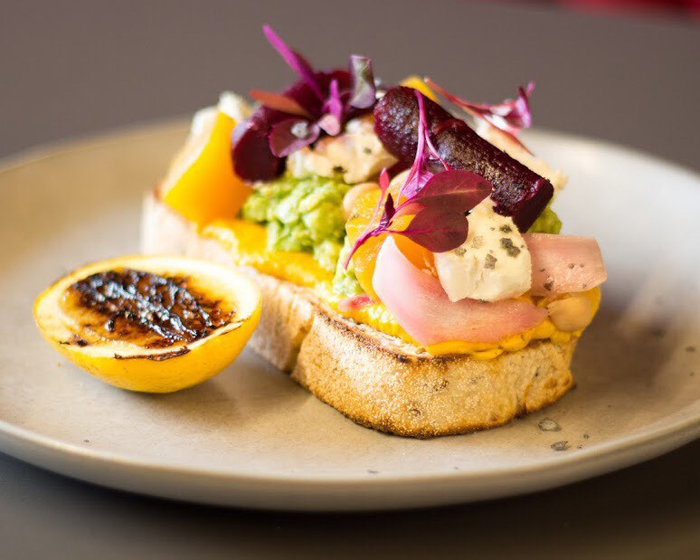 From The Hatter & The Hare restaurant in Bayswater, Victoria comes a recipe for avocado smash on pumpkin loaf. This fun and funky venue encourages guests to peek down the rabbit hole to find a cavernous space coloured with mint green and blond wood, polished concrete and plant terrariums, or pop by the baker's window and say hi to the pastry Chef crafting morsels of imaginative genius.
Head Chef Kyle Noll's colourful avocado creation mixes the texture of pumpkin bread with a smooth hummus, pickled red and amber beets, tart feta cheese and a garnish of chickpeas, black sesame, salt and micro red garnet, for a divinely decadent brunch dish to delight the senses.
Latin for gratitude, Gratia on Bourke Street in Surry Hills is a profit for purpose café donating 100% back to promote change in the world, both locally and globally, and by dining there so do guests. Sit back and soak up a French provencale vibe in an alfresco courtyard, flanked by potted plants and shabby chic doors, or take a seat at the wooden breakfast bar and inhale tantalising aromas wafting from an open kitchen.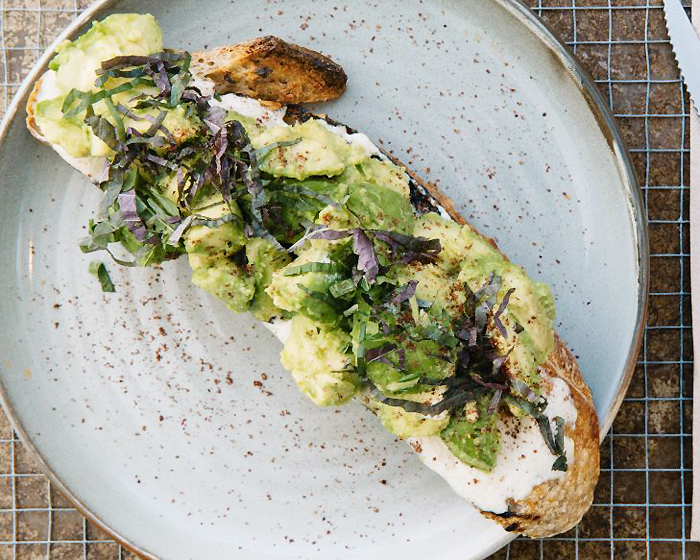 Chef Vinicius Oliveira brings AGFG readers his Gratia avocado offering, topped with a tahini dressing. Toasted organic sourdough is spread with the dressing - made from garlic, tahini paste, lemon juice and sunflower oil – then smothered in crushed and chunky avo pieces, shiso, mint, preserved lemon and dukkah… simply scrumptious!
Teneriffe locals escape city hustle at inner-urban cool Kin and Co on Macquarie Street. Whether grabbing a brew on the run from an always open coffee window in the outside brick façade, or enjoying a leisurely brunch in the chic, minimalistic interior, guests can relax and catch up over an all-day menu of café classics with a twist.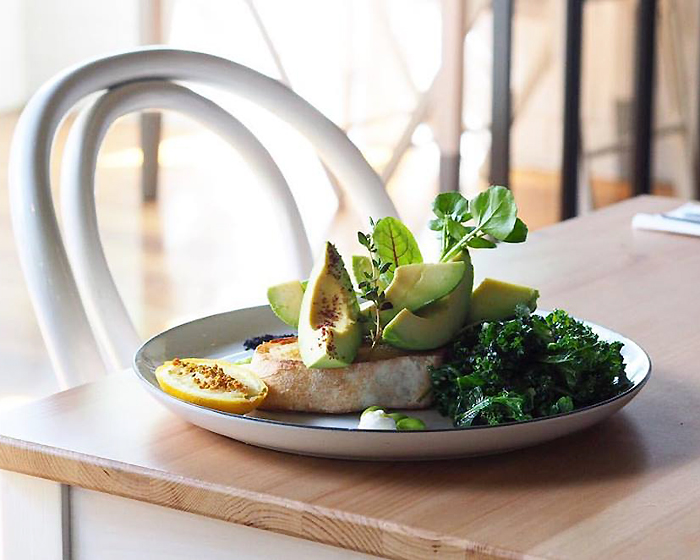 Chef Gary Binmore has created avocado with honey roasted lemons for you to try at home. This signature dish leaves the avocado cut in chunks rather than smashed and topped with edamame beans, chevre, sumac and a sprinkle of herbs. Roasting the lemon cheeks in the oven, drizzled with raw honey and a dash of bee pollen, adds a sweet and tangy accompaniment to the creamy avo.
Our last recipe comes from Armadale hotspot for coffee mingling, Le Petit Prince found on Mercer Road. A trendy setting attracts a mixed crowd of locals, who meet to enjoy brunch together surrounded by matte black and crisp white tones, beside shelves offering a selection of gourmet goodies and dainty posies of flowers. Those with four legged friends are more than welcome to dine alfresco and soak up the sunshine.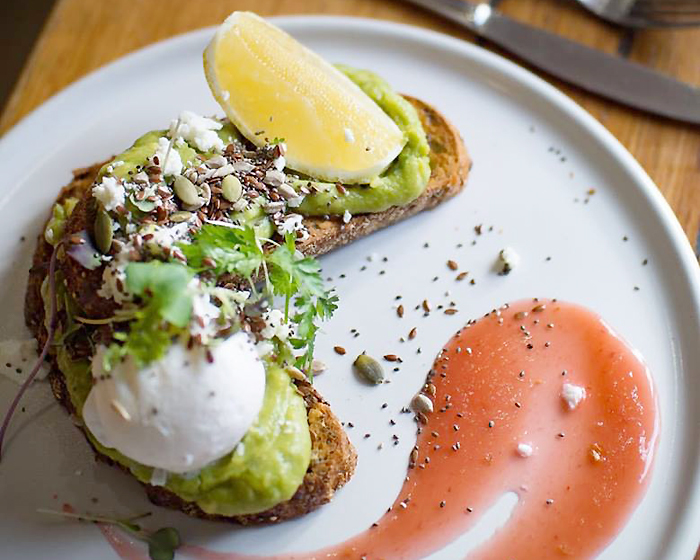 Chef Kennis Lam has combined tart and creamy flavours in his dish of smashed avocado with rhubarb compote and mixed seeds. The pink colouring of the rhubarb compote provides a great plating contrast to toasted bread, smeared with smashed avo and topped with a poached egg, mixed seeds, micro herbs and crumbled feta cheese.
Now we have your attention and hunger pangs start to gnaw…click here for more breakfast creations to whip up at home.