Thinking of birthday gifts for men is no easy feat. Of course, there is the standard last-minute options like a nice cologne, socks or a tie, but this year I wanted something a little more special for my partner. I wanted a memory and experience that would last with him long after any colognes scent would.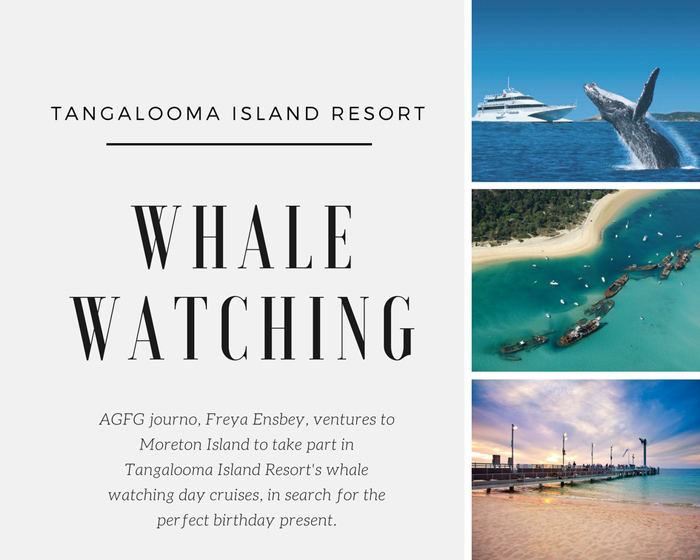 Sitting at my local beach, enjoying my morning coffee, a whale splash was spotted out to sea, everyone around me stirred with excitement and began pointing in its direction, anticipating the next movement. I thought how amazing it would be to be right next to it; and so the idea for the perfect gift for my partner, Bryce was born.
I did some research and decided a weekend day trip to Moreton Island to partake in a whale watching cruise ticked all of the boxes. Waking on the Sunday morning, I was secretly just as excited as Bryce for the day of activity ahead of us. Living on the Gold Coast, we took the easy drive to Brisbane's Holt Street Wharf at Pinkenba, and upon arrival received a parking token to conveniently park in the guest car park for the day.
With passenger ferry services 4 times a day, we boarded the 10 am departure and headed to the open top deck to enjoy the sunshine as we took the 75 minute journey winding through Brisbane's industrial estate and out into open waters. The ferry itself was very comfortable and spacious, with several clean amenities and a mini bar in service to purchase light snacks to keep the hunger pangs at bay and hot beverages to keep you warm whilst travelling across the chilly, windy waters.
As we were in transit, the skipper gave us a running commentary of the Brisbane waterways, Tangalooma Island Resort and Moreton Island. We soon discovered that Moreton Island itself is the third largest sand island in the world, covering an area of approximately 186 square kilometres, and extending for 37 kilometres from North to South. It is also home to the highest coastal sand dune in the world, Mount Tempest, standing at a staggering 285 metres high. Named by the local Aboriginals of the Moorgumpin area, Moreton Island means 'place of sand hills,' with 98% of the island and surrounding oceans being protected by National Parks.
As we approached Moreton Island to dock, we were met with spectacular views of towering sand dunes, capped with lush green foliage, playing home to Tangalooma Island Resort.
We disembarked the passenger ferry to stretch our legs and peruse the resort for half an hour before needing to be back at the wharf to board our whale watching catamaran, known to be Australia's largest whale watching vessel. Taking a wander through the resort, we were surprised with the amount of activities on offer, like the transparent kayaks adorned with neon lighting to take out after dark, quad bike tours, parasailing, snorkelling and paddle board hire, just to name a few, however the activity Tangalooma Island Resort is famous for would have to be their Wild Dolphin feeding program, which they offer each evening for resort guests and day tour visitors.
Rich in history, the Tangalooma Island Resort area was originally a whaling station, sold in 1980 to the Osborne family, who still currently own and operate the resort, but have turned their attention to focus on capturing the whales with cameras from the safety of a boat for the last 30 years, and offering the closest whale experience off the Brisbane coast.
As we made our way back to the jetty to begin our whale watching adventure, we took a seat upon the middle deck in one of the comfortable red velvet booths. As we departed the Resort we were offered a complimentary lunch, which was a tasty packed box of gourmet sandwiches, wraps, an apple, chocolate muffin, cheese and crackers and mints along with a refreshing drink, perfectly lining our stomachs as we headed into the choppy open seaways off the coast of Moreton Island.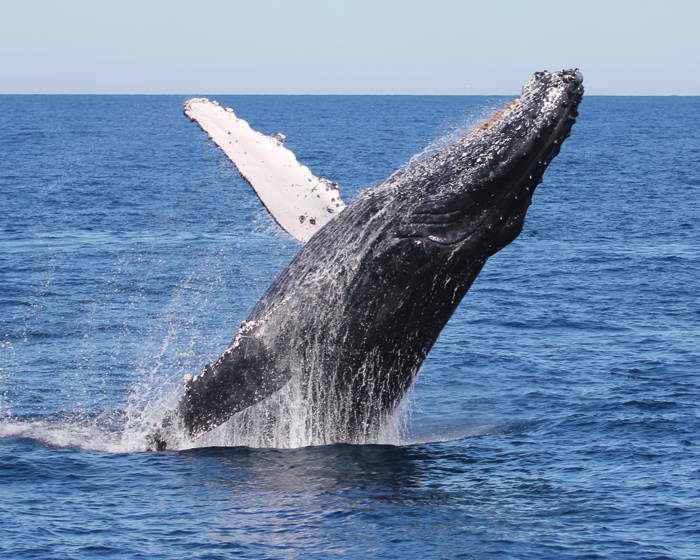 Tessa, our on board Eco Ranger and extremely knowledgeable whale watching commentator, spoke to us about the riveting lives of whales and explained that from June through till the end of October is the peak sighting window of the whale watching season in the area.
It was only an hour into our trip when Tessa spotted two whales ahead in the distance, creating the energy of the boat to lift and having us all move to the upper deck and viewing platforms. As we headed toward the whales, their sprays for air became loader and closer and it didn't take long for them to be right in front of us. The size of the mammals were unbelievable, both Bryce and myself were left speechless, looking at each other in disbelief.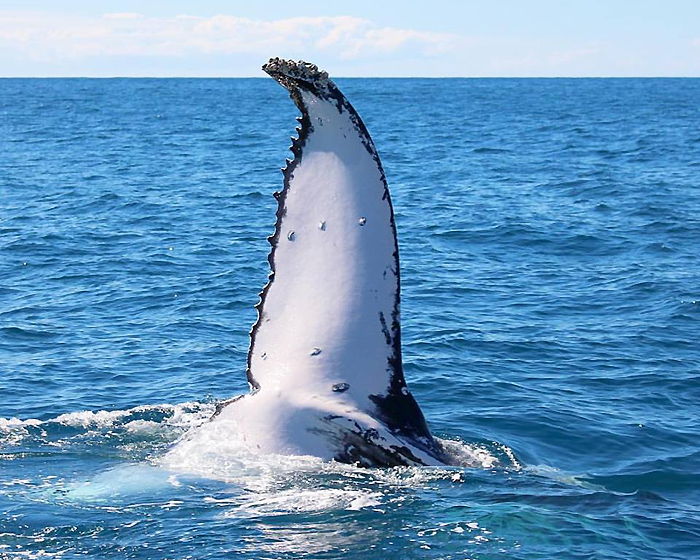 The catamaran slowed to a stop as we bobbed in the same spot, right in the path of the whales who out of curiosity would approach the boat, lifting their hefty bodies up out of the water and breaching with almighty splashes, waving their flippers while they rolled onto their back or raised their tail flukes out of the water and slapped them forcefully to create a loud resonating noise, which could be heard by other whales kilometres away.
"This is the most surreal experience I have ever had!" Bryce said at one point, smiling from ear to ear.
Each and every whale was just as exciting as the next, with intermittent lulls between the whales passing, our attention was taken up by the other sea life passing by, like large sea turtles and pods of dolphins, playing casually with their calves.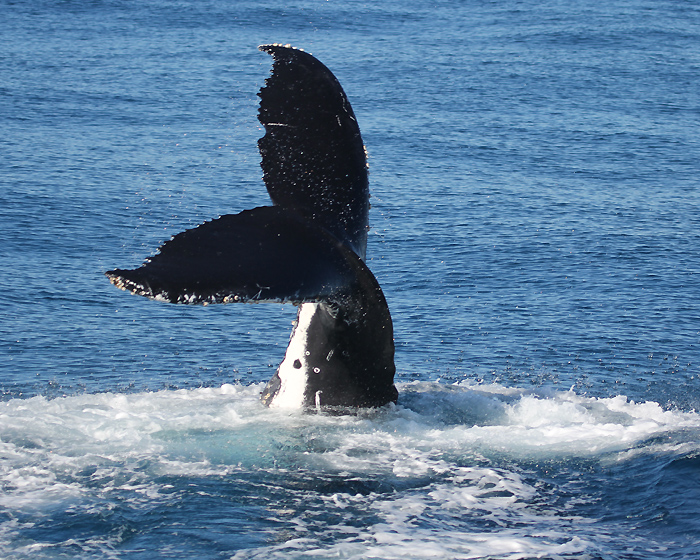 After several hours out to sea and an impressive 24 whale sightings later, it was time to head back to the shores of Tangalooma. The whole way home, the boat was abuzz with the guests all discussing how incredible the last few hours had been, comparing photos and agreeing how magical these creatures are.
With our feet on the white sands of Moreton Island again, we headed to B & B's Resort Bar to enjoy an icy cold beer before having to take the passenger ferry back to Brisbane.
"I don't want to leave, this has been the best birthday ever!" Bryce kept saying.
"We have to come back and stay an entire weekend one day. I would love to take part in the dolphin feeding and have more time to explore the island."
As we arrived back to Brisbane at around 5.30 pm, the sun was starting to set on an incredible birthday shared together. We were both exhausted and ready for bed, but we will carry with us the unforgettable experience of being up close with some of the world's largest animals, forever.
Tangalooma Island Resort's 30th whale watching season will run from June to October 2017. For more information and to book the perfect gift, visit www.tangalooma.com. AGFG was a guest of Tangalooma Island Resort, however, Freya's opinion is her own.