"The weekend is a great time to cook for pleasure." – Bill Granger
Do you want to know what Gordon Ramsay cooks for his family on weekends? What do you think is Ferran Adrià's favourite ingredient to cook with? Finally, can you guess what Neil Perry's guilty pleasure is? (Hint: it's frozen Kit Kats.) These questions and more are answered in The Masters at Home, a hardcover compilation profiling 33 of the world's greatest chefs.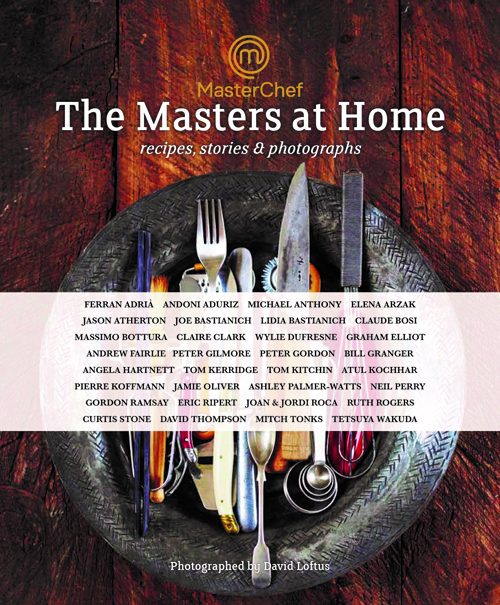 Apart from an obvious love of food, the other common denominator tying these veteran culinary superstars together is the fact that they've all appeared on at least one episode of MasterChef. Affectionately known as 'rock star chefs' in mainstream media, these kitchen wizards are justifiably revered – after all, it takes more than a special person to come up with an idea as wonderfully crazy as caramelised French toast empanada complemented with sheep's milk ice cream (we're looking at you, Andoni Luis Aduriz). Consequently, it's often easy for us to label these modern magicians of food as beings from an entirely different species altogether and forget that they're, after all, humans; this is where The Masters at Home, the latest release in the MasterChef book collection,comes in to fix that.
Set away from the bright lights and fancy cameras of the MasterChef studio, the chefs reveal more about themselves in a much more relaxed and intimate environment: their home kitchen, on a weekend. Through a series of profiles, readers are able to learn more about these world renowned master chefs.
The Masters at Home sets a warm conversational tone from the first page to last, allowing each chef's personality to shine. Each profile concisely captures the chef's individuality through an engaging summary of their professional background and home lives, complemented by a stunning showcase of candid photographs shot by acclaimed photographer David Loftus. As a lovely touch, little known facts about the chef appear in each profile – for example, did you know that award-winning New York chef and restaurateur Joe Bastianach has his own rock band?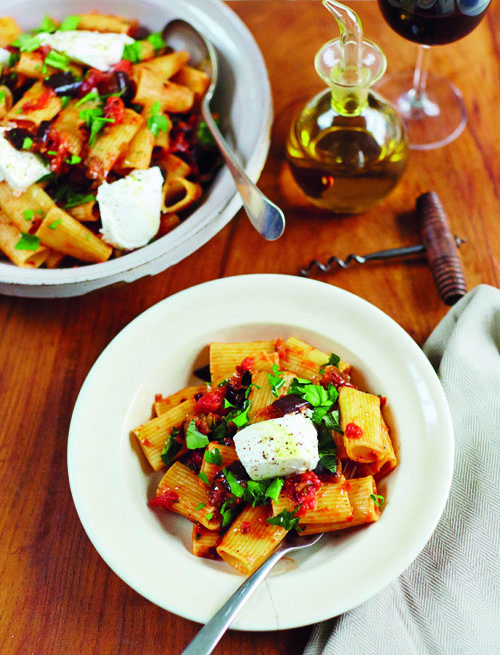 Rigatoni alla Norma p. 66 by Joe Bastianich.
As a proverbial icing on the cake, each profile is accompanied by three original recipes of their favourite weekend treats. These mouth-watering recipes offer a glimpse of what the chefs love to cook for themselves and their families when they are at home, away from the pressure and heat of a commercial kitchen. While other cookbook compilations tend to adopt a uniform voice for all recipes, The Masters at Home allows each chef to maintain their own tone and personality throughout each recipe – for example, American molecular gastronomy specialist Wylie Dufresne talks readers through his rustic pan-roasted chicken recipe like he would if he was chatting to us over drinks at the bar of his New York restaurant, Adler.
Although these recipes are accessible to all home cooks, they vary in degree of difficulty. Those looking for a quick and easy weeknight meal may take to UK superstar Angela Hartnett's simple but decadent wild mushroom and lardo on toast recipe while those wanting to roll their sleeves up for a challenge may like to give Peter Gilmore's iconic guava snow egg dessert a go (good luck!).
The Masters at Home by various (Absolute Press), $45. Available now in all good bookstores and online.