Australia to Alice Springs
Experiencing so much land in such a short period of time can be exhausting, especially when there is so much scenery to take in. A railway journey is perhaps the easiest way to travel great distances in comfort, whilst taking in your surroundings. Particularly popular in the warmer regions of Australia, a variety of different train journeys are run on a continual basis, perfect for a mid trip break or to go from state to state in a relaxed environment.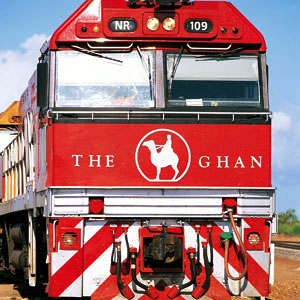 What is the Ghan?
The Ghan is one of Australia's most popular train journeys, running from Adelaide in the south through the centre of Australia to Alice Springs to the far north of Darwin. Crossing a diverse range of landscapes, the Ghan allows you to experience the best of Australia, from bush to beach. Travelling between the Indian and Pacific oceans for over 40 years, the Indian Pacific is another of Australia's widely known rail journeys, running from Sydney to Perth, stopping along the way for guests to leave the train and take in the highlights. One of the longest train journeys in the world, this is a memorable activity, with the sites being thoroughly enjoyed along the way.
For more of Australian railway journeys, head to the Northern Territory