An insight into Indigenous Australia
One of the five spectacular regions of the Northern Territory, Arnhem Land covers an area of 91,000 kilometers, located in the middle of the territory's northern coast. A vast region full of deserted islands, lush rainforests and thriving waters, this area of the Northern Territory is as rich in beauty as it is in history. With a predominantly indigenous population, Aboriginal culture is alive and thriving in Arnhem Land, an attraction for many travellers who wish to see traditional cultural practices in action.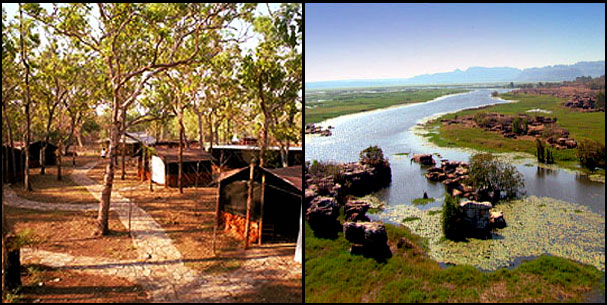 What can I do in Arnhem Land?
A real Aussie adventure, this Northern Territory gem is full of outback charm and attractions, guaranteed to keep you entertained. One of the world's best fishing destinations, Arnhem Land has a wide selection of largely untouched waterways, where you can catch anything from marlin to an impressive sized barramundi. If staying inland, obtain a permit and experience the abundance of four wheel driving tracks and explore the vast, varied outback terrain before unrolling a sleeping bag under the stars at one of the many secluded camping spots.
To fully make the most of your Arnhem Land experience, get amongst the indigenous culture by observing the assortment of art, craft, scenic historical sites and cultural practices. To venture independently into Arnhem Land, you must first obtain express permission from the Northern Land Council, which can take up to four weeks, so prior planning is essential.
For more of the Northern Territory's top destinations, read up on the equally spectacular area of Alice Springs