The ideal time to visit wineries in general is during wine harvest, usually held between February and April for us in the Southern Hemisphere.
As the weather starts to cool off a little, the grapes are peaking to ripeness and there is an exciting bustle of activity. A well-seasoned vintner (winemaker), can intuitively taste if a grape is ready for picking by the acid, sugar and tannin brought to palate, basing this taste on the desired style of wine to be produced.
Modern technology and science also assist with the process, enabling the precise timing in the process of harvest, possibly the single most important decision a grower or vintner will make each year. We have collated our must visit wineries for this season so you can leave the big decisions to the experts, with the only deliberation having to be pondered, is which winery, or three you'll visit this wine harvest.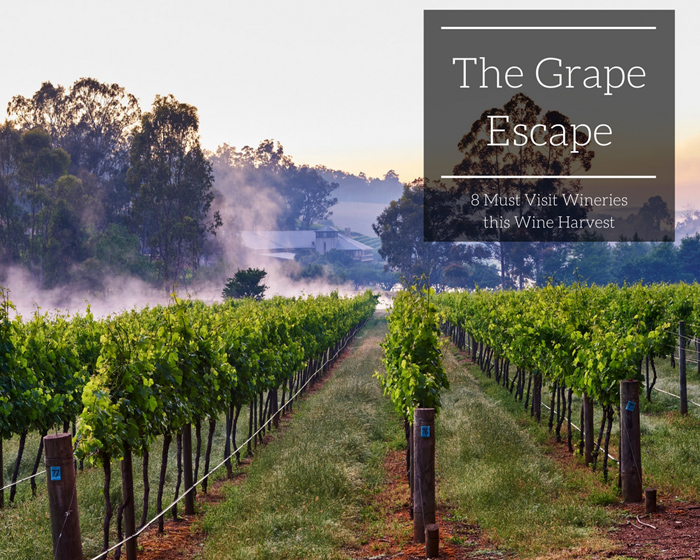 Jack Rabbit Vineyard | VIC
Take a picturesque drive through scenic countryside along McAdams Lane in Victoria's suburb of Bellarine, to discover Jack Rabbit Vineyard. Upon arrival, guests are greeted by lush rows of grapes ripening for harvest, leading the eye to unexpected, sprawling ocean views lined by bushland, making for a truly breathtaking location. Jack Rabbit prides itself on creating sophisticated cool climate wines, like the 2016 Pinot Grigio with notes of pear, apple and spice teamed with a hint of cumquat for a refreshing finish.
Maxwell's Ellen Street Restaurant in Maxwell Winery | SA
Deep in the heart of McLaren Vale is Maxwell's Ellen Street Restaurant. Nestled in the Maxwell Winery estate, the restaurant is the ideal place to enjoy a lazy weekend lunch after a morning exploring the region. With a glass of Maxwell's award-winning Shiraz in hand, perch yourself on the deck and admire the luscious green vineyard views.
Cottontails Wines | NSW
Soak up the splendour of the Riverina and enjoy a little wining and dining at Cottontails Wines in Wagga Wagga. Spread across 40 acres of serene countryside, Cottontail's four hectares of vineyard and olive trees not only provide a scenic outlook, but are the foundations of the winery's award-winning wines and olive oil. Enjoy Cottontail's wines, including the new, inventive sparkling Shiraz, Red Bubbles and the smooth Sauvignon Blanc Semillon white.
Castle Glen Australia | QLD
Take the scenic drive through the picturesque hinterland of Stanthorpe to discover the all-natural winery, Castle Glen. Journey through the endless rows of ripening grape vines before arriving at the door step of an impressive stone castle with arched windows, timber doors and protruding battlements, taking visitors to a past era of extravagance. Famous for their range of preservative free products, all of the wines produced at the winery are 100% made from their own organic vineyards.
Millbrook Winery | WA (pictured above).
Located a comfortable hour drive from Perth, along Old Chestnut Lane, is the picturesque Millbrook Winery, offering its resident restaurant perched regally above a sprawling lakes edge in a castle-esque stone building, with an impressive menu, seasonally influenced by the acre wide heirloom vegetable garden attended to by the Chefs themselves, ensuring only the freshest produce is used. Order a tasty meal to devour whilst sampling The Barking Owl range, starting with the primarily fruit driven Shiraz or opt for a vintage crisp Chardonnay, ideal to match with any seafood dish.
Josef Chromy | TAS
A short drive from Launceston airport, winding through the picturesque countryside of Relbia, resides the renowned, Josef Chromy Tasmania Winery, proudly perched above a sparkling lake overlooking the lush green slopes of their 150 acre vineyard. Each wine is crafted from the cool climate viticulture produced on the estate, with a high tech German press creating more delicate, aromatic juice. The Josef Chromy highbrow range, Zdar, presents elixirs like Chardonnay, rich in flavours of white peach, vanilla and integrated French oak to give a round palate or for the red lovers, perhaps opt for the Pepik Pinot Noir, brimming with aromas of berry, juicy tannins and a complex mix of spice and smoky undertones.
Howard Vineyard | SA
Just a short journey from the Adelaide CBD, the stunning family owned Howard Vineyard encompasses the definitive beauty of the Adelaide Hills. Rolling vines, towering gum trees and manicured lawns surround a rustically restored stone barn and home to the Howard Vineyard cellar door. With signature characteristics of fruit purity, elegance and freshness, the wines at Howard Vineyard are specifically crafted for everyday enjoyment. Savour the distinctive flavours of their three wine ranges, from the Picnic range, comprised of reds, the Clover range with fun and fruity bottles well suited to Summery lunches or celebrations and the Amos range, including barrel fermented Chardonnay and premium varietals.
(Pssst, Tom Northcott, Howard's Vineyard's winemaker will be taking over our Instagram during Wine Harvest).
PipeClay Pumphouse | NSW
Finishing a day of wine tasting with a decadent meal is just as important as the wine tasting itself, savour the flavours of Mudgee's fresh produce at Pipeclay Pumphouse, situated at Robert Stein Vineyard. With a paddock to plate philosophy, Pipeclay Pumphouse strives to use as much home grown and locally sourced produce as possible, showcased on a menu of seasonal Mod Oz cuisine. March 18 will see the restaurant welcome in guests attending the Footcrush Feast, an annual festival hosted by Robert Stein Wines – be sure to book for the event, it's set to be the biggest yet.
None of these wineries close to you? Here are more suggestions.