By Freya Ensbey.
Calendar Dates: March 31 - April 9.
Orange, New South Whales is one of those charming, cooler climate rural towns of Australia, which warms the soul with each visit.
From its impressive colonial buildings, flourishing cultural scene and botanic gardens in town, to the vast wilderness trails of the ancient volcano, Mount Canobolas, offering dramatic views from the summit of Spring Glade walking track, Orange attracts tourists year round to discover the diversity the region has to offer.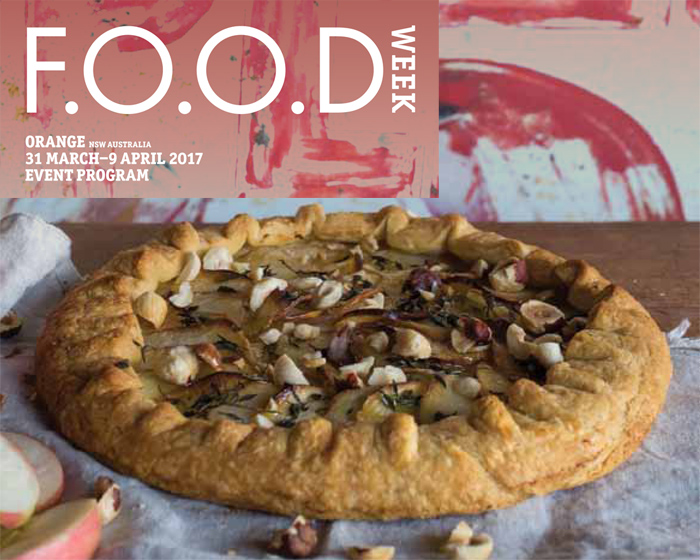 However, there is no visitor more attracted to the area than the seasoned foodie crowd during wine harvest season, devouring award winning restaurants, acclaimed wineries by the plenty and local produce in abundance, with the beginning of April bringing with it Australia's longest running regional food festival, Orange F.O.O.D (Food Of Orange District) Week.
This year welcomes in the 26th annual 10-day event, held from March 31st through till the 9th of April, showcasing the region's freshly farmed produce, elegant wines, gourmet products, talented Chefs and renowned restaurants along with other enticing enterprises and entertainment.
FOOD Week Inc President, James Sweetapple, along with his fellow committee members are proud to be evolving the event into a truly sustainable festival. With the past two years seeing the composting of all knives, forks, plates, bowls, cups and serviettes used by patrons, just one reason why F.O.O.D Week was named one of the states premium events by Destination New South Wales.
The menu of scheduled events and festivities will have you doing as little or as much as you like throughout the week. Start with an entrée class of retro fruit preserving or cider making, saving room for the iconic main affair of the 100 Mile Dinner under the stars, with all ingredients sourced within the said radius. Finish your week on a sweet note with a 3.6 km forage stroll through Koomooloo Vineyard, enjoying sample plates and wine tastings every 500m.
Sweetapple says in his 25 years living in Orange, he has never seen the town so progressive and positive about food and wine, from the local butcher and providores, through to the smaller cafes.
"We who live here, know every week [as] food and wine week," says Sweetapple.
For more information and to book your tickets to events, head to the F.O.O.D website: http://orangefoodweek.com.au/