Derived from the desire for a white Christmas (and possibly the desire for some mid winter face stuffing), Christmas in July is the perfect excuse for a cosy gathering over roast meats, sticky desserts, tacky paper hats and a roaring open fire.
This year, shake it up like a snow globe and toss the fruit mince out the window. These 12 Christmas cakes make a worthy table centrepiece that will leave your fellow festivity celebrants green with envy. Be sure to spare a slice for the hopeless romantic under the mistletoe – they may need it.
12. The Blackest Forest Gateaux 11. Gingerbread Bundt Cakes with Cinnamon Glaze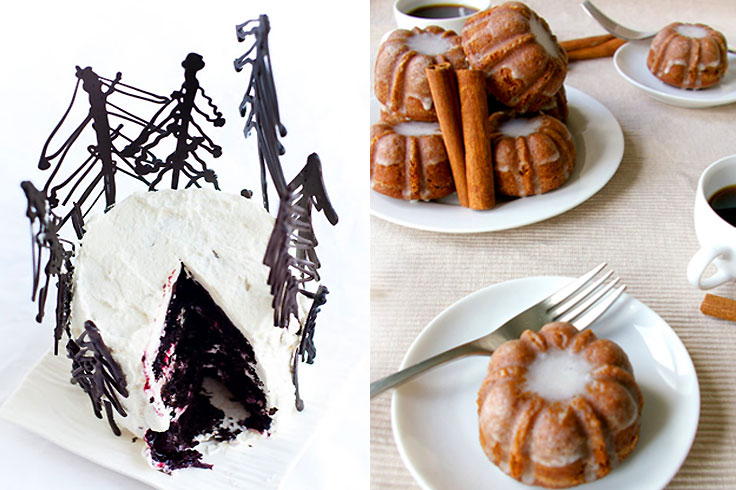 Encompassing rich black chocolate cake, dark chocolate ganache and sweet cherry filling topped with mascarpone whipped cream, this horrifyingly decadent dessert has to be on the Christmas in July wish list – or even better, on the baking list. Delve onto the dark side and enjoy a little naughtiness by Desserts for Breakfast.
On a slightly lighter note, these gingerbread bundt cakes drowned in a sweet cinnamon glaze by These Peas Are Hollow leave the house with a lingering scent of spice AND are compact enough to be eaten by oneself in a single sitting ... Christmas spirit of sharing not required.
10. Triple Chocolate Layer Cake with Maple Roasted Cranberries 9. Gingerbread Cake Roll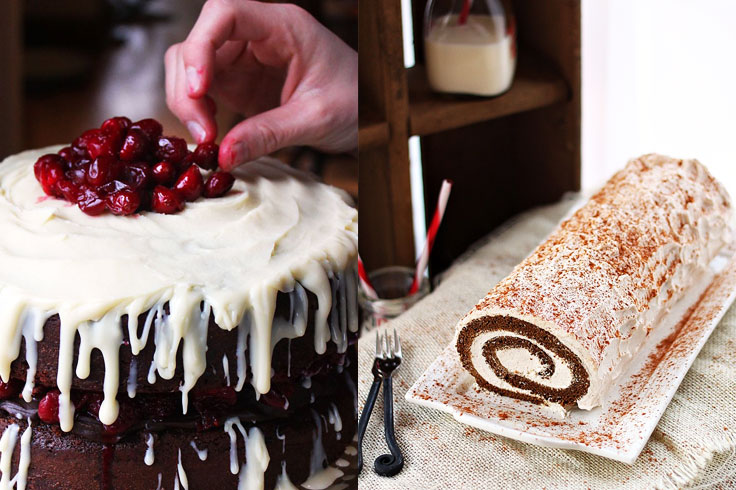 He knows when you've been naughty – so you might as well indulge in this triple chocolate layer cake with maple roasted cranberries by Carpe Seasonand let Santa move along. This may take you a few days to prepare and assemble but trust us, it's the gift every cake lover wants to receive. If you need extra convincing, take in the wise words of the creator herself - "there's a time and place for dessert; the time is now, and the place is in my mouth".
If you prefer something traditional to the liking of ye olde yule log, the gingerbread cake roll by Roxana's Home Baking is what you need to be baking up. Filled with spiced cream, this molasses and honey infused gingerbread cake is best served the day after preparing, allowing the flavours of the cream to be infused into the spongy cake – delicious.
8. Reindeer Cupcakes 7. Gingerbread Christmas Tree Cookie Cake
What do you do when Santa doesn't cough up any gifts? – eat his reindeers (in cupcake form of course). Perfect for little hands – and even bigger hands – this recipe by With Sprinkles on Top is all kinds of sweet, decorated with chocolate frosting, pretzels, vanilla cookies and M&M's. Sweets on sweets? – it's a Christmas (in July) miracle!
And of course, what's the festive season if not for the iconic Martha Stewart herself? Worthy of showcasing as a table centrepiece, delights like the gingerbread Christmas tree cookie cake set the tone for a white Christmas – and can be sneakily deconstructed, one layer at a time.
6. Melted Snowman Truffle Cake Balls 5. Coconut Cake with Spun Sugar Christmas Trees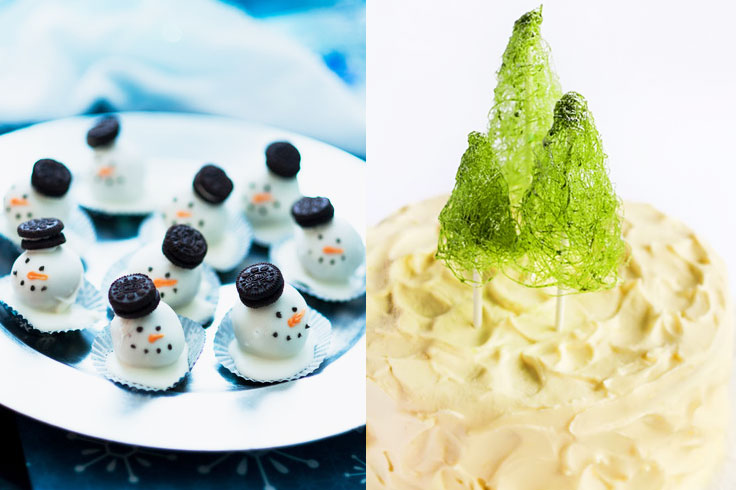 Okay. This nearly falls into the category of a cookie/biscuit, but smashed biscuit + cream cheese = truffle. And truffles are kind of like balls of cake. Digressions aside, this recipe by Cookies and Cupsis all too easy. It does replace a mini Oreo snowman hat with a Rolo for added deliciousness, so don't be afraid to get creative with the decorations.
On the contrary, this coconut cake with spun sugar Christmas trees reigns in a majestic minimalism. Carefully crafted by Raspberri Cupcakes, this recipe is fitting for the cooler weather because despite how nice it may sound, nobody wants to spin sugar in the summer heat. Layered with whipped lemon cream cheese icing, the green toffee trees are the shining star on this delicious Christmas cake. Salvage your kitchen bench by lining them with baking paper prior to spinning your sugar – unless you want to lick toffee off the bench top for the next few weeks. Hmmm ... actually...
4. Gift Wrapped Chocolate Brownie 3. Frosted Cranberry and Rosemary Winter Cake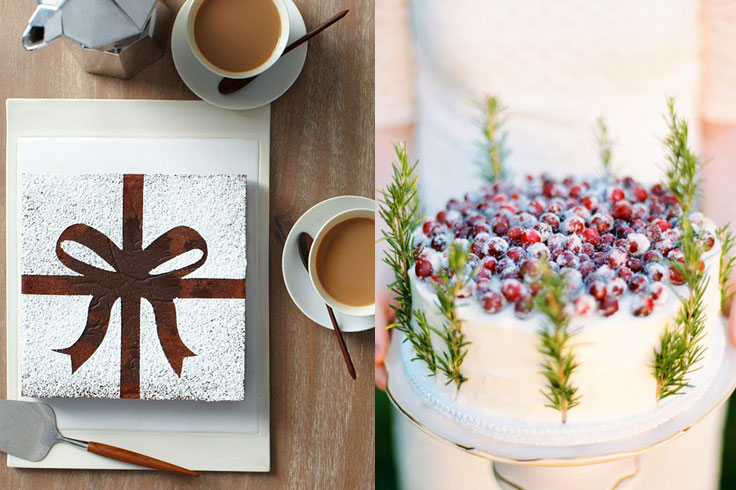 To the untrained eye, this is just a regular brownie with a stencilled bow of icing sugar on top. But to those willing to look closer, it's a gift wrapped square of heaven. Another creation from the Queen of Christmas cookery (aka – Martha Stewart), this easy recipe can be stencilled onto individual brownies or onto one giant one. If stencilled onto a giant brownie, this also signifies that you don't have to share it.
This cake looks almost too good to eat ... yeah, we said almost. Layered with spice, tart cranberries and rich mascarpone with herbaceous rosemary twigs, this decadent creation is a table centrepiece well worth bragging about – sure, your dinner guests might try to stuff it in your mouth to shut you up, but we don't really see what's wrong with that. Find a recipe for a decadent rosemary cranberry cake just like this at Darling Magazine.
2. Ruffle Tree Cake 1. Pinecone Cakes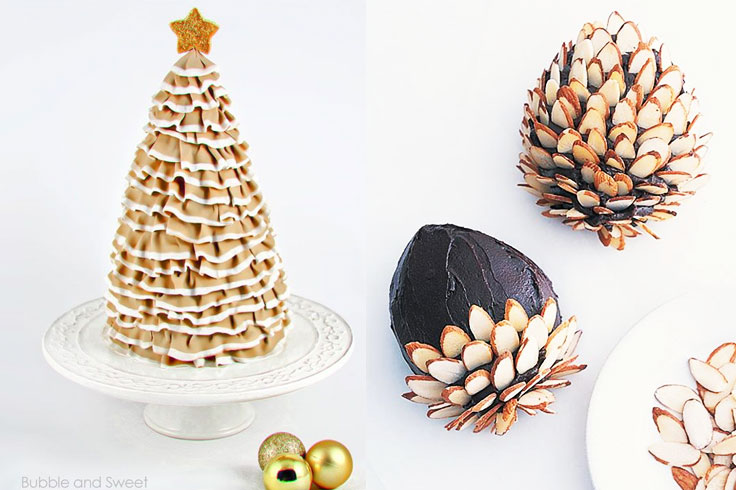 Glory to the newborn Christmas cake! We have a feeling this sweet sensation by Bubble and Sweetcan easily be the new celebratory tree you get excited to decorate and is so much more Christmassy than fruit cake could ever look (sorry fruit cake, but you've had your time to shine). Made with white chocolate mud cake and layers of white chocolate ganache, rolled fondant, strawberry bon bons and glittered fondant decorations, this ruffle tree cake may take a little patience to complete, but rest assured is well worth an attempt.
Last but not least, we return again to the Christmas cooking wonder (the Santa of the kitchen?) Martha Stewart, whose pinecone cakes are some kind of wonderful. Spread the Christmas cheer and give these little beauties out as gifts with instructions to 'go eat a pinecone', or perhaps make them the shining star of dessert to finish your Christmas in July celebrations.