By Leigh O'Connor.
It's time to celebrate the humble takeaway that is a staple go-to for most Aussie families…Friday, June 4 is National Fish and Chip Day.
When we mullet over, Aussies have had a long love affair with all things from the ocean, so much so that a Melbourne fish and chip shop still holds the Guinness World Record for selling and serving 12,105 portions in one day back in 1996.
However, it is a British restaurant that takes the title for the largest serving of fish and chips – in 2018, a group of Birmingham Chefs sourced a giant 47.75 kg halibut, covered it in batter and placed it on a supersized bed of chips.
For a reely fin-tastic dinner to celebrate on Friday, try one of these five fish and chip recipes: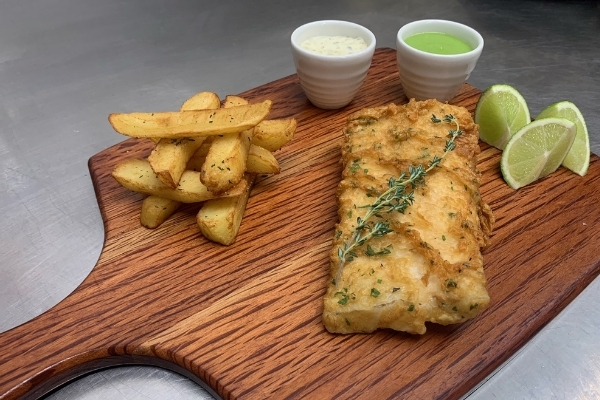 Battered snapper and triple-cooked chips from Wheelers Seafood Restaurant.
Don't skimp on making the tartar…it is very simple to do and along with the pea purée adds to the flavour of the dish. If you don't want to cook on Friday, head to Wheelers on the shores of Merimbula Lake for a fresh seafood platter, locally grown and nurtured oysters, or lime tempura battered prawns, with a crisp noodle salad and sweet chilli sauce.
Beer is a popular ingredient in batters used to coat foods before frying, the bubbles in the beer add body and lightness to the mixture, making for a crisp finish. This recipe for
AHBH beer battered fish and chips
uses All Hands Brewing House Hump Day IPA Beer, along with soda water to make the ideal coating for your favourite fish.
Not in the mood for cooking to celebrate National Fish and Chip Day? To find a seafood restaurant near you, click
here
.