By Leigh O'Connor.
Did you know Renee Zellweger ate 20 doughnuts a day to gain weight for the
Bridget Jones
movie sequel?
Once declared the 'Hit Food' of the Century in 1933 at the Chicago World Fair, these balls of dough are celebrated with National Doughnut Day on Friday, June 4.
There's something about these deep-fried treats that brings a smile to everyone's face – whether you like them original, glazed or coated in chocolate.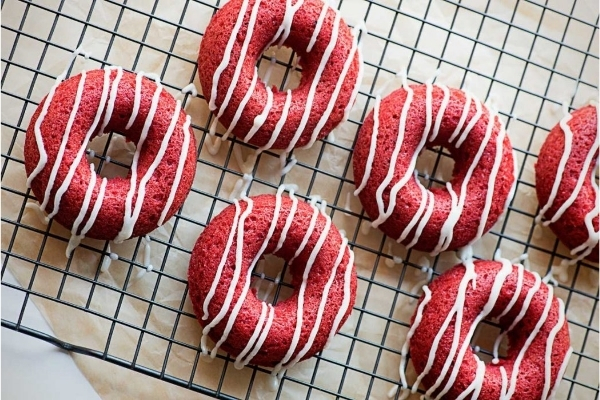 To celebrate this auspicious day, pop down to your local café for a doughnut and caffeine fix, or try this recipe for
Red Velvet Doughnuts
at home. Here are four more fun facts about these a-glaze-ing temptations:
•More than 10 billion doughnuts are made in the US every year – Canada produces fewer but due to its lower population actually has the most doughnut shops per capita of any country in the world.
•Apparently, the French used to call their doughnuts
pets de nonne
– which translates to 'Nun's farts'.
•American cops really do love doughnuts; back in the 50s, police officers on the graveyard shift would stop by doughnut shops as they were open late, to do their paperwork and have a snack. A reciprocal relationship developed – doughnut shop owners welcomed the police protection and the officers liked having a place to chow down late at night.
•Doughnuts were once called 'olykoeks', meaning oily cakes in Dutch.
Don't glaze over this special day on the culinary calendar…make sure to go nuts for doughnuts on Friday.