By Freya Ensbey.
Many Chefs are associated with a certain dish, genre or cuisine; think Jamie Oliver for his advocacy of the healthy eating movement, or Heston Blumenthal for his avant-garde take on the norm, however it is Tetsuya Wakuda who is renowned for his skill and innovation with preparing seafood.
Born and raised in the town of Hamamatsu, Japan, Tetsuya arrived in Australia at the age of twenty-two to begin a career as a kitchen hand at fishwives in Surry Hills. It wasn't long until the Chef prodigy was invited to Sydney's Kinselas as a sushi Chef, where he was also taught classical French techniques which would forge the fusion style he is well known for today.
Following the success of his self-titled Sydney restaurant, Tetsuya's, Tetsuya took to Singapore to open Waku Ghin, located at the famous Marina Bay Sands complex, earning acclaimed recognition as one of the best restaurants in the country and internationally recognised with their first Michelin Star last year (2016).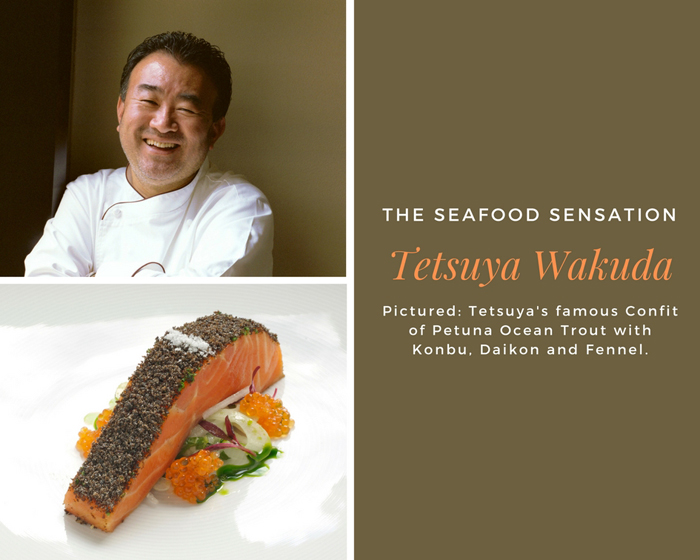 Throughout the rise of Tetsuya's successful career, one constant has remained the same, with a strong affiliation and respect for seafood. Spending a lot of time in the Tasmania region and developing lifelong relationships within the seafood industry, Tetsuya understands the intricacies of quality seafood production to create a superior product on diners' plates.
Following the addition of a second Michelin Star this year (2017 - two Michelin stars), we sat down with the ever charismatic, talented and humble Tetsuya to talk about his latest achievement, what is next for his team, his love for Tasmania and his relationship with seafood.
Describe the moment you heard you had received your second Michelin Star for Waku Ghin. Who were you with, how did you feel and was there any expectations held?
It was unexpected, so a nice surprise. I was almost shocked. It was very good for the team, they put so much effort into everything that they do, so it's a very nice recognition. I could only take one guest [to the awards ceremony] so I chose to take my Executive Head Chef for Waku Ghin. He has worked for me for over 13 years now, in Sydney for 6 years and then in Singapore for 7 and a half years.
Receiving a Michelin Star indicates culinary excellence in many aspects of the restaurant and kitchen. But, what are the personal traits you think you and your team possess that has seen your success in this arena?
The restaurant business is a company and team, from the Chefs to the service team, both of these have to be in [it] together. So, it's nothing but a team effort. We always look for quality in the ingredients and then simply execute them in a certain way of cooking which will enhance the flavour of the ingredients. This is something totally different that we do here and is a basic philosophy we have.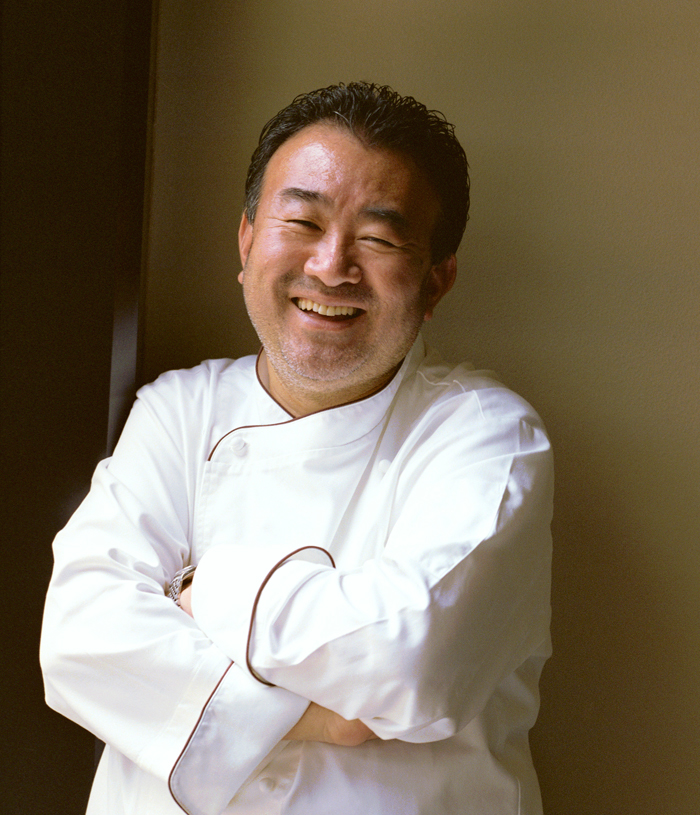 The future looks incredibly bright for Waku Ghin, what is your team's game plan for the year now to follow?
I just told my team that we are so honoured to have two and anybody in a two Michelin-starred restaurant will be highly booked. We have been doing good, so we have to try even harder. People expect a lot more too, so we have to just keep our heads down and try harder. That's all it is.
After spending a lifetime in the industry, you seem to be constantly pushing the boundaries and reinventing how you work with ingredients. What inspires you and what's your process for finding inspiration?
Sometimes it happens and sometimes you just have to go and look for it. I keep all eyes and ears open and look to the market place, and talk to other people to find the better ingredients and also to try and stay in tune with my sensitivity. [In] cooking, you can teach skill, but sensitivity you can't; if someone doesn't have one. For instance, you need to be able to see which apple is better, but also know which apple is better to cook in certain ways, you have to know what each apple is used for, so you have to know what a good ingredient is and you have to have the eyes for it, and also the palate. That is something you just can't teach. The individual Chefs just have to experience it and motivate the staff. That's all we can do.
So, you find that inspiration comes from using all of the senses as a Chef?
Exactly and then produce. When you see produce naturally, even for yourself at home you go to cook something you are attracted to. For instance: "tonight I'm going to cook fish." It's a feeling most have had, right? This is what is most important for me.
It tends to come naturally for you with how you are feeling with different ingredients?
Yes, [inspiration] comes from how I feel with the ingredients.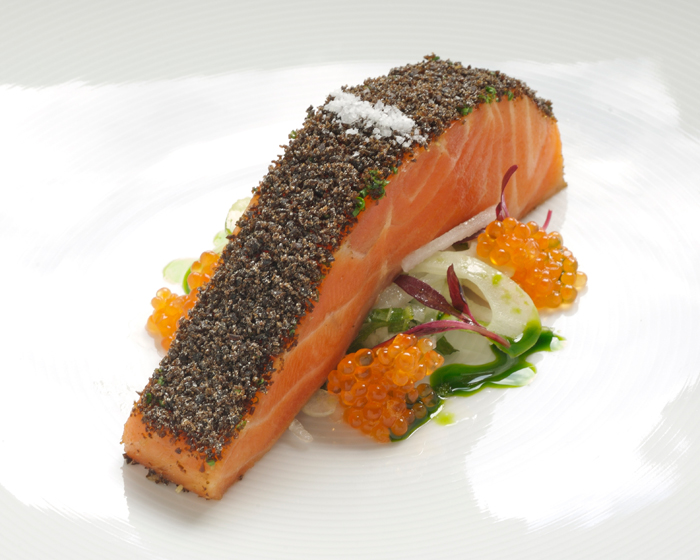 Seafood has been an important aspect, throughout your career, it has played a big role. Tell me about your earliest memory of seafood and the relationships you have formed around it.
It has been a long time. Ocean Trout for example, some people ask why it is still there [on the menu]. People come in just to have the Ocean Trout. I firstly introduced salmon to the market place in Sydney around 25 years ago, it couldn't be supplied all year, so for 3 months of a year I had to serve Ocean Trout. When I tasted the Ocean Trout I was very excited, so I started looking for more Ocean Trout than the salmon and that's how it started. Now my suppliers have become family to me, our suppliers, growers and farmers, we all have a great relationship and that's a very valuable thing in life for me.
Being a temperamental protein, seafood can be intimidating to a lot of home cooks who choose instead to steer clear of it altogether. What is the biggest mistake that you find people make when cooking or preparing seafood and what tips would you give?
Everyone tends to overcook it. Why be intimidated? If you make a mistake, next time you will learn from it. In the restaurant we [make] mistakes all of the time. Some recipes we have to do again. Also, cooking has to be enjoyable, if friends come to my house, I cook. I really, really enjoy cooking even when I am home as well. Grab a glass of wine and don't follow a recipe, you follow your heart, that's most important I think.
Our most Southern state of Tassie, where you have spent a lot of time, is known for their fresh produce and seafood. Do you have any must visit places, restaurants or wineries in Tassie to recommend?
My god plenty! For wineries see Stefano Lubiana Wines, Domain A Stoney Vineyard, Apsley Gorge Vineyard and Bicheno Winery. These are outstandingly good cool climate wineries. As for an experience, I would recommend Pennicott Wilderness Journeys, who host an eye-opening tour called Seafood Seduction. It's amazing! Beautiful scenery, fresh air and enjoy a meal on the boat, I think it's a once in a lifetime experience. I have been there many times, any friends that come to visit in Australia I have taken them to Seafood Seduction.
They cook simply for you on the boat and it's just fun. Last time I was there, I threw over a line and a big squid came up and we ate it. Some great restaurants are the Peacock and Jones who do a great steak set inside The Henry Jones Art Hotel, which used to be a jam factory but was turned into a hotel set in the middle of the harbour. I also recommend Aloft on the water and The Agrarian Kitchen, which is a cooking school by Rodney Dunn, who used to work for me.
If you could only cook with a main ingredient for the rest of your career, what would they be?
I love fish so I guess it would be Ocean Trout. Even raw or cooked it is still amazing. It is nice, so nice. My restaurant can't live without it because people come in for it from all over the world, so I can't take it off the menu. The majority of people coming to our restaurant still want Ocean Trout. No matter what other people think, it is still a favourite, so what can we do?
Tetsuya has been generous in gifting our readers the chance to create a little of his seafood magic at home with his sought after slow, pan-roasted abalone (there's also a how-to video!) He explains that a lot of people think that abalone is a tough flesh, but when cooked properly, it can actually be quite tender and simple to make. Using the fresh abalone as the hero, the addition of garlic, shallots, mirin and soy sauce bring this recipe together to create a stunning umami dish ideal for warmer weather, Summer seafood feasting.