By Freya Ensbey.
"We don't believe in recipes with a million steps and hours of preparation, this is not that cookbook." ~ Shannon Martinez and Mo Wyse.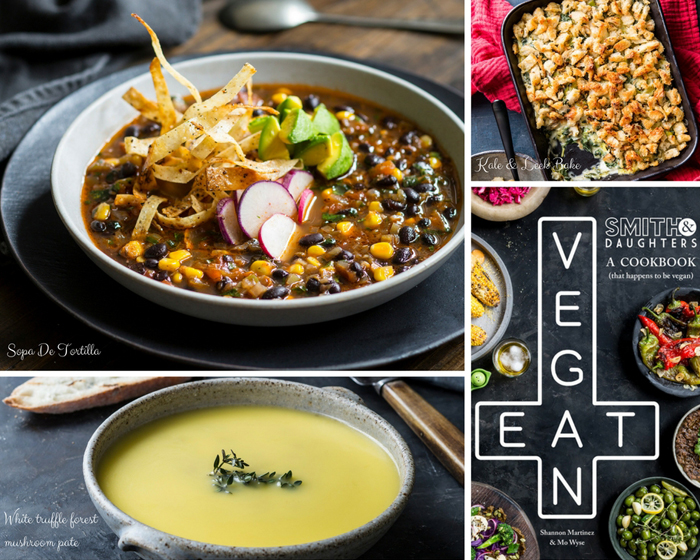 From the creative duo behind successful vegan restaurant Smith & Daughters found in Fitzroy Melbourne, Shannon Martinez and Mo Wyse bring you a cookbook packed full of their favourite recipes. This book is a movement towards convincing people that veganism is not just a trend and can taste absolutely delicious if done well. Shannon, having been a Chef for many years, found her inspiration to cook without using animal products came from a sincere lack of inspiration and innovation within mainstream cooking. She taught herself how to make meat without meat, cheese without cheese and eggs without eggs.
This book is all about making vegan food available to people who never thought they could have access to it, or make it taste good. With an attempt to get people sharing more meals, the girls have included an in depth chapter of smaller plates that are easily shared around the table with friends. Broken down into chapters of Brunch, Smaller Meals, Bigs, Salads, Extras, Sauces and Dressings, Sweets and Drinks, this cookbook is playfully honest and ridiculously easy to follow.
Impress your next dinner guests with not just another boring hummus dip, and dish up an impressive white truffle forest mushroom pate. With a gooey and cheesy consistency, packing a flavour explosion, this dip keeps well in the fridge and can be spread over crunchy toasted sourdough, served with dip or added as the base of a sandwich.
For a warm and hearty hunger buster packed with protein try this take on the much loved chicken noodle soup, Sopa De Tortilla. With spicy jalapeno for added kick and refreshing avocado sliced on top, this soup if perfect to make for loved ones who are feeling under the weather.
For an unexpected crowd pleaser the kale and leek bake is everything you need in a one pot casserole wonder; it's creamy, garlicy and crunchy with toasted breadcrumbs on top. The perfect comfort food for a night on the lounge, and being packed with hidden vegetables and nutrients to hide from the kids, makes for the perfect mid-week meal to share with the family.
This cookbook is not only for those who are vegetarian or vegan but those wanting to cut down on their meat consumption, whether it be for health or sustainability reasons. With tips and hints along the way to make the most out of your ingredients, this is a dynamic and educational cookbook that also happens to be vegan.
Images and recipes from Smith & Daughters: A Cookbook (that happens to be vegan) by Shannon Martinez & Mo Wyse published by Hardie Grant Books RRP $48.00.