Revered wine critic James Halliday has had over 45 years in the wine industry and the Halliday Wine Companion Awards are like the announcement of the world's best restaurants – nerve wrecking, exciting and one that sometimes causes dissension.
Tonight, six major awards were announced along with ten of the coveted varietal awards and this year's Dark Horse Winery of the Year is none other than Terindah Estate, which has steadily been achieving awards in numerous varietal categories since 2003, but has just received their first five-star rating – making them the perfect candidate to win the Dark Horse.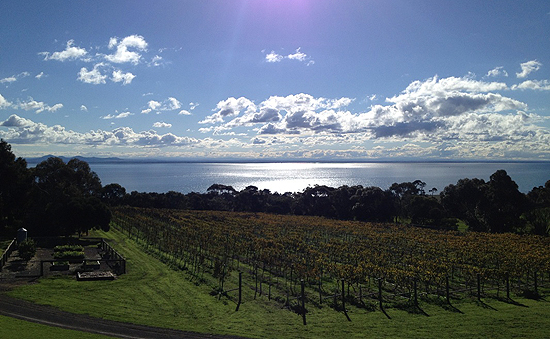 The view of Terindah Estate from The Shed @ Terindah.
James Halliday commended Terindah Estate on their exceptional wines as well as their beautiful winery, which boasts 15 acres of vines, a private beach, rotating wheat as well as fig and citrus trees along with a small organic herb and vegetable garden which contributes to their cellar door and restaurant The Shed @ Terindah.
"Of the eight wines tasted, three were awarded 95 points, another two 94 points and four given the value symbol. Terindah Estate was by far the best performed contender for the Dark Horse award," said Halliday.
Terindah Estate was bought in 2000 by Peter Slattery, who has retired from running his own company Slattery Australia (where he is still the director). Peter and his wife, Cate, had a vision to create the most spectacular food and wine destination on the Bellarine Peninsula and the Dark Horse award only contributes to their vision and path of success.
"I could not resist the beauty [of Terindah Estate]; the views across the bay are spectacular. I soon realised that the terroir was perfect for grape growing, so we planted our first vines in 2001," said Slattery.
"My original vision for the property was to have a location close to Melbourne that offered a good lifestyle and one that Cate and I could bring our 6 children to. It wasn't until I had a boating accident that saw me pause and reflect on my life, [which lead to the realisation that] I could create a premier food and wine destination for visitors to The Bellarine."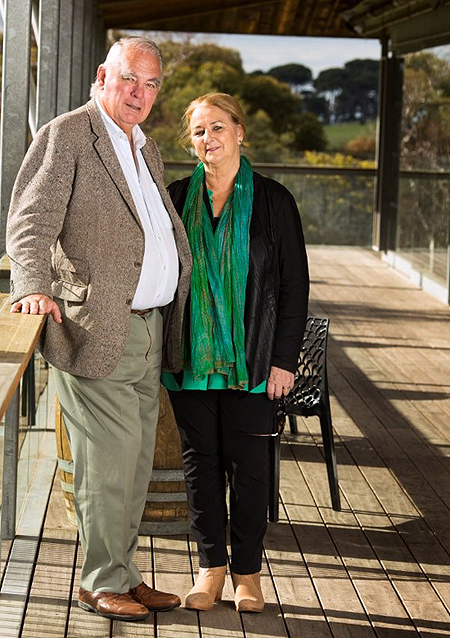 Peter and Cate Slattery at Terindah Estate.
Terindah Estate now employs more than 40 people and received the Shiraz Trophy in 2013 for the country's best Shiraz. Peter says that there is still work to be done as the Bellarine Region is not as well recognised in the wine community as he would like.
"A lot of people still don't recognise Geelong or the Bellarine Peninsula as a renowned wine region, so we have to continuously promote our brand as a wine destination. Being named this year's Dark Horse will certainly help us deal with this challenge," said Slattery.
"Recognition as a five star winery not only boosts our reputation, but enhances the area as a whole and helps to attract more visitors to our region."
For more information on tonight's awards see here.
To find out more about Terindah Estate click through here.
Images courtesy of www.terindahestate.com and Drew Ryan Photography.