AGFG getting you ready for Summer
By Crystal Landers
There is some tangible excitement in the air as the sunny season of 2013 has finally arrived, bringing with it an assortment of seasonal crazes that are sure to heat up your summer.
With the winter munchies and hibernation over, it's time once again to discipline our eating and exercise schedule if we want to reach that always out of reach bikini body!
In an endless search for delicious, healthy options, a number of culinary trends have started to rise to the occasion and are sweeping through the country with force.
Raw Vegan baking
Vegetarianism is higher than ever in Australia, but it's not only them getting involved in the raw vegan cooking craze. Bakers using fresh and organic ingredients to create homemade baked goods are taking over the world of instagram – with new and improved recipes popping up left, right and centre. Even Beyonce and Jay-Z have been transformed. Why not jump on the bandwagon and try our decadent and guilt-free chocolate brownie recipe?
Berry Good Produce
Of course there is nothing better than some fresh, juicy produce to counteract the blistering heat. With watermelon and mango season blossoming into our local supermarkets again, the infamous fresh fruit salad is an ever popular crowd pleaser. A certain berry has newly found its way into our hearts this year and that is the Acai Berry. Acai berry smoothies, Acai berry bowls (complete with fresh low-fat yoghurt and muesli), Acai berry facial masks – this deep purple berry can be found almost everywhere. In addition, the Chinese Goji Berry is making its way to Australian shores in juices, healthy Granola bars or even chocolate coated and dried.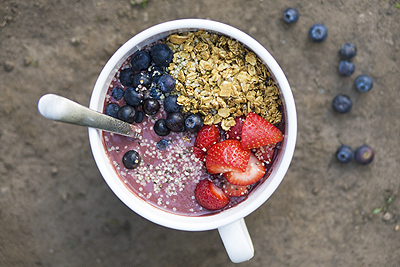 Pop-up
One exciting trend this summer is the increase in pop-up bars, cafés, stores and restaurants. While popular in the UK and US, Australia is just starting to experience the retail buzz of the limited-time only merchandise. The Simon Johnson pop-up store in Brisbane City has a decidedly festive touch, with hampers such as the 'Celebrate' hamper complete with fine nougat and artisan vinegars.
Fashion
This summer, a lot can be said for showing a little bit of skin in a glamorous way – with shapely cut-outs. While they can easily be done wrong, done correctly the design can give you sex appeal while maintaining a professional or elegant look. Bold colours and colour block patterns are sure to stand out and can provide edge. Another summer must this year is the use of geometric patterns. Suitable in a maxi, body-con and pantsuit the fashion trend can be fitted for a night out on the town or simply a nice lunch with friends.