Explore the best of Kingscliff and Tweed Coast's foodie offerings by heading down to the inaugural Taste of Kingscliff and Tweed Coast festival this July.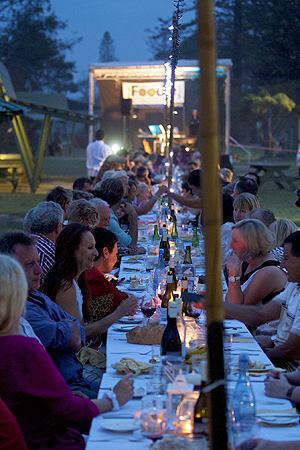 Running from July 11 – 20, this ten-day festival showcases a series of food-inspired, family-friendly beachside events throughout the Tweed area, with a focus on the region's fresh local produce.
Festival highlights include a special opening lunch prepared by local chef and amateur surfer Anthony McCulloch on July 11, a Memphis-style BBQ featuring Bangalow pork dishes, French cooking classes by Damien Pigot and Walk the Wharf, a free interactive walking and cooking tour along the Tweed River.
Scoot Long Table Dinner is the festival's signature event, held at Kingscliff, the dinner involves a three-course beachside affair involving thirteen local cafés, restaurants and food businesses with guest performances from the Murwillumbah Theatre Company and Vivachi Entertainment.
Scoot Airlines will also host Tweed's Biggest Picnic at Jack Evans Boat Harbour on July 12-13. The outdoor fiesta will feature market stalls, local chef demos and live entertainment, making it the perfect family day out.
The festival concludes with Gold Coast Taster@Salt, an event that comprises of a morning market, live performances, local restaurant dining options and a Master Class by award-winning celebrity chef Steven Snow of acclaimed South Kingscliff restaurant Fins.
Taste of Kingscliff and Tweed Coast runs from July 11 to July 20.
For more information or to purchase tickets, visit here.