Just returned from the Truffle Kerfuffle Festival in Western Australia, Executive Chef Adam Dundas-Taylor is showcasing Manjimup truffles at his Noosa and Broadbeach restaurants.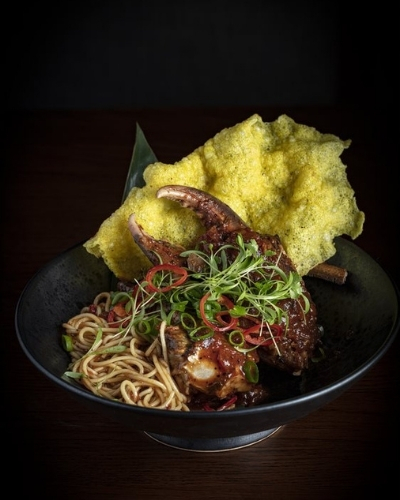 One of the most iconic Asian dishes claimed to have been created in the early 1970s by a Singaporean street vendor that had no signage – leading locals to refer to his instantly popular stall as 'No Signboard'- Adam has created his own version of
Singapore chilli and truffle mud crab
.
"This dish is lip-smackingly delicious with a peppery kick, but not as spicy as it sounds," Adam tells AGFG. "It is Australian mud crab claw, coated in sweet fragrant black pepper, chilli and truffle sauce; accompanied by vermicelli egg noodles, housemade yellow chilli cracker and Manjimup truffle, shaved at the table."
Featuring on Miss M's Friday and Saturday seven seafood dish luxe lunch offer, the signature shared dish selection and as an entrée on the a la carte menu, this crab is just too good to share.
Once it arrives at the table, you'll want to crack it and enjoy it all to yourself!