By Leigh O'Connor.
For most of us chowing down on a leg of fried chicken is pure poultry in motion and thanks to the Colonel this fast food is a worldwide phenom.
As we prepare to celebrate National Fried Chicken Day on Tuesday July 6, here four fun facts we bet you didn't know and four of our favourite places to get a fix:
•It is actually the Scottish who are credited with being the first to deep fry chicken in fat and they brought the dish with them to America.
•Slavery and segregation were essential to fried chicken's rise in popularity – slaves were generally allowed to keep chickens, so frying them up on special occasions became commonplace. Because many restaurants were closed to blacks due to segregation, fried chicken became a go-to dish as it kept well in an era before refrigeration.
•Nashville-style fried chicken, which is legendary for being super spicy, may be the unhealthiest of all – after the chicken comes out of the fryer, it is dunked into a vat of chilli-infused oil, kicking up the calorie count to stratospheric levels.
•Until the early 1900s, fried chicken was a dish reserved for special occasions and holidays, due to scarcity of Spring chickens and the need for such a high volume of fat.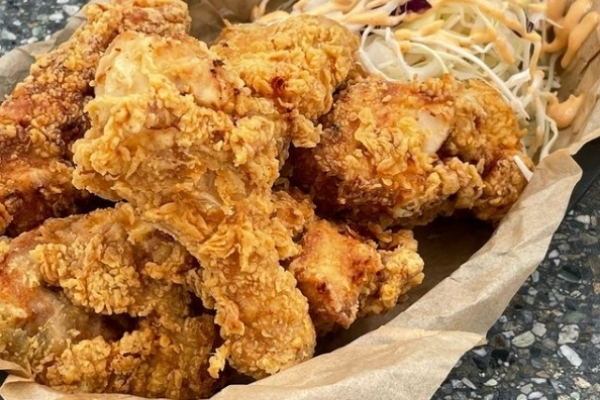 Robot-cooked fried chicken at Sam Sam Korean Chicken and Beer.
At
Sam Sam Korean Chicken and Beer
on Swanston Street in the heart of Melbourne's CBD there's a revolution happening in the kitchen. Pop your head through the doors and find Sam the Bot cooking your fried chicken for you – yes you heard right, a robot is wearing the apron at this modern two-storey restaurant, which buzzes with a late-night vibe that only this city can deliver.
It's all about the chicken at this joint, from hot and spicy to lemon mayo and onion, there's a combination to tempt all tastebuds, along with an icy brew; there's also Korean staples like kimchi fried rice, stone bibimbap, beef bulgogi and spicy seafood noodle soup.
Drop by
Clarendon Station Restaurant
in South Melbourne on Tuesday to try special Malaysian-style fried chicken and housemade sambal mayo. Nestled in Clarendon Station Hotel, this restaurant is ideal for a special date with soft ambient lighting and elegant fixtures; or catch up with friends after work for a glass of wine and boutique Asian-style cuisine.
Perhaps kickstart a memorable meal with crab meat dumplings or a Peking roasted duck bun, with shallots, cucumber and plum sauce; before deep-fried five-spice chicken ribs in batter, with Japanese sesame dressing and mixed salad.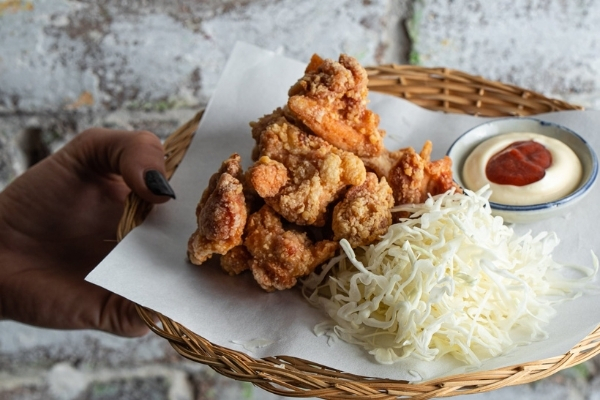 Chow down on tori karaage chicken and chilli mayo at Kaiza Izakaya.
Be transported to the bustling streets of Tokyo at
Kaiza Izakaya
on Enmore Road in Newtown as you celebrate National Fried Chicken Day with a plate of tori karaage chicken and chilli mayo. The brainchild of Chef Jason Nguyen, this stylish Japanese fusion restaurant has a moody vibe of black and red walls adorned with artwork, cranes, fans and lanterns.
From watching his Dad cook Vietnamese dishes combined with his Japanese culinary education, Jason serves fare with flair cooked on a smoking hot charcoal grill, or wok; think starters like Hokkaido scallops, followed by beef striploin and kombu soy butter.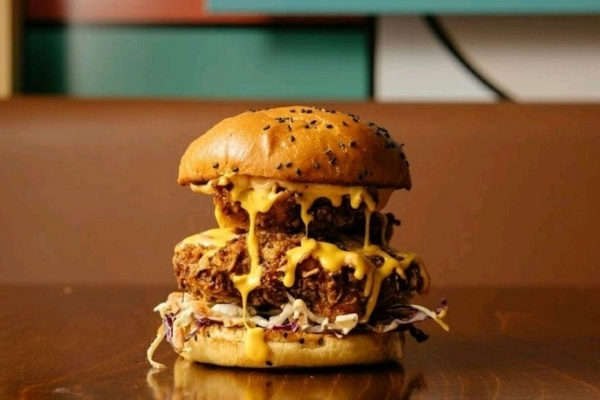 Cluck Me Dead…that's Mission Burger's mighty chicken offering.
Wrap your hands around the Cluck Me Dead buttermilk fried chicken burger on Tuesday at
Mission Burgers
on Main Street in Ellenbrook. Sink your teeth into crunchy cornflake coated chicken, with pickled ginger, Asian slaw, chipotle aioli, creamy cheese sauce and sesame kewpie mayo; best enjoyed with a side of onion rings and loaded fries.
On a mission to deliver tasty burgers and give back to the community, this fast-food joint helps those in need through local initiatives; making indulgences such as burgers, loaded dogs, chicken wings and slow-cooked pork ribs guilt-free for diners.
For more fried chicken hot spots, click
here
.