Emerald rice paddies and colourful floating markets await travellers on the waters of the Mekong River Delta. Long referred to as the 'rice bowl of Asia,' the Mekong abounds with fertile lands showcasing nature's riches, where sleepy floating communities live surrounded by tropical fruits, wallowing buffalo and mangroves rich with birdlife.
The Mekong is the world's twelfth longest river and flows South for more than 5000 km from Tibet to South-West Vietnam, where it splits into tributaries forming the vast delta. Along the way it is home to spectacular religious landmarks and temples, as well as village communities dependent on agriculture.
Those wanting to experience life river-style can take several tour options from day trips to longer excursions - here's a sneak peek at what's on offer for adventurous travellers and those with water wanderlust.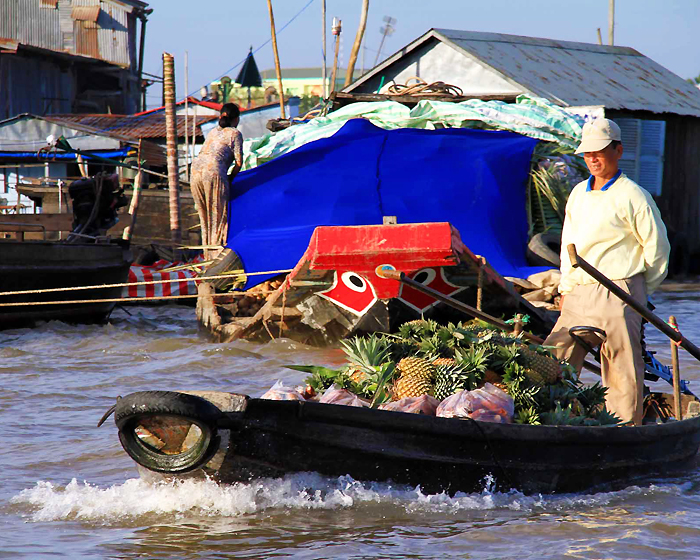 Cai Rang Floating Market.
Cai Rang Market
Escape the commotion of Ho Chi Minh City by taking a day tour to the Cai Rang market, where boats swell with fresh coconuts and exotic produce, strung on poles high above the river so shoppers know what is on offer each day. These markets are essential to Delta life and small sampans also serve as mobile cafes, where soft drinks, iced coffee or strong noodle soup can be bought for breakfast. The best way to explore the market is early in the morning by boat, tours usually start from Can Tho and while floating down the river, they offer glimpses of life along its shores, passing vibrantly painted boats and houses built on stilts over the water.
Ben Tre
In the Thua Thua area, the delta turns into narrow canals that snake past agricultural villages famed for their coconut palms, whiskey and wine production. Travellers can seek serenity at Ben Tre, where a sleepy waterfront and languid pace provide a welcome retreat from the hustle and bustle of Vietnamese city life. Lined with ageing villas, Ben Tre is easy to explore on foot and a great place to arrange boat or bicycle trips of the area. Famous for keo dua (coconut candy), many local women work in small factories making the sweets, slaving over boiling cauldrons of sticky coconut goo before rolling and slicing it into squares. Apart from tasting the candy, visitors can also watch its production and enjoy honey green tea, exotic fruits and freshly-made rice paper, or perhaps drop into a local house set amongst fruit orchards and bonsai trees for a spot of lunch.
Tra Vinh
With classic Delta scenery of vivid green rice paddies, coconut and water palms, Tra Vinh is an outback market town in the heart of Khmer country. More than 140 distinctive pagodas are dotted throughout the province in rich pastel shades of lilac, orange and turquoise, with Ong and Ong Met the most visited due to their completely different styles. Many tourists come to see the white egrets and storks at the nearby Buddhist temple Hang Pagoda, where orange-robed monks also beat an enormous drum in the courtyard. A hike through the town's fish market to the riverside provides great views of boats moored seven or eight deep, almost blocking the waterway in some places. Don't forget to stop by Tra Vinh Church with its stone buttresses and decorated spire.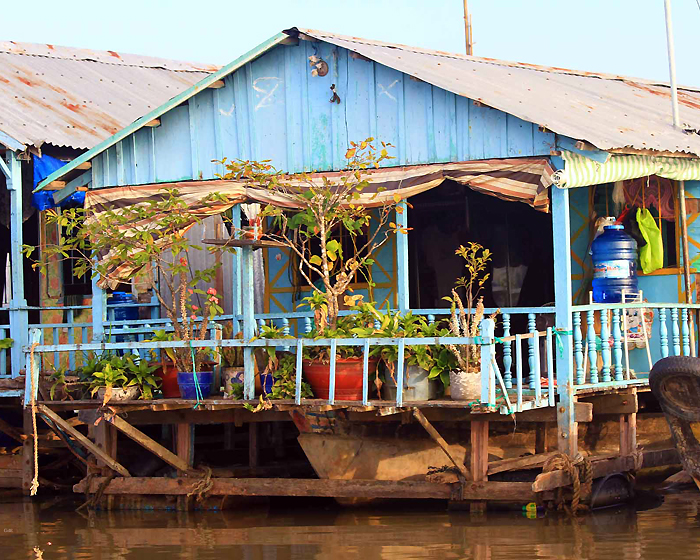 A floating Fisherman's Village, Chau Phu, Mekong Delta.
Chau Doc
Nestled on the banks of the Mekong close to the Cambodian border, Chau Doc's vibrant marketplace, monuments, mosques and temples are not to be missed. With many cultural and religious sites to explore including De Dao Trang Plaza and Chau Phu Temple, it is one of the must see destinations in the Delta. Take in the famous Panga fish statue on the waterfront before embarking on one of many boat taxi trips up and down the river, or climb nearby Sam Mountain where stunning views looking into Cambodia await at the peak. Long considered a pilgrimage for many Vietnamese, the trek passes dozens of shrines, tombs, statues and the Phat Thay An Temple.
Sa Dec
A peaceful city of tree-lined streets and fading colonial villas, Sa Dec is ringed by orchards and flower markets and famous for its roses. Nurseries line the river bank and canals, but the biggest attraction is Huynh Thuy Le Old House, an 1895 riverfront residence of Sino-French design with intricate interior woodwork and mother-of-pearl inlaid doors. Once the home of Huynh Thuy Le, the 27-year-old son of a rich Chinese family, who Marguerite Duras had an affair with in 1929 and immortalised in her book 'The Lover,' it was made famous in a movie by Jean Jacques Annaud. While the outside of the house is French inspired, the interior is totally Vietnamese with a large ancestral altar lacquered in red and trimmed in gold, as the centrepiece.
Tra Su Indigo Forest
Picturesque scenery and ecotourism await at Tra Su Forest in the Tinh Bien District. A typical flooded forest, Tra Su is an ideal destination for those wanting to explore nature by motorcycle, bike or boat. Motorised boats transport visitors deep into the mangroves to take in the wild and green scenes, where the water surface is covered with duckweeds, bright yellow dien dien flowers and thousands of birds. An observation tower at the centre of the forest gives amazing views of the entire area and bird sanctuary where herons, storks, teals and corks abound in numbers. As well as the scenery, delicious local dishes such as braised fish and dien dien salad are not to be missed.
Vinh Long
While Vinh Long has its own floating drawcard – Cai Be Market – the real attraction is the overnight homestays available on a cluster of islands across the river from the town. Choose from a variety of options from purpose-built guest houses to small family homes, where travellers can enjoy local hospitality and cuisine while experiencing how families go about daily life. Sitting in pleasant grounds across from the river Confucian temple Van Thanh Mieu is worth a visit, or simply sit in a café by the waterfront and watch sampans and houseboats float by. Vinh Long is also known for its ceramics and as well as watching the process, tourists can try their hand at creating a lasting memory to take home.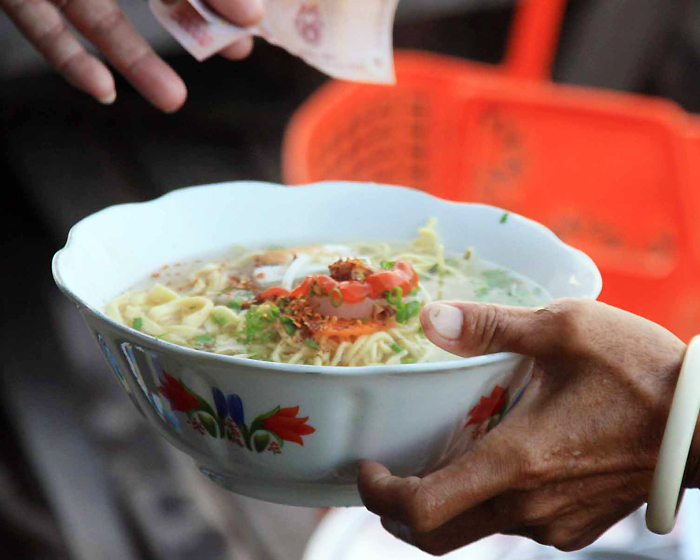 Food straight from the markets, Vietnam.
Phu Quoc Island
It is hard to believe this stunning tropical island is part of the Mekong Delta region, but it shouldn't be overlooked by those wanting to laze on exquisite white beaches with soft sand, coconut palms and crystal waters. As well as visiting natural wonders such as Da Ban Stream and the Cape of Ganh Dau, no trip to Phu Quoc is complete without setting foot inside a fish sauce factory and learning how locals live on the island. Relish free seafood and delicacies like ocean crab, herring salad and sea urchins all prepared in simple style to keep the flavours intact. For a blitz of history, drop into Coconut Tree Prison – once considered hell on Earth – and learn more about the will and energy of Vietnamese soldiers during the war.
No journey through Vietnam is complete without trying the staple national dish – a bowl of Pho. Born in North Vietnam in the 1880s, it is believe to be derived from pot au feu – a French soup. Over the years it has become blended with Chinese, French and native influences to make it uniquely Vietnamese.
Want to know more about Vietnamese food, travel and culture, go to this link.
Images by Guido da Rozze, found on Flickr, see the full Vietnam album here.