12 February – 04 March, 2012
The Rumours are True – LGBTQI Pride Festival
The word on the street is that Sydney Gay and Lesbian Mardi Gras 2012 has confirmed a performance by pop heroine Kylie Minogue. Not only will she be an honoured guest at the Mardi Gras Parade, it's been announced that she will be performing at the Mardigrasland afterparty to take place within Sydney's Entertainment Quarter. This outrageous evening and night like no other unfolds on Saturday, 03 March.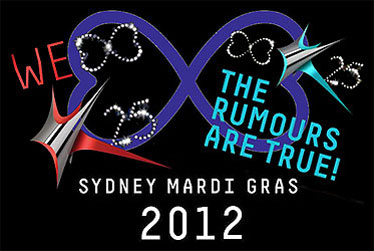 Sydney Mardi Gras festival 2012 officially begins on Sunday, 12 February and there are plenty of Lesbian Gay Bisexual Trans Queer & Intersex (LGBTQI) pride festivities leading up to the flamboyant and fun festivities on parade night.
"Being part of Mardi Gras this year is so important to me because I know that so many of my fans make up the amazing community it represents," said Kylie.
The Parade and Glamstand on Oxford and Flinders Street is one of Sydney's unforgettable celebrations, an exotic rainbow display of floats, costumes, design and dance; the Glamstand is the best place to watch the world famous parade, offering a beautiful setting complete with fine foods and glamorous bars.

History of Sydney Gay and Lesbian Mardi Gras
Sydney's Mardi Gras is unique to any other pride event hosted by other major cities worldwide - no other gay pride event has captured this level of imagination and participation.
"A visit to Mardi Gras is an absolute once-in-a-lifetime must for every gay travelling man," encourages the gay travel bible Spartacus. Indeed, many gay men and lesbian women fly across the world again and again to enjoy these all-inclusive queer oriented festivities.
Kicking Off this Year's Festivities
Fair Day launches Sydneysiders and visitors into the festival, taking place from 10am until 8pm at Victoria Park Camperdown on Sunday, 12 February. It's a fun and relaxed day out in the park with family, friends – old & new – and even pets, drawing in about 70, 000 people per year. There are a wide range of delicacies and drinks available at the stalls, while the Gaydar Lounge and Finlandia Lounge will provide cold drinks and great spaces for a chat.
Can't get enough picknicking? The following Sunday, 26 February, Sydney Femme Guild Picnic will be held at Enmore Park.
Mardi Gras Harbourside & Hot Bars
There's nothing quite like letting loose on a cruise, and on Tuesday, 28 February you can check out the stunning Sydney harbour on the Sunset Cruise filled with DJs, drinks, canapés and great company – departure is from Casino Wharf.
Following that, anticipation is building for The Laneway on Sunday, 04 March. The day after the parade and party, when the lane is the stage, gives you the chance to close down the festival in two of Sydney's hippest pubs, The Flinders and The Beresford. The connecting Hill Street laneway in-between will also be lit up with guest DJs, giving you one last lick of Mardi Gras magic, old-school/new-school style.