By Leigh O'Connor.
Baklava – that rich, sweet pastry made from layers of filo, filled with chopped nuts and held together with syrup or honey – is a Middle Eastern dessert staple and considered the ancestor of strudel.
Come Thursday, November 17 this deliciously naughty treat takes centre stage as we celebrate National Baklava Day. Usually served at room temperature, baklava can be cut into a number of shapes for serving, usually in small portions because of the richness of the filling and syrup.
Did you know that not only was it served to royalty, baklava was probably created in the imperial kitchens of the Topkapi Palace in Istanbul? The Sultan presented trays of baklava to members of his household troops and bodyguards during Ramadan, in a ceremonial procession called the Baklava Alaya.
The largest baklava recorded weighed 513 kg and was made in Ankara in Turkey in March 2018 during the Ankara Gastronomy Summit; while we don't expect you to go to those lengths to celebrate, why not treat family and friends to a plate come Thursday at these four restaurants:
Nothing beats a home-style meal and for more than 28 years Sophie Christou has been providing residents of Melbourne's Surrey Hills just that at
Flame Greek Tavern
– traditional, authentic Greek fare. This unpretentious eatery is brought to life by an animated crowd of fiercely loyal locals sharing rustic plates of saganaki and briny olives.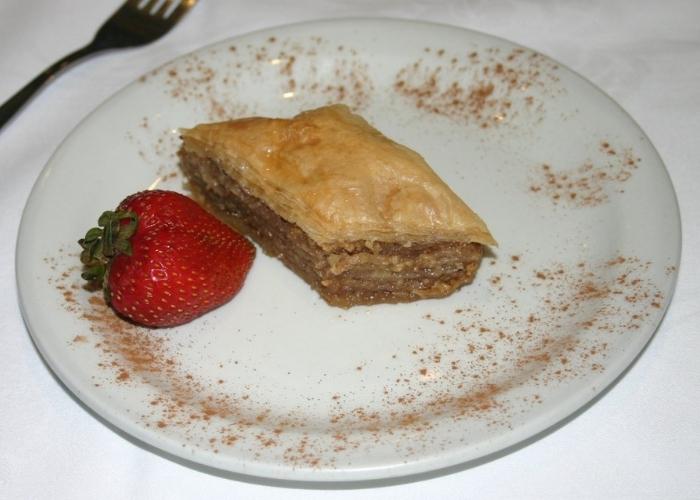 After a plate of tender charcoal-grilled lamb cutlets, Greek salad and chips, or chicken souvlaki skewers, vegetables and lemon potatoes; indulge your sweet tooth with traditional baklava and vanilla ice cream.
Expect 'many little dishes' to graze on when dining at
Mezethes Greek Taverna
on Salamanca Place in Hobart. Nestled in an historic bluestone building in Salamanca Arts Precinct, this aptly named restaurant oozes a vibrant and friendly ambience for all occasions; whether chilling in the alfresco garden for a long lunch, or dinner indoors where whitewashed walls are adorned with images of Greece, alongside authentic sculptures and accents.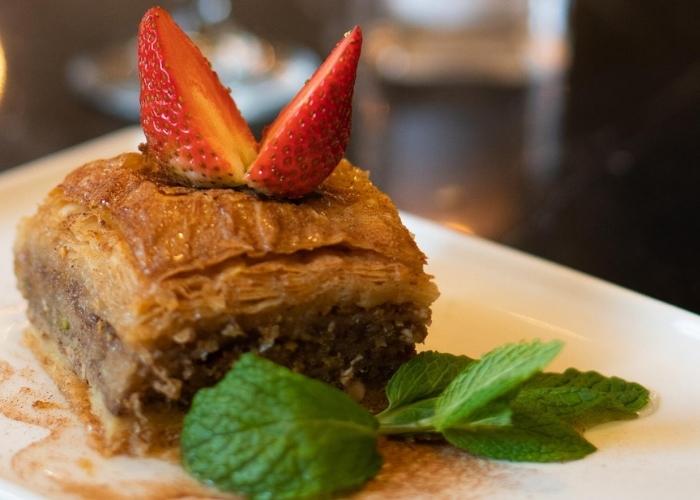 Fresh prawns with a hint of garlic, herbs and lemon, lemon roasted potatoes and housemade tartar sauce entice for a memorable main; before the definitive end to a Greek meal of baklava smothered in honey and walnuts.
Get your Greek on at beachside restaurant
Xenia Casuarina
on Casuarina Way. Nestled in Cotton Beach Resort, this laid-back coastal eatery is the place to dance like Zorba and smash plates on special occasions; or chill out in relaxing surrounds of hanging flowering plants, draped curtains and blue and white cushions, as you linger over a cocktail.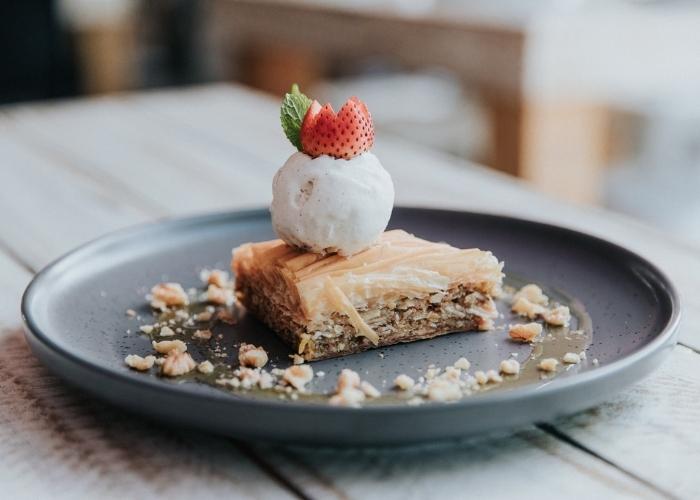 Start with local char-grilled octopus, fava and toursi, followed by mains like Sovereign lamb shoulder, lemon potatoes, kale and potato crisps and tzatziki; indulge with baklava, citrus syrup, kataifi, almonds, walnuts and ice cream to finish.
Embrace the vibrancy of Greek culture at
Koutouki
, a lively restaurant in the bustling shopping and dining precinct established on Norton Street in Leichhardt. Warm in ambience, inside is fitted out in earthy features with a mix of honeyed timbers and exposed brick walls, while a stage beside the bar remains a permanent fixture ready for live music performances.
Perhaps devour chicken souvlaki, with pita bread, grilled capsicum, tzatziki and chips, or classic beef moussaka, with eggplant, potato, tomato salsa, béchamel sauce and salad; finishing decadently with baklava, Greek yoghurt, walnuts and honey.
For more Greek restaurants near you, click
here
.