Nomad Distribution is Australia's Newest Padron Pepper Supplier
Pimiento de Padron or Padron peppers are small, green peppers which get their name from Padron, a municipality in Spain where they thrive. Roughly the size of your thumb, these little peppers are often simply fried in olive oil, salted and served at many tapas bars in Spain. Besides having delicious salty and sweet taste, they are also a fun food to eat - some are hot, some are not.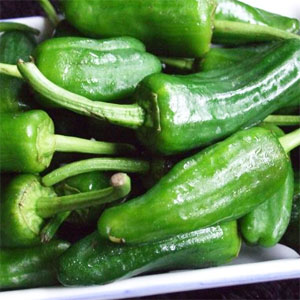 The History & Festivities Surrounding Padron Peppers
The level of heat varies according to the capsaicin of each pepper and some people will say that one in every ten peppers is a hot one while others will say the larger ones are the hottest, but there's only one way to tell and that's by picking one up by the stem and taking a bite. So much so that eating them is considered a Spanish version of Russian Roulette. Not to be discouraged, it's not as bad as it sounds. While you may get the odd surprise pepper that packs a punch, it's not as hot as to ruin a meal.
Historically, the peppers can be traced back to South America where folklore has it that they were grown for their aphrodisiac properties. They were brought to Spain by Spanish monks in the 16th century and were grown in the gardens of their monastery in the small village of Herbon, within the Padron district. The peppers soon became a favourite and the rest is history.
Nowadays, these tiny peppers have become so popular they have their own festival. The Padron Pepper festival is held every August in the village of Herbon where people celebrate and eat the latest crop of Padron peppers and drink wine.
A Popular Padron Recipe That Will Pop Your Taste Buds
If you do happen to stumble across these delightful little peppers, be sure to bag some and take it home. To serve, it couldn't be easier. There are a handful of recipes out there which could include stuffing them with cheese and baking them or wrapping them in pancetta. The traditional Spanish way to eat them is incredibly simple and you'll find them prepared in this way in tapas bars all across Spain. They make a great little crowd pleaser if you're having guests over or even by yourself if you're feeling peckish.
1. Put some olive oil into a frying pan and heat it to a high temperature (until it is just starting to smoke). 2. Throw the Padróns in the pan whole and fry them, turning occasionally, until all of the skin has started to blister on all sides. 3. Sprinkle them with a generous amount of sea salt and serve.
The season for Padron peppers in Australia runs from December to May but that doesn't mean you'll see these babies in the supermarkets. They are only just starting to take off in the Australia and making their way into bars and restaurants across the country. There are a handful of growers you will find either online or sometimes in the Sunday markets which will have them available.
Nomad Distribution is an imports company that specializes in the finest Spanish products. They now have Padron peppers available for restaurants, distributors and some select delis. For more information see:http://www.agfg.com.au/guide/nsw/sydney/northern-beaches/brookvale/providores/nomad-distribution