Stir Fry Tips for Lean & Delicious Dishes
Most Australian homes have a stir fry at least once a week. Firing up the wok at home means you can control how much sodium goes in as most Asian sauces are very high in salt. I am a huge fan of Asian food but if you want to know how to create authentic, healthy and low fat stir fries then follow these five tips.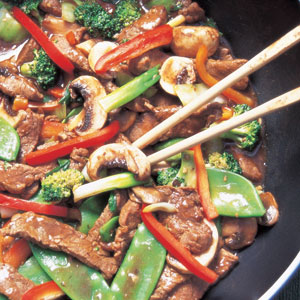 1) DON'T add extra fats to your wok when it isn't needed. Forget using oil when cooking stir fries. DO use a good quality non-stick fry pan or my favourite is an electric wok. Nothing will stick to it and I also like to use a little cooking spray as well.
2) DON'T over crowd your stir fry with too many vegetables as this makes it hard for your taste buds to define all the different flavours. DO include around 5 vegetables for your next stir fry and mixing up colours will makes the dish look interesting. Vegetables that work really well in a stir fry are carrot, broccoli, cauliflower, onion, shallots, cabbage, snow peas, sugar snaps, capsicum, squash or zucchini, mushrooms, all the different Chinese greens and baby corn. To go a little more gourmet I love using fresh asparagus, English spinach and fresh basil or coriander. Don't overcook the vegetables; they should be slightly crisp to eat.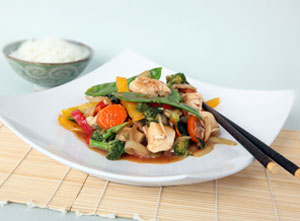 3) DON'T use coconut cream; it is around 60g of fat per cup, not a healthy fat option. DO instead use evaporated light milk with natural coconut essence. At 4g a cup this is a much healthier alternative and you won't notice the difference in flavour. Ideal for people with diabetes or people who have heart problems and perfect for anyone watching their waist line.
4) DON'T overcook your meat as it will be tough and tasteless. Don't put the meat in to the wok in one go as it reduces the heat quickly and then the meat ends up stewing in its juices. DO make sure your pan or wok is hot, then take your time and drop a couple of pieces at a time to avoid the meat from stewing and looking bland; I like to stir in some crushed garlic and ginger so these flavours infuse into the meat. When the meat is nearly cooked remove from the pan. Now cook your vegetables in the wok, add the sauces, and then when it is all ready place the meat back into the pan and once heated through serve. This way you will have juicy tender meat and your stir-fry will taste great.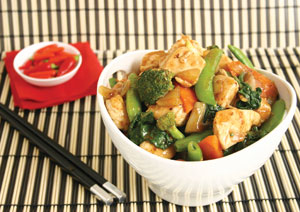 5) DON'T bother with fried rice as there are enough flavours in stir fries without adding more to the rice. Another thing to remember is that 1 cup of fried rice can have around 15g of fat. DO use Basmati rice, it has a lower Glycemic index and 1 cup cooked has 0g of fat. I recommend using electric rice cooker as they make it so easy. Rinse your rice in cold water first to remove the starch and don't over cook rice as it will become tasteless and gluggy.