Slide onto the slopes and embrace Australia's winter
At 5.9 kilometers, Australia has the longest ski run along with the largest commercial skiing area in Australasia. For a country that associates itself with sunshine, sand and surf, skiing is an activity somewhat downplayed in Australia. But with some of the best slopes and sites, it shouldn't be. Tasmania, New South Wales and Victoria are the star skiing states, with several well developed downhill ski resorts to choose from. New South Wales has the highest terrain and ski resorts, which makes for excellent down slope adventures. Victoria takes the prize for the greatest number of ski resorts in Australia, with Tasmania's stunning scenery and numerous mountain choices a prize alone.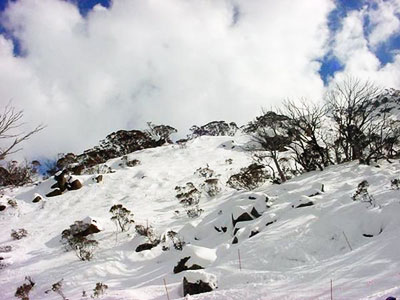 About Australia's ski slopes
Thredbo is one of New South Wales' most popular skiing destinations, with its ski resort renowned for a vibrant village atmosphere and active nightlife. Thredbo's slopes are gentle on beginners and cater for all age groups. The most reliable snow in Australia however goes to the Perisher valley, which offers the thrill of night skiing twice a week. Perisher covers four mountain areas; Mt Perisher, Blue Cow, Smiggin Holes and Guthega and offers a terrain style for every skiers competency level.
At 1,750 meters, Hotham is the highest resort in Victoria, meaning you can not only ski, but stay above the snowline. Mount Buller is also one of Melbourne's most popular skiing destinations, including activities such as tobogganing and snow tubing for those who want to give their ski legs a break.
To find out more information on skiing in Australia, read up on Skiing in Tasmania