By Leigh O'Connor.
There's nothing better than a glass of red wine in front of the fire on a chilly Winter's night…it not only warms the soul but also relaxes the mind after a long day of work or play.
For those of us who are health-conscious, never fear – there are also benefits to imbibing a red:
Darker grapes are higher in antioxidants and can help with heart health, along with lowering bad cholesterol and reducing the risk of cancer. Red wine is also credited with keeping your memory sharp, treating the common cold and lessening the occurrence of depression in the middle-aged to elderly.
Here are six of our favourites to enjoy this Winter, plus your chance to win a bottle of Shiraz or Pinot Noir from
Ablett Wines
– hand-signed by both Gary Junior and Senior, making this drop a highly sought-after piece of AFL memorabilia.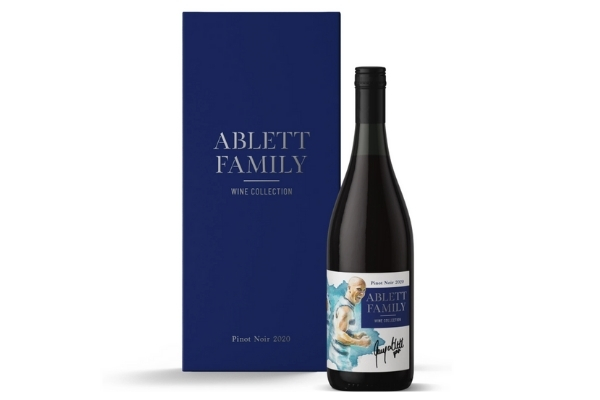 This hand-signed Ablett Family Collection Pinot Noir could be yours!
In partnership with
Austin's Wines
, the Little Master and father Gary Snr recently released an Ablett Family Shiraz and Pinot Noir, with both limited-edition bottles adorned with iconic images of the football superstars in action.
Grown in the rich limestone soils and cool climes of the Moorabool Valley, these reds are perfect for celebrating life's best moments, big or small and according to Gary Jnr ideal to enjoy with a good steak or bowl of pasta.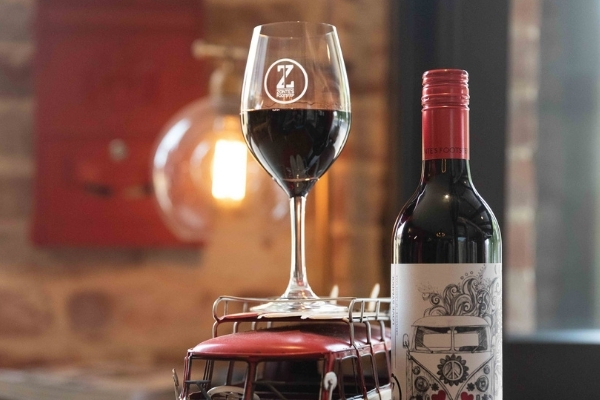 Love Symbol McLaren Vale Grenach by Zonte's Footstep.
Visit
The General Home of Zonte's Footstep
on Main Road in McLaren Flat for a Greek vegetarian dining experience and breakfast wine flight in a lively local hangout, which is a tribute to the original general store and post office of the 1800s. Zonte's sources grapes from their own and mates' vineyards to produce wines with personality, expression and unique names.
Love Symbol McLaren Vale Grenache 2019
has soft yet juicy tannins and a taut acidity that fills the mouth making you yearn for another sip. A deliciously medium-bodied drop with a kaleidoscope of flavours from red cherries through to bright Damson plums and subtle spice, this red also has a cheeky hint of oak.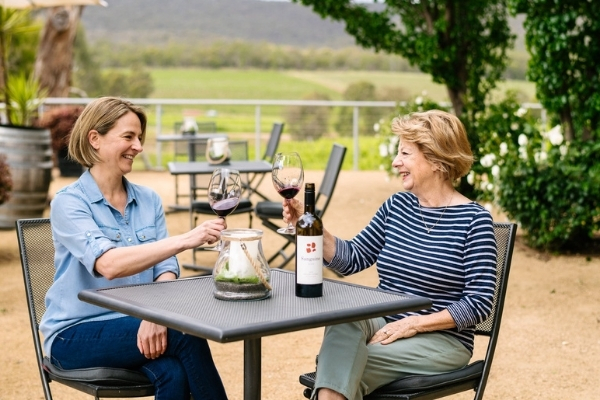 Enjoy a drop of Shiraz at Sanguine Estate in Heathcote.
Situated on the famed Cambrian-era soils of Heathcote,
Sanguine Estate
on Shurans Lane is an ideal spot to soak up scenic views and enjoy a taste of unspoilt flavours. Established in 1996 and producing their first vintage in 2000, this family award-winning boutique winery aptly reflects a passion for natural winemaking in flourishing surrounds.
A very dense bright purple hue, Sanguine's
2019 Progeny Shiraz
has ripe rich plum and cherry aromas, with a slightly smoky herbaceous edge; while on the palate it has length, power and structure. Pair this drop with dishes such as slow-cooked beef cheeks, or pasta with oxtail, celeriac and oregano ragu.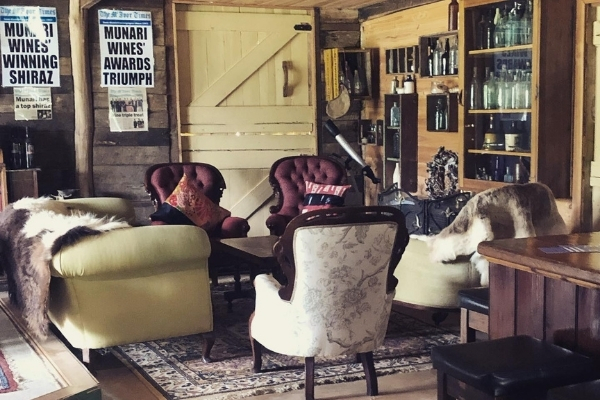 Step back in time at Munari Wine's rustic cellar door.
Step back in time and immerse yourself in the history of the property at
Munari Wines
cellar door on Northern Highway in Ladys Pass. This newly renovated cellar door, which was originally the stables situated next to the homestead built in the 1860s, offers a great place to watch the sun set over the vines with a glass of estate wine in hand and a charcuterie board to share.
Munari's flagship
Ladys Pass Shiraz
is a brilliant deep-red in colour, showing fresh bright fruits and bramble, coffee and cocoa notes; while cedar spice provides the backbone and gives this drop a more savoury edge. Brimming with dark plush berries, cooking spices and anise, the fresh acidity and seamless tannins produce an attractive and enduring finish.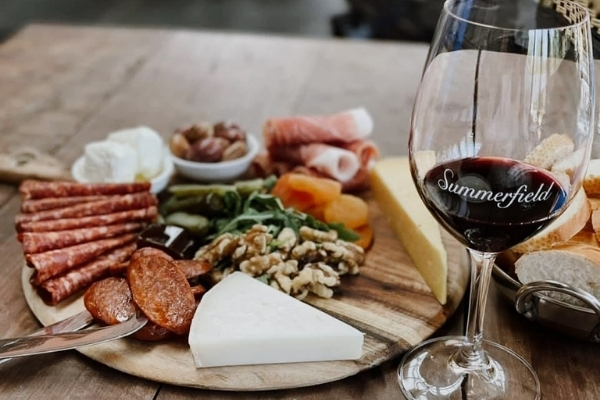 Summerfield is the place to enjoy charcuterie and a glass of Merlot.
Taste bold award-winning red wines alongside wood-fired gourmet pizza at
Summerfield Winery
on Stawell-Avoca Road in the rural Victorian township of Moonambel. This fourth-generation family business is ranked in the top 100 Australian wineries, according to James Halliday and produces Shiraz, Cabernet Sauvignon, Merlot, Cabernet Franc and Sauvignon Blanc.
Merlot is a variety that demands a lot of attention and canopy management for it to retain freshness and colour. Summerfield's
Merlot 2018
has sweet berries, spice and lovely earthy tones on the nose, while the palate is full, balanced and long; enjoy this wine now or cellar it for up to 25 years.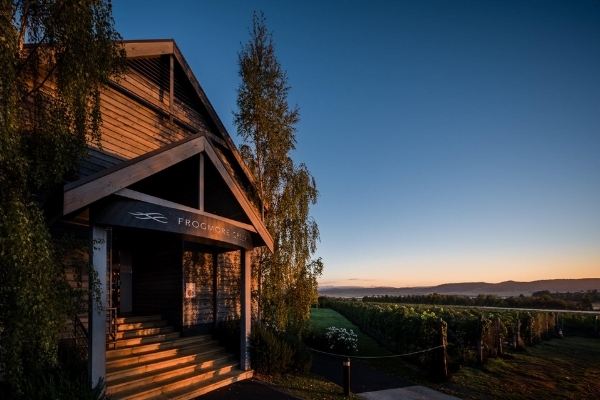 Immerse yourself in Tasmanian wine country at Frogmore Creek.
Surrounded by a sea of vines overlooking the spectacular Coal River Valley, find yourself immersed in Tasmania's wine country and all the sensory treats it has to offer at
Frogmore Creek
restaurant and cellar door on Richmond Road in Cambridge. Just a 20-minute drive from Hobart puts you on the doorstep of this award-winning venue, where you can experience the epitome of cool climate food and wine.
The
2018 SBS Tempranillo
is from Frogmore's Single Block Series and displays dark, rich earthy aromas, alongside fresh fruit, soft and delicate tannins. This drop is best enjoyed with dishes like beef carpaccio, confit garlic and anchovy mayo, gherkin chips, herb croutons and Parmesan, in the cellar door and restaurant onsite.