By Leigh O'Connor.
Did you know the world's largest dish of ceviche weighed 4082 kg and was made in Mexico?
This fresh, flavourful dish historically has South American origins and even celebrates its own National Day - on Monday, June 28.
Typically, ceviche is made from whatever fresh fish is local to the area it is being prepared; in Peru this is usually sea bass or sole, while in Australia it could be kingfish, or pink snapper. Other common fresh seafood you will find in ceviche can include octopus, squid, prawns and shrimp.
Actually a chilled fish stew, ceviche needs to be 'cooked' in lime or other citrus juice; depending on the recipe, it can be served with tomatoes, onions and peppers. In Mexico, ceviche is traditionally an appetiser, served with toasted tortillas and raw onions; while Peruvians enjoy theirs with slices of cold sweet potatoes and a side of corn on the cob.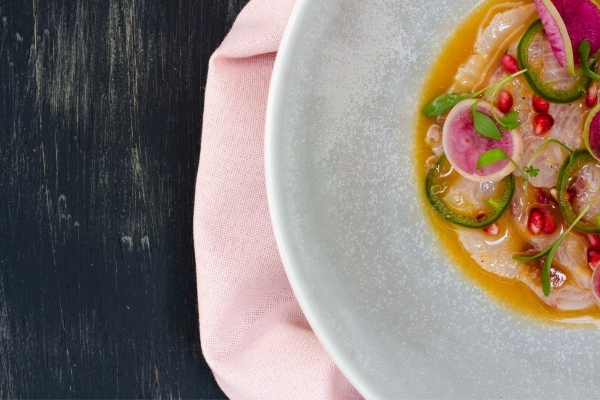 Miss Moneypenny's Hiramasa kingfish ceviche.
At
Miss Moneypenny's
on Surf Parade in Broadbeach, Gold Coast diners delve into Chef Adam Dundas-Taylor's
Hiramasa kingfish ceviche
in architecturally designed surrounds, evoking a Mediterranean coastal ambience with casual sophistication.
Influenced by his time in London, Adam says his ceviche recipe keeps evolving, depending on the style of food he is serving; presently it is served with pickled jalapeno, pomegranate and aji Amarillo citrus dressing. Don't forget to also try Miss M's signature slipper lobster linguine, with slow-roasted cherry tomato, chilli, brandy and saffron reduction.
Drop into
Si Senor Art Taqueria
on Carlisle Street in Balaclava next Monday, where mi casa su casa is the motto for leisurely dining in a huge courtyard out back, covered with vibrant murals; or indoors among quirky dining and lounge spaces adorned with skulls, neon cacti and sculpture of a shiny black pig.
Sip a Paloma Margarita while savouring Si Senor's fresh and zesty rockling ceviche, with the goodness of avocado, green salsa, pico de gallo and cilantro, served on blue corn tostadas; before larger plates of slow-roasted pulled pork burritos, caramelised onion and cheese.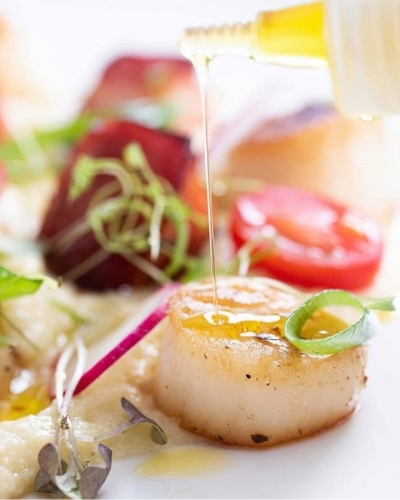 Sammy's on the Marina dishes up scallops all weekend for National Ceviche Day.
One day isn't enough to celebrate ceviche at
Sammy's on the Marina
on Holdfast Promenade in Glenelg, it needs a whole weekend! This seafood restaurant offers stunning views of the beach, marina and sun setting over the ocean; on Saturday, June 26 and Sunday, June 27 Sammy's is the place to celebrate all things ceviche.
Think Hokkaido scallops, Hamachi kingfish, Port Lincoln bluefin tuna and South Australian salmon, served with your choice of dressing and paired with wines; take a seat in the contemporary dining space and dive in, if you're lucky you might even spot some dolphins swimming by.
For more ceviche recipes, click
here
.