By Leigh O'Connor.
My swimsuit told me to go to the gym today, but my sweatpants were like…'Nah girl, you're good'.
According to Sydney competitive eater and powerlifter Jesse 'the Burger Daddy' Freeman the best way to celebrate International Sweatpants Day on Thursday, January 21 is with a doughnut ice cream sandwich.
"Grab a couple of delicious doughnuts, slap a scoop of your favourite ice cream in there and consume until your face, hands and pants are all sticky," he suggests.
Having once put away 16 full-sized cheeseburgers in one session, this
Food Coma Eats
guru smashed two Guinness Book of World Records in 2020 by devouring eight
cannoli
in 30 seconds and six jam doughnuts in a minute.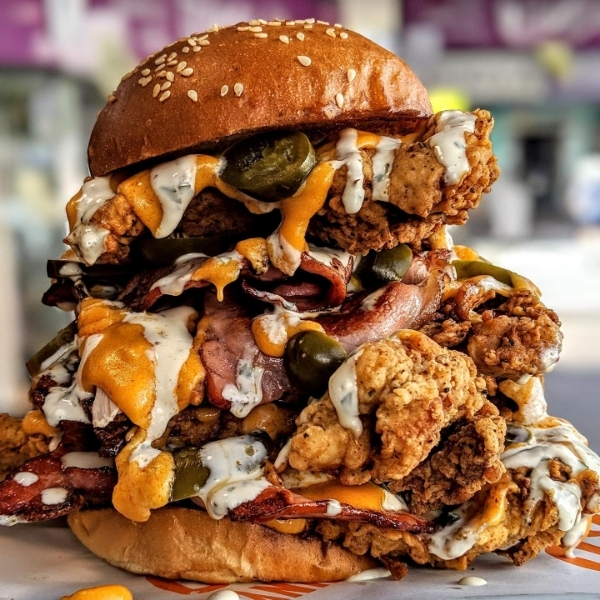 One of Jesse's favourite burgers from
Johnny Bird
in Crows Nest…loosen your sweatpants elastic peeps!
We all have one of those days when sometimes you get up, attempt to go about your life as usual, but just don't have it in you. The thought of getting all dressed up in a suit and tie, or high heels makes you want to crawl back into bed.
Luckily there is a day dedicated to this occasional mood – so if you know how it feels to just want to spend the day lounging around in comfortable sweatpants this is the day for you.
The first pair of sweatpants was introduced in the 1920s by the founder of Le Coq Sportif – simple knitted gray jersey pants to allow athletes to stretch and run comfortably. Since then, they have gone from typically being ash-gray to all colours of the rainbow, making them more attractive but still as comfortable as the original ones.
International Sweatpants Day was created to show that wearing sweatpants doesn't have to be embarrassing – life is too short to be wearing tight clothing all the time.
What better way to celebrate than visiting your fave burger or pizza joint? Alternatively, you could stay at home in your sweatpants and make this
Aussie burger
recipe by celebrity Chef Curtis Stone.
Today, I wore regular pants for the first time in two weeks…but only because I'm washing my sweatpants!