By David Ellis from vintnews.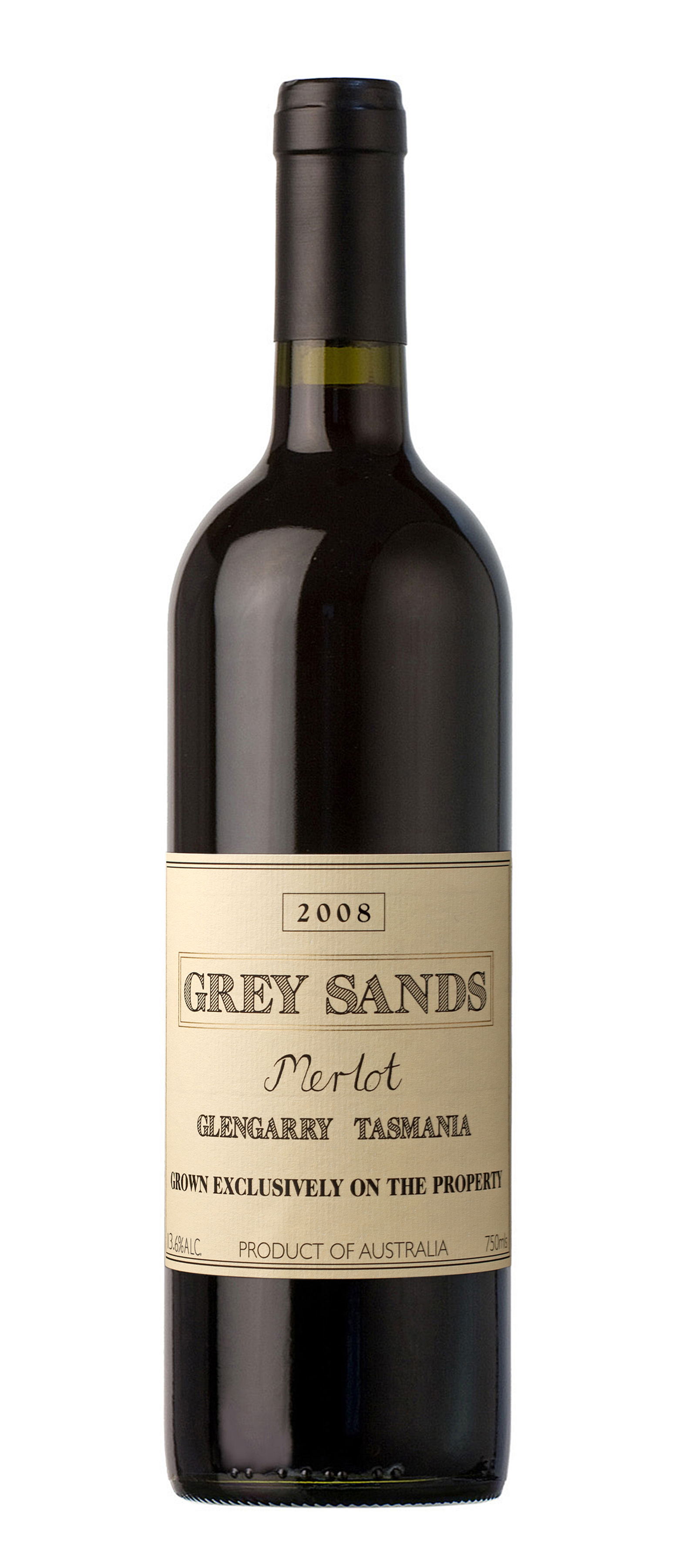 Boutique Grey Sands Vineyard tucked away in Glengarry overlooking the Tamar Valley just north-west of Launceston, have just released their 2008 Merlot, and while the results of its long seven years in the cellar must be enormously rewarding for owners Bob and Rita Richter, we're ready to say they're even more-so for buyers.
The Richter's have a philosophy of not irrigating their Grey Sands vineyard, preferring to sacrifice higher yields in favour of maximum flavour concentration in the resultant fruit. And it's certainly paid off in this case, with a drop that has wonderfully concentrated dark fruit flavours (think mulberries and plums to the fore,) cocoa, spicy oak and nicely balanced tannins.
And it's equally rewarding for those who love to savour aromas out of the glass, all that fruitiness simply erupts from this one – almost like putting your nose into a rich plum pudding.
With those already seven years in the cellar, this 2008 Merlot still has plenty more years of life to come, but if you want to get into it now, enjoy with your favourite red meats – as we did, with a Winter-time's steak and kidney pie.
If you're planning a driving holiday in Tasmania, Grey Sands Vineyard is a half-hour north-west of Launceston with the Cellar Door, gardens and vineyard open from midday to 5pm the last weekend of every month from October to April (inclusive.) To order their 2008 Merlot ($40 cellar door plus freight) email info@greysands.com.au.
One to note: a nice bubbly to think about for any celebrations you have in the wind, is a 2012 Rymill Coonawarra Brut that's made from grape varieties used in the finest traditional French Champagnes – Chardonnay, Pinot Noir and Pinot Meunier.
And who better to make it than Senior Winemaker at Rymill, Sandrine Gimon who is French-born and Champagne-trained… and for this drop changed the component percentages a little to reflect the exceptional 2012 vintage for Chardonnay in Coonawarra: she made this one with 90% Chardonnay fruit, and for sticking with tradition, equal parts of the two Pinot.
Although those two are just five per cent each of the blend, they're enough to give the wine a nice, subtle pink hue. With creamy mousse, fresh fruit flavours (peach, melon and red berries mostly) and good acidity, it's a great drop for partying – or any time. And nicely priced too at $25.