By Freya Ensbey. Photography by Bonnie Savage.
"Michael James is one of the greatest bakers of his generation." ~ Ben Shewry, Attica.
Anyone who has been to visit the famous Tivoli Road Bakery in South Yarra, Melbourne would agree that its humble exterior does not give off "one of Australia's most renowned and celebrated bakery" vibes. However, as the alluring aroma of freshly baked sourdough and burnt butter croissants fill the surrounding streets, you are drawn in, to follow the drones of locals and tourists alike indoors, to be a part of the busy workshop where craftsmanship meets passion, creating some of the most extraordinary baking.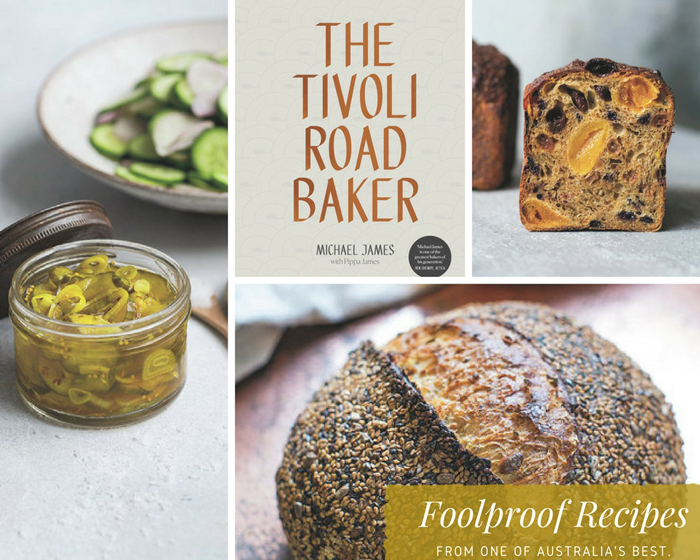 Husband and wife owners, Michael and Pippa James, met whilst working at a restaurant in London. Michael was a Chef, working in all aspects of the kitchen, taking a liking especially to the pastry section, which spurred his fascination with different types of breads and pastry products and steering his career to high end Michelin starred kitchens, pastry shops and boutique bakeries, gifting him a wealth of knowledge and experience in this field. Pippa continued to manage restaurants in London, before the pair made the move to work in Sydney, then Melbourne, before eventually buying the bakery and settling down.
"What we do isn't magic, it's the result of excellent ingredients, years of trial and error, and dedication to an ancient craft," Michael states in the introduction of their book.
With well thought out chapters providing recipes for everything from growing your own sourdough starter, through to intricate tarts, pastries and even pickles, jams and chutneys, The Tivoli Road Baker will be one of those rare, cherished family cook books the grandkids will eventually be passed.
Begin your baking journey at home with a loaf of fruit sourdough. Michael explains that when they first opened the bakery, their customers were requesting 'a fruit loaf with lots of fruit,' and that's exactly what he created for them. The fruit for this recipe is soaked in red wine to begin with, which gives it a punchy flavour and soft, gooey texture. Although it's best eaten fresh with a generous spread of butter, this loaf will also keep for days and is equally delicious toasted.
On page 243, Michael reminisces about his grandmother's scones. Being Cornish, his 'gran' would always serve them with the jam spread on first, followed by a dollop of cream, the "proper British way." Whichever way you decide to serve his sultana, buttermilk and lemon zest scones, Michael only has one rule; that the cream and jam be applied lavishly!
Once you have mastered Michael's crusty loaf of multigrain, turn to page 268 for the perfect accompaniment of bread and butter pickles. Story has it that during the depression, cucumber farmers in Illinois survived by making these pickled concoctions and bartering them for staples such as bread and butter. Michael's favourite way to enjoy this recipe is added on sandwiches with pastrami and gruyere cheese for a modern variation of the Reuben sandwich.
Along with the 80 plus recipes included in this book, Michael shares the secrets of some of Tivoli Road's best-loved creations, giving nod to his British heritage and unveiling his love of native Australian flora and produce. The Tivoli Road Baker is a must have addition to any home baker's library and is available for purchase online here.