While some of Australia only has two seasons – wet and dry – the rest of the country revels in the ever-changing colours and temperatures of Autumn months.
As the days draw shorter and the nights cooler, thoughts turn to comfort food and drink – what better way to celebrate the changing of the season than a meal with your special someone at a favourite restaurant.
Let's take a peek at some of this country's best spots to fall into Autumn.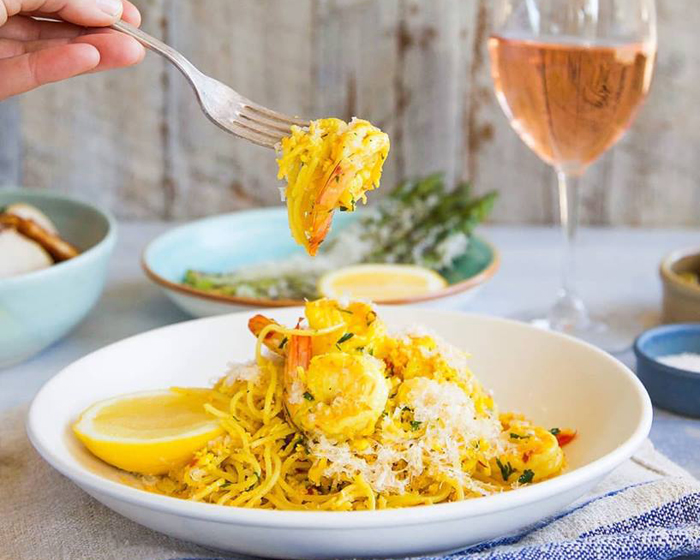 Queensland Spanner crab and King prawn spaghettini at The Pantry Manly.
NSW:
With panoramic beach views and Mod Oz fare with flair, The Pantry Manly entices locals and tourists alike with sound of waves lapping at the water's edge and a laid-back vibe. Nestled in the famous 'Beach House' built in 1919, this restaurant on Ocean Promenade, boasts a menu focused on seasonal produce, complemented by an extensive wine, craft beer and cocktail list.
Warm up after a stroll along the sand, with wild boar and duck terrine en croute, with onion jam and a crusty French baguette; before mains such as herb crusted spatchcock, fennel, olives, garlic and lemon, or perhaps spanner crab and prawn spaghettini with saffron, pangritata and mixed herbs.
For family-friendly dining in leafy Baulkham Hills, drop by The Gallery Restaurant on Renown Road. Hidden inside the Baulkham Hills Sports Club, this bright and cheerful restaurant is an ideal spot to watch the leaves change colour through the dining room windows, while sampling a wide array of dishes from classic Italian to steak.
Soothe the soul with tapas plates like dusted calamari with lemon and chipotle sauce, before hearty mains such as beef and ale pie with mashed potato, buttered Dutch carrots, mushy peas and gravy; or ox cheek of beef Wellington, with sautéed mushroom mix and flaky pastry, served with vegetables.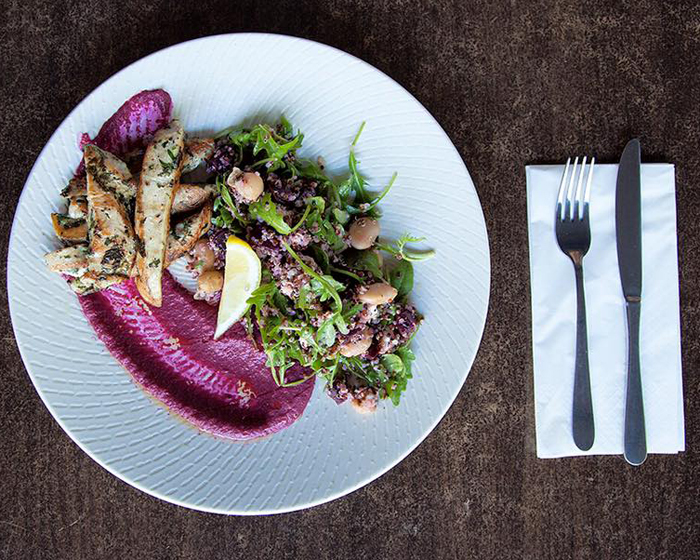 Grilled chicken salad with beetroot puree at Fruits of Passion.
Victoria:
Radiating warmth and trendy rusticity await Autumn diners at Fruits of Passion, on Bellair Street at Kensington. This popular café blends exposed brick walls with charming timber décor to create a welcoming vibe, while tantalising smells tempt those passing by to check out what's cooking.
Stop in for a lazy breakfast of ricotta hotcakes, lathered with honeycomb butter, grilled bananas and a decadent Nutella fudge sauce, perhaps adding a side of maple bacon. While lunchgoers can satiate hunger fuelled by cooler temperatures, with a Deep South fried chicken burger, jalapenos and Fruits of Passion mayo, on a brioche bun with Bad Boy chips.
Well worth the hour's drive from Melbourne City, MPD Steak Kitchen on Clyde Road in Berwick offers a contemporary take on a log ranch abode, with suede booth seating and exposed wine cellars. With an influence from the Meat Packing District of New York, expect stuffed beasts on the walls, tartan carpet and copper down lighting, along with exceptional cuts of meat like the Wagyu rump and Gippsland dry aged rib eye.
All steaks are served with triple cooked fat cut chips, choice of sauce and sides like MPD slaw, beetroot, smoked yoghurt and hazelnuts, or roast cauliflower with Gascony butter. For a more delicate main, try the snapper with parsnip, fennel and citrus salad.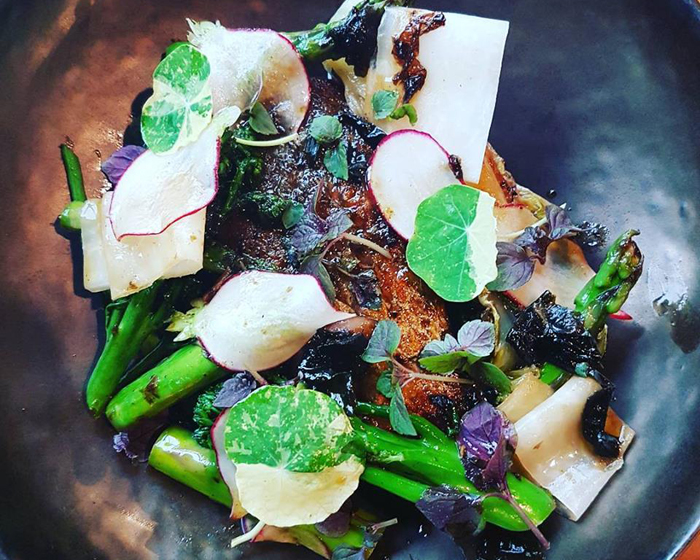 Market fish, fermented daikon, umami butter, grilled cos, greens and garden radish at Ocean View Estates.
Queensland:
Escape daily hustle and relax in Autumn splendour at Ocean View Estates Winery and Restaurant on Mt Mee Road in Ocean View. Set amongst flourishing vineyards and rolling hillsides, guests can linger awhile taking advantage of a complete food, wine and accommodation indulgence.
Make a statement and arrive by helicopter, before delving into offerings such as French oak smoked duck breast, carrot puree, buttermilk, honey roasted Dutch carrots, dill and tawny port jus, ideally paired with an Estates 2015 Ruby Cabernet. Beer lovers can visit the onsite craft brewery and taste signature brews, straight from the vats.
Nothing says cooler weather more than the mouth-watering aroma of slow cooked meat, wafting from Burleigh Smoke House on Gold Coast Highway in Burleigh Heads. With a cosy ambiance of subtle lighting, mixed with shabby chic cupboards and wrought iron accents, this American-style restaurant embraces a laid-back GC vibe.
Tuck into Georgia pork ribs, smoked in a gravity fed box smoker using a mix of hickory and seasonal fruitwood to create finger-licking goodness, best teamed with garlic mash and barbeque bourbon sauce. Guests can wrap their hands around a smoked pulled beef burger, served on a brioche bun with tomato, lettuce, barbeque and blue cheese sauce and steak fries.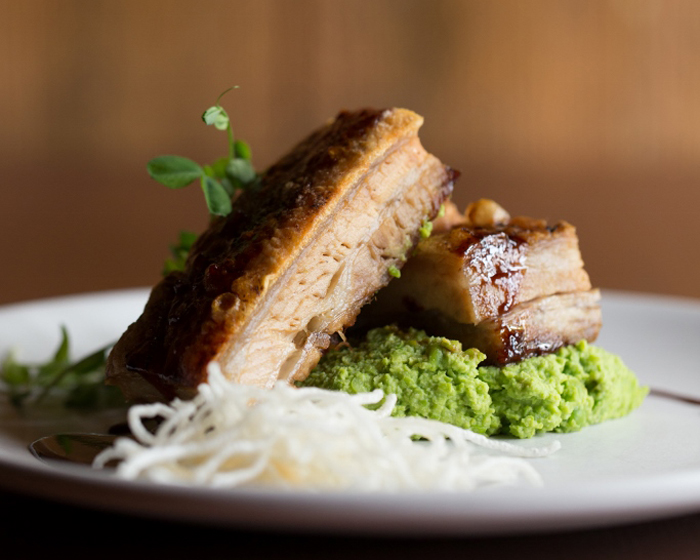 Glazed pork belly at Ball & Chain Grill.
Tasmania:
When Autumn starts to colour the Hobart city landscape, locals and tourists alike head to Ball & Chain Grill on Salamanca Place. With an interesting history and convict-built stone building, this restaurant emanates a charming, old world style, as guests take a seat amongst rustic timbers to peruse a menu embracing fresh local produce.
Famous for meat cooked over a charcoal grill, expect steaks like filet mignon, on a bed of seasonal vegetables and port reduction, or Tasmanian rack of lamb with red currant and thyme jus. For something a little lighter, delve into whole grilled rainbow trout, lightly charred on the open grill and topped with herb butter.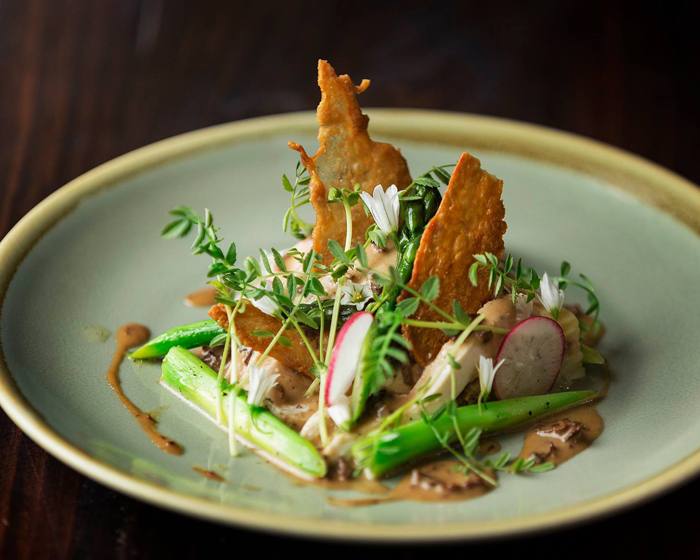 Le Chicken at Les Bistronomes.
ACT:
Treat yourself and loved ones to a culinary journey with distinct French themes at Les Bistronomes on Mort Street at Braddon. This warm venue is an ideal spot for Autumn dining, classically furnished in timeless style, with exposed bricks and a cast iron wine rack filled with international bottles, extending to the ceiling.
Kick start the meal with duck liver parfait with croutons, before indulging in mains such as beef burgundy – braised beef cheek in red wine, served with soft polenta, mushrooms and onions. For a traditional French dish, dip a spoon into bouillabaisse with fish, shellfish, rouille and crusty bread, then finish with tarte au citron, blackberry sorbet and toasted meringue.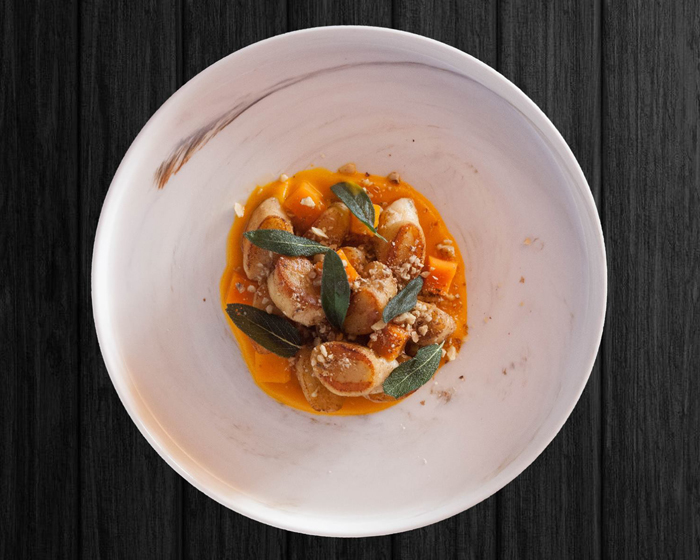 Hindmarsh Valley ricotta gnocchi, pumpkin, sage and walnut at Sunset Food & Wine.
South Australia:
With undisturbed ocean views of the Kangaroo Island coastline, Sunset Food & Wine on Hog Bay Road, serves refined fare paired with local wines. The restaurant has a coastal interior, with driftwood, shells and pebbles adorning natural timber tables and white linen, creating a sophisticated yet relaxed ambiance, great for fall dining.
Focusing on fresh seafood and quality South Australian produce, choose from dishes such as Port Lincoln kingfish sashimi, ponzu, cucumber and coriander, or KI lamb rump with local sugarloaf cabbage, pancetta and turnips. For an indulgent dessert try the stout cake, with salted caramel sauce and pink flesh orange.
Western Australia:
An ideal meeting place for all occasions, Ironbark Brewery on Benara Road in Caversham combines a relaxed country setting with light, sumptuous fare designed for sharing. Set in a shady sheltered beer garden in the Swan Valley, a short 20-minute drive from Perth CBD, Ironbark serves up award-winning beer and cider on tap, as well as premium meals and snacks.
Be tempted by grilled salmon with Mediterranean vegetables, cous cous and feta, or lamb koftas with Greek yoghurt, mint, coriander and salad. Pick up a slice of meat lovers pizza, or share a rouseabout platter with cold cuts, salad, cheese, antipasto, dip, nuts, crackers, damper and garlic bread, washed down by a Rousies Lager.
Northern Territory:
Relax in lush, tropical surrounds – even in Autumn – at Pee Wee's at the Point on Alec Fong Lim Drive on the shores of Fannie Bay. Take advantage of the Top End's balmy weather and gentle sea breezes while soaking up sunset views over Darwin Harbour with a cocktail in hand and choose from a menu brimming with the region's freshest produce to create Modern Territorian fare.
For an innovative starter try crocodile la lot, with betel leaf, coconut, chilli and kaffir lime syrup and toasted peanuts; moving on to mains such as oven baked, wild caught NT saltwater barramundi, with macadamia nut, herb and lemon myrtle crumb, white bean puree, caponata, steamed broccolini and basil oil.
Ready to step out and breathe in the refreshing Autumn air guaranteed to enhance the appetite, and can't see a restaurant near you? Click here for more establishments in your area.