Considered by many to be the national dish of Spain, paella originated as 'peasant' food – a lunchtime rice dish prepared by workers in the field over an open fire.
On Sunday, March 27 National Paella Day celebrates a food filled with tradition and always cooked in a round, flat-bottomed pan with handles. The dish takes its name from the Latin word 'patella', meaning a flat plate on which offerings were made to the Gods.
Cooking over an open flame is essential as it creates the layer of toasted rice at the bottom of the pan, that is deliciously unique to paella.
Did you know the world record for the largest paella was set in 2001 in Madrid, where Chef Juan Galbis and 80 other Chefs fed 110,000 people from a 21-metre diameter and 26 cm deep pan?
Here are five of our picks to celebrate on Sunday:
Brisbane foodies say hola to Spanish fare at new kid on the block
Paella Y Pa' Mi
bistro and wine bar on Leicester Street in Coorparoo. Expect a Mediterranean feel to this bistro with pastel blues and earthy hues setting the scene for lingering over a drink with friends; while perusing a menu showcasing Spain's national dish of paella.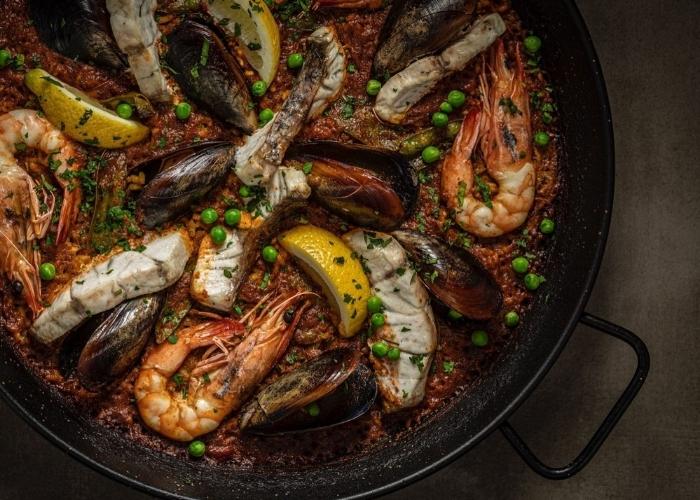 Chef-hatted Paella Y Pa' Mi is the place to head for prawn, fish, mussel and calamari paella.
Perhaps opt for the original dish with rabbit, chicken, broad beans and green beans; or the seafood version with the fresh catch of the day such as prawns, fish, mussels and calamari.
Bringing the bright flavours and exhilarating atmosphere of Barcelona to the heart of Melbourne's inner east,
Tinto
on Burwood Road in Hawthorn offers a relaxed setting for people to meet and eat. With a long Spanish-style bar and dining area, as well as alfresco footpath eating and a small courtyard, Tinto is the ideal place for a catch up with family and friends over a cerveza or vino, while grazing on delicious tapas.
Offering traditionally cooked paella served in an original paella pan, expect choices like Negra with squid ink, chicken and chorizo, rabbit and roasted vegetables.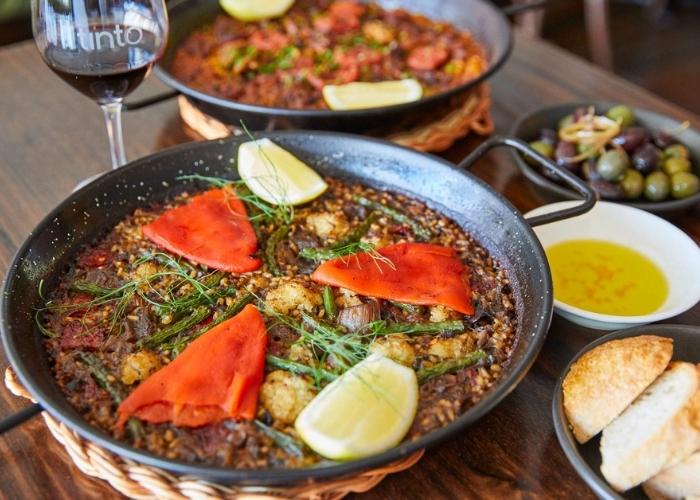 Find the flavours of Barcelona at Tinto in Hawthorn.
Enjoy the flavours of Spain without leaving Albury at
Saludos
restaurant on Dean Street. Serving Spanish-inspired tapas, paella and sangria with a modern twist, settle into the alfresco laneway on bench seating and striped cushions while sipping a glass of Malbec; or dine indoors where polished wood floors, cane pendent lights and potted greenery create a warm and welcoming vibe.
Perhaps Mediterranean vegetable paella tempts, with eggplant, sun-dried tomatoes, artichokes, capsicum and sofrito; washed down with an icy cerveza.
Hobart tapas and paella lovers head to
The Black Footed Pig Tapas Bar & Kitchen
on Hunter Street to see and be seen. Relocating to the MACq 01 waterfront hotel - part of the former bustling wharf market precinct and later giant shipping shed - Black Pig creates a fun and funky vibe to mingle with friends over a drink of choice.
Vegetarians opt for vegetable paella with spicy garlic sauce, while those with traditional tastes are satisfied with Valencianca – chicken, green beans and artichokes.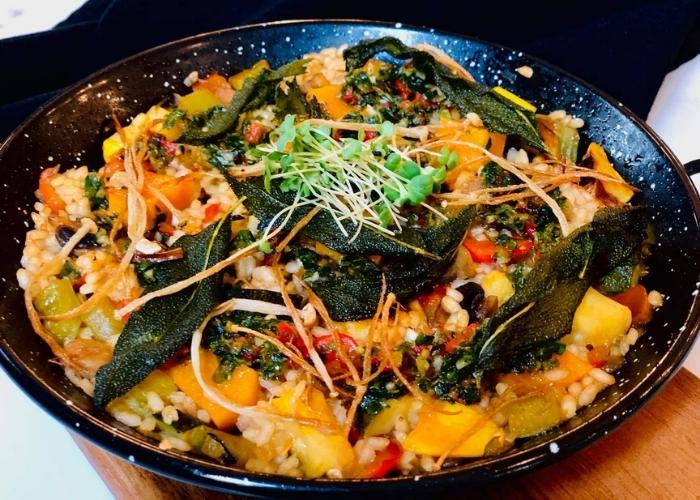 Vegetable paella with spicy garlic sauce from The Black Footed Pig in Hobart.
Paella lovers are spoilt for choice at
Alegrias Spanish Tapas
on Terry Street in Rozelle. Dripping crystal chandeliers, wooden ceiling beams and curved archways set the scene for indulgent semi-fine dining, while on balmy days the alfresco area beckons as an ideal spot for drinking and grazing.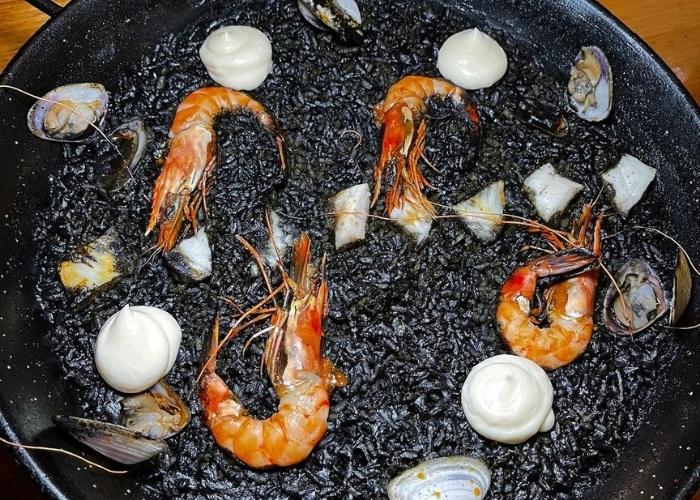 Arroz Negro paella at Alegrias Spanish Tapas in Rozelle.
With nine paella dishes on the menu, there is something for all tastes from seafood like King prawns, calamari and black marron to duck, mushroom, chicken and vegetables.