Every good restaurant – particularly those with an AGFG Chef Hat – has a dedicated Sommelier taking care of a carefully curated wine list to accompany the menu.
Who better to ask what's trending in the vino world right now than these knowledgeable wine buffs? Welcome to our new 'Wine of the Week' series, where we highlight particular wines on the radar of restaurants around the country.
Lush palm fronds and tinkling wind chimes take you from the Hinterland haven of Yandina into the wondrous world of
The Spirit House Restaurant
. New dishes from Head Chef Aaron Tucker await guests at this 13 Chef Hat-awarded venue, where a memorable dining experience of modern South-east Asian flavours is guaranteed.
Spirit House Sommelier Andrew Rust recommends a glass of
2020 Marc Brédif Vouvray Classic
, from France's Loire Valley, to complement many of the flavours in the dishes served at the restaurant.
"The bright, clear, pale gold colour beguiles the complex, textural, ripe yellow fruit palate, with overtones of exotic tropical fruit. This wine has citrus (grapefruit) and floral notes on the nose and a minerally acidity in the finish," he says.
Andrew tells a tale of during a busy service, noticing a waiter was caught up with a table and one of his other tables looked ready to order a drink, so he went over to ask them what they would like.
"Two ladies ordered glasses of Sauvignon Blanc, then one of the men asked for a glass of wine that would pair well with the scallop and gohu dressing dish he had ordered for his entrée. I recommended the Marc Brédif Vouvray, explained the wine to him and he agreed that sounded perfect.
"The final man was undecided, stating he was happy to order later so I went to get the wines for the others."
During serving the wines the final man decided he would have a glass of what the other diner was poured, as he was having the same entrée.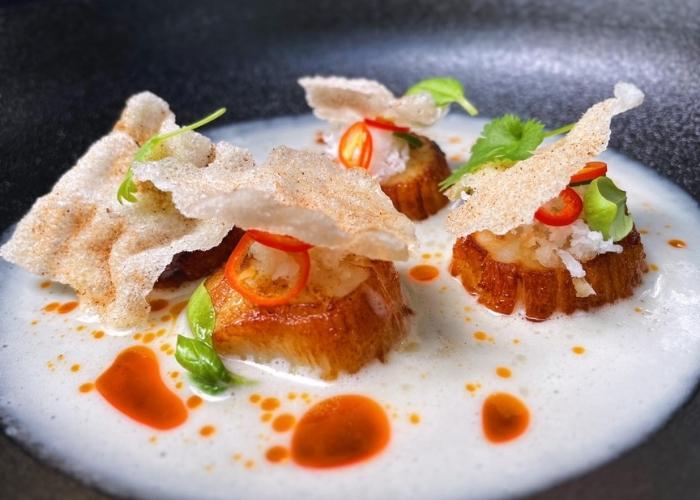 A short time later, the section waiter arrived with the entrées and on placing down the scallops the last diner informed him that his glass of wine had been recommended but he did not think much of it.
The waiter apologised and offered to get a replacement, asking what he had been poured; 'it's the Sauvignon Blanc' he stated without anyone else at the table noticing his error.
Asked if he had a preference for the replacement and the waiter was told it was up to him, so he returned hastily with glass of Marc Brédif, knowing it was the recommended wine for the dish.
The man had begun his entrée before taking a few sips of the new glass of the same wine and when the waiter returned to ensure his satisfaction, he exclaimed how much better this wine was.