Recognised around the world as a sensual and romantic dance, the samba immediately sends the mind to the golden sands of Rio de Janeiro beaches, where G-strings and beautiful bodies abound, along with the thumping beats of drums.
Long the icon of Brazilian national identity and the annual carnival, the samba's roots originate in Africa via the religious traditions of Angola and the Congo. Nowadays, its rich and syncopated rhythm and often voluptuous dance moves have circled the globe, as one of the most infectious and popular dance styles from South America.
After all that shaking and grooving, thoughts turn to food and drink to fortify the body for the next round of dance moves. From the high protein, high energy meat-loving Argentinians to the refined cuisine of fish-loving Peruvians, South America has it all.
Bold colours and flavours abound in dishes that aren't just eaten for sustenance, they are devoured as part of the social fabric of partying, mourning and spending time with family and friends. South American fare has many influences due to the continent's ethnic fusion, but one thing is constant – grilling meat in the open air on an asado or churrasco.
Let's samba around the country looking for the best restaurants to sample all things South American…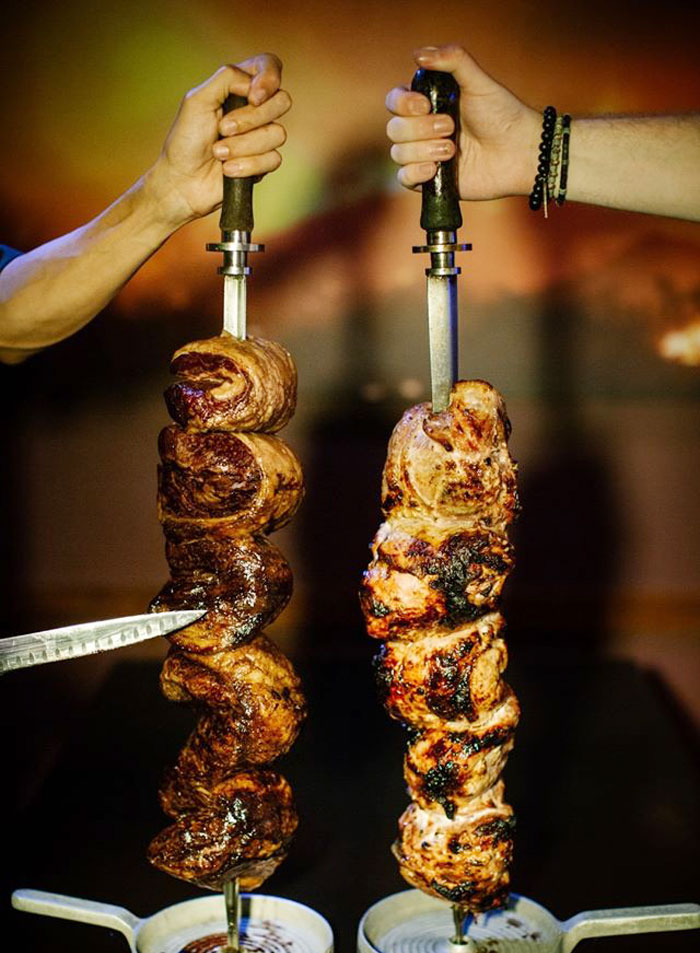 Churrasco at Bushfire Flame Grill, Cairns.
South American Flavours in Cairns:
For a night out the whole family will enjoy after spending the day exploring Cairns, head to Bushfire Flame Grill, found on the ground floor of the Pacific Hotel Cairns. Take a seat in the large, open dining area, where modern furnishings of comfortable upholstered chairs, warm downlighting and splashes of vibrant orange, create ambient surrounds to share a Brazilian feast.
Choose the churrasco experience and tuck into harissa marinated kangaroo rump skewers, pork with Davidson plum and sweet chilli marinade, lemon myrtle, garlic and rosemary lamb, beef picanha, grilled mojo chicken, artisanal spicy sausage and seafood moqueca – local prawns reef fish, calamari, baby octopus and mussels.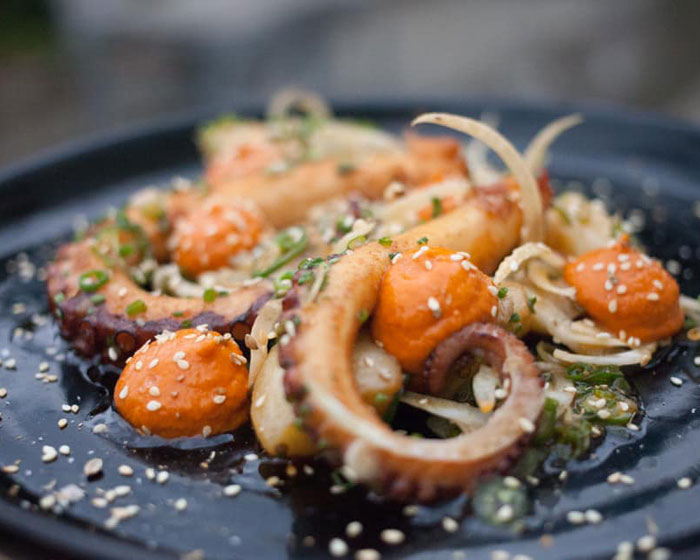 Pulpo: grilled octopus, potato and romesco at The Independent, Gembrook.
Find South American Fare in Gembrook and Richmond North:
Housed in a fully-restored historical building on Gembrook's Main Street, The Independent is a lively hot spot on Melbourne's outer south-east dining scene. This spacious eatery boasts high ceilings and an open kitchen, where Argentinian Chef Mauro Callegari works his culinary magic and kicking back with a tap beer or boutique wine is the ideal way to start your meal.
Choose to start with smoky BBQ pork empanadas or lime cured scallops, shallots, green chilli and spiced salt; before mejilla de vaca – braised beef cheeks, pickles and potatoes, or perhaps boneless lamb shoulder with carrots, charred broccoli, chilli cashews and avocado. Cinnamon doughnuts and dulce de leche will appease sweet tooths looking for a decadent finish.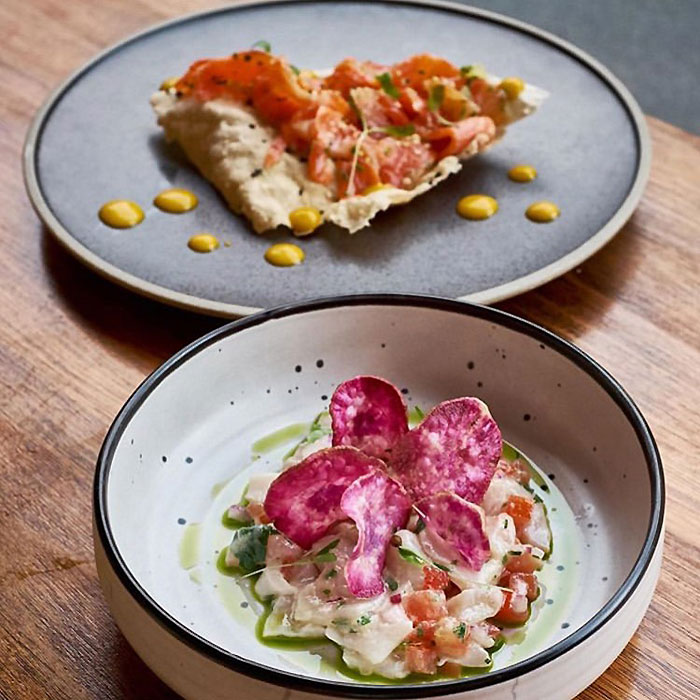 It's a ceviche party at ONDA... kingfish and ocean trout in Richmond.
Meaning vibes in Spanish, ONDA Bar & Eatery on Bridge Road in Richmond melds South American flavours with the warmth of home. ONDA fuses good energy with soulful food in trendy surrounds of pale pink walls adorned with murals of tropical plants and polished wooden furniture, topped with plush blue velvet.
Snack on some cassava and potato crisps, with smoked avocado salsa and chilli salt, or black prawn dogs with salsa picante and lime aioli; before wrapping your hands around a beef short rib taco, with green slaw and pickled chillies. Smoked Peruvian chicken, olive, lemon and thyme baste and roasted verde potatoes will appease those with larger appetites, washed down with a Cusco cocktail.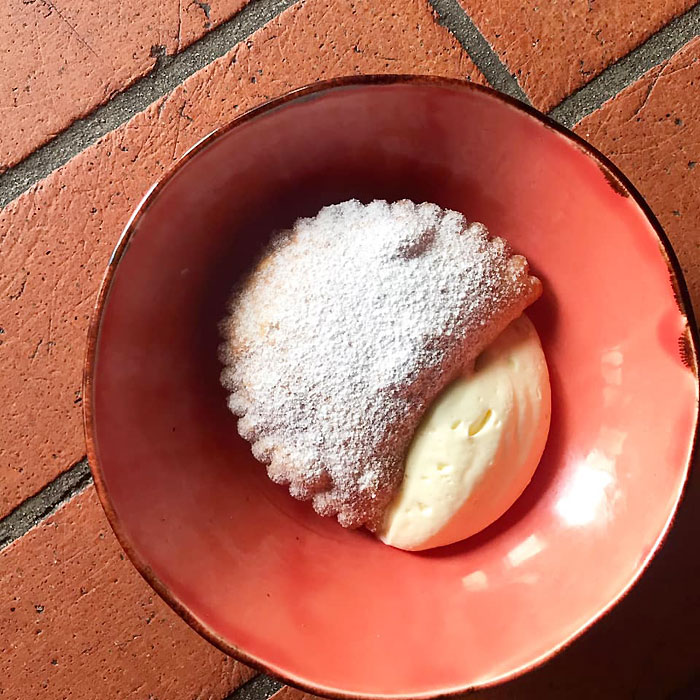 There's more than just meat, there are empanadas for dessert! Filled with pineapple and nectarine and served with hot cream at Frank Restaurant & Bar, Hobart.
Eat Like a South American in Hobart:
Seasonal comfort food cooked on the coals of the charcoal grill is on offer at Frank Restaurant & Bar on Franklin Wharf in Hobart. The flame of passion – and the passion of flame – is the food culture of South America and that's what you can expect to devour, in a vibrant palette of aqua, orange and lime green while watching the sun set over the harbour.
From a share plate focussed menu, graze on fire-roasted oysters with chorizo, peppers, garlic and ash salsa; then delve into char-grilled quail, chorizo, honey brown mushrooms, potatoes and truffle butter. Try the spiced local venison, cooked on the charcoal grill with mojo de ajo sauce and a side of charred vegetables, finishing with chocolate marquis, raspberry gel and spiced cream.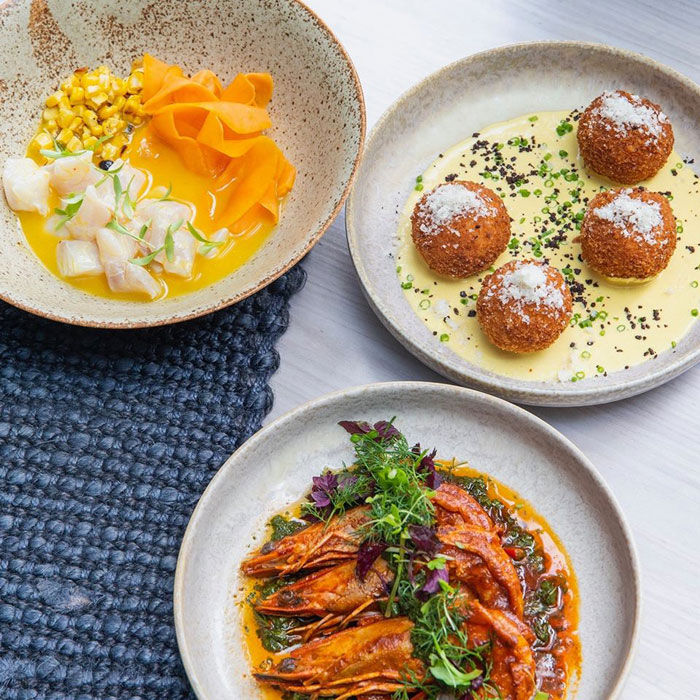 Go on a trip through Peru with Peruvian ceviche, cassava croquettes and charcoal cooked King prawns at Uma Restaurant, Perth.
Perth South American Hot Spots:
From ceviche to a mouth-watering selection of beef, lamb and chicken dishes, embark on a culinary journey through the regions of Peru at Uma Restaurant on Adelaide Terrace in Perth. Located in the Pan Pacific Perth, Uma is the shared vision of the hotel and Chef Alejandro Saravia, whose mission is to show diners everything Peru has to offer.
Stop into Bar Uma for a Peruvian Pisco Sour cocktail, before heading to the restaurant for a contemporary fusion menu plating up temptations from the ocean, paddock and valley; alongside Ceviche and Journey Experience set options. Delve into 10-hour braised pork belly with fennel and green pepper salsa; or perhaps a rib eye on the bone served with housemade kombucha mustard.