Face the sheer summits of the south
Whether you wish to go solo or begin in a group, rock climbing in South Australia is undertaken in a variety of different environments, from beachside boulders to sheer cliff faces in the desert.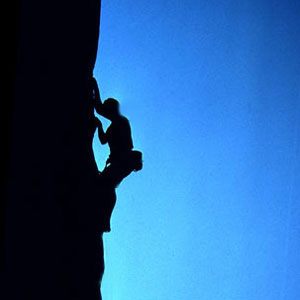 Where can I go rock climbing in South Australia?
One of the most popular climbing locations in South Australia, Morialta Conservation Park is situated in the Adelaide Hills, 20 minutes from the city centre. Heavy duty rings are already embedded in the cliffs, making it easy for climbers to wish to go on a climb, whether a gentle incline or sheer rock face. Also situated in the Adelaide Hills, Norton Summit is home to big cliffs and difficult climbs to challenge rock climbers, with a cave that provides some short and powerful climbing routes.
The Yorke Peninsula, although better known for fishing, has some interesting rock climbing locations, full of sea side boulders. Not full of big cliffs, rock climbing around the peninsula is perfect for climbers who don't want to go too high or are just beginning.
An outdoor playground, Onkaparinga National Park is situated south of Adelaide and is full of trails, steep valleys and rock pools for a variety of activities. Rock climbing is a popular recreational activity undertaken here, with rewarding views and wide-ranging vegetation.
For advanced climbers, the Flinders Ranges is your destination. Situated on the boarder of the famous mountain formation of Wilpena Pound, Moonarie is one of Australia's most spectacular rock climbing crags. Full of different routes, Moonarie is best suited for intermediate and advanced climbers who wish to take on the rugged cliff face and enjoy the sweeping desert view from above.
Find out more about rock climbing in Australia's capital