Cruise for a golden quest
Fancy exploring Australia's west coast but are dreading the thought of how to tackle it? Why not explore it on your own terms by packing up the car and heading on a road trip? Western Australia's generally flat terrain makes driving a breeze, with a few rocky outback tracks especially for the adventurers.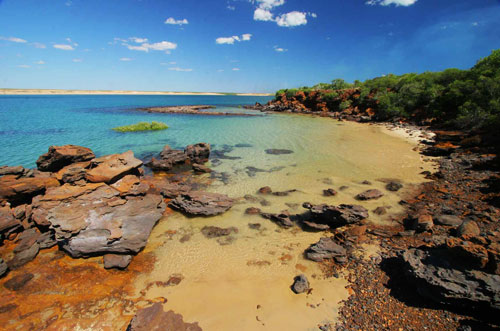 Where are some popular road trips around Western Australia?
For a rocky yet rewarding road trip, take the Gibb River Road, which runs from the west coast town of Derby and heads north east to Wyndham over a distance of 670 kilometres. A gutsy drive along both sealed and unsealed roads, the Gibb River Road is an adventure through the Kimberley region, one of the world's remaining unspoilt wilderness areas. Along the way, admire the Windjana Gorge and its freshwater crocodile inhabitants, the World Heritage listed Purnululu National Park and the famous Big Crocodile upon your arrival in Wyndham.
For a scenic drive through the Western Australia in search of treasure, the Golden Quest Discovery Trail is all about goldfields, glowing desert sunsets and great discoveries. From Coolgardie in the state's central south, take to the outback and head north, passing through the state's most famous gold producing regions. Journeying through a number of small towns with legendary country pubs, fascinating history and quintessentially Australian outback surrounds, try your luck at panning for gold along the track, ending in Kalgoorlie, Australia's largest open cut operating gold mine.
The Warlu Way trail takes you from the sandy shores of Coral Bay to Broome's iconic Eighty Mile Beach, following the path of the 'warlu' or dreamtime sea serpent. Passing through the state's North West, Pilbara and Kimberley regions, this trip covers a distance of 2,480 kilometers, taking you through a variety of the state's terrain, from sand and surf to plunging gorges, golden savannahs and rocky peninsulas. See the world's largest indigenous rock art collection at Burrup Peninsula and stop at the historic towns of Roebourne and Cossack for an insight into gold mining history before heading to Cable Beach for an iconic Australian beach sunset.
Continue your road trip across the boarder to the Northern Territory