Pop in to pearl country
Situated north of Perth, Broome is one of Western Australia's most popular tourist destinations, home to the likes of Cable Beach, Gantheaume Point, isolated lakes and a range of indulgent eco retreats. A delightful mixture of outback and urban, Broome has a chilled out, vibrant ambiance, a haven for creatives who call the town home.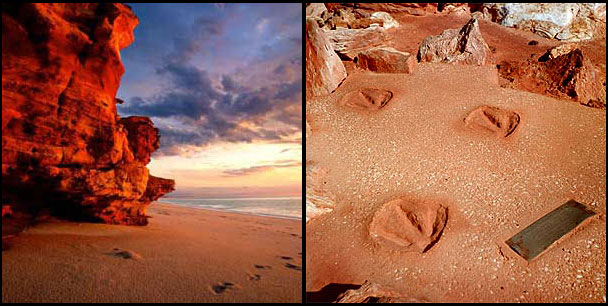 What can I do in Broome?
At Gantheaume Point, see dinosaur footprints in the rocky reef area, dating back more than 120 million years and admire Anastasia's Pool, an almost perfectly rounded pool handcrafted by a former lighthouse keeper for his arthritic wife. Full of stunning scenery, sit back and relax at the point or take to the water and kayak. For some beach swimming, Town Beach is situated along the Broome peninsula, a quiet and sheltered location for peace and quiet.
Additionally, Town Beach is a popular location to observe Broome's well renowned event, Staircase to the moon. This occurs three nights each month between March and October, when the full moon over the mudflats creates an optical illusion of a golden orange staircase leading up to the skies.
Known as a pearling town due to the clear, unpolluted waters, Broome's local pearl farms are fascinating for a first hand look at how Broome pearls are cultured – making sure to purchase one or two for a memento. Admire the fully restored original pearling luggers in the town centre and explore the Old Pearler's Quarters.
Continue the journey south to Pilbara here