By Freya Ensbey.
Alessandro Pavoni developed a relationship and love of every element of gastronomy from a young age. He recalls growing up as a child of the Lombardy region in Northern Italy, watching his Nonna cook, quickly learning how easily cooking and food can bring people together around the table, to enjoy the results of what has been prepared and share in the happiness of eating. It was here, in the family home, under the guiding hands of his Nonna, which carved the future for the now celebrated Chef.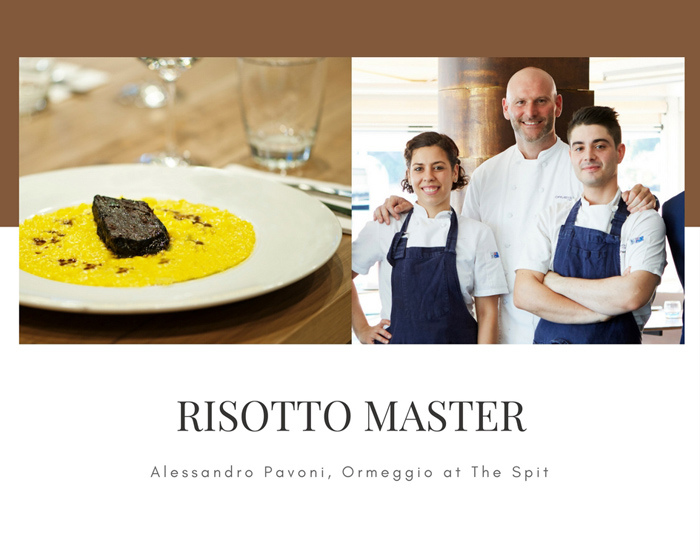 Pavoni started his career in Brescia, in Italy's North, where he worked at Carlo Magno with the famous Iginio Massari and Giuseppe Maffioli. After working in various Michelin starred venues such as La Rotonde in France and the two Michelin starred Villa Fiordaliso on Lake Garda, he then moved to Restaurant Lido in Bermuda before arriving in Sydney in 2003, gracing us with his talents as Head Chef at Park Hyatt Sydney. The year 2009 saw him open his own restaurant Ormeggio at The Spit, Mosman, the beginning of now three establishments under his name, including the traditional Italian trattoria called Via Alt in Willoughby, and a casual Italian, street food style eatery called Chiosco by Ormeggio.
Pavoni released his much anticipated book, A Lombardian Cookbook in 2015, giving readers an insight into his childhood and favourite recipes, as well as his Nonna's techniques, which developed Pavoni's ethos behind his healthy way of eating and the refinement of his culinary skill over the years.
"I love the challenge of doing contemporary beautiful Italian cuisine, using traditional flavours and ingredients and reinventing them to surprise and delight the diner," says Pavoni.
When asked by AGFG what the first thing is that springs into his mind when thinking of cooking in Lombardy, his immediate answer without hesitation and much enthusiasm was, Risotto! Pavoni describes it as one of his favourite dishes, as it represents the flavours of all the seasons, being so adaptable and versatile with its ingredients.
"It was a dish that I ate with my family 2-3 times a week, and is one of my favourite dishes to cook," says Pavoni.
We have been lucky enough to get our hands on a silky risotto recipe from the risotto master himself, sharing with us his secrets to the simple dish that many are hesitant to attempt in fear of failure. Pavoni's Risotto Milanese is made in an 'All'onda' or 'wavestyle,' which is typical of Northern Italy, creating a thicker and creamier end result, which can be achieved in under 20 minutes.
Beginning with an acidulated butter base, the addition of saffron gives the Carnaroli rice a vibrant sunshine yellow colour, whilst the Parmesan Vacche Rosse brings the dish to another level, adding a sharpness of flavour.
Pavoni serves his Risotto Milanese with beef cheeks atop which have been slowly braised in red wine, when served in this way, it is classified as a 'secondo' (main) rather than a 'primo' (entrée). However he suggests for those who prefer to keep it a completely vegetarian dish, leave the beef cheek off and instead add a drizzling of a high quality aged Balsamic.
Ideal for a quick midweek meal that will have the family thinking you have slaved in the kitchen for hours or served at a decadent dinner party, Alessandro Pavoni's Risotto Milanese will have you master the art of risotto and bring the flavours of Italy into your very own home in no time.