Chur Burger
By Aimee Chanthadavong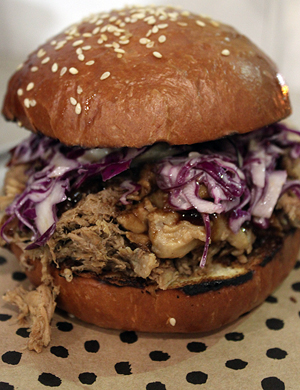 A good burger should not be messed around with. Although the challenge for many has always been about building it right so when it's picked up it doesn't fall apart. So is it cheese, salad, sauce and then meat or cheese, sauce, meat and then salad? But the most crucial part to maintaining the structure of burger is using a quality bun.
Chur Burger manages to tick both boxes. The American-influenced joint uses a brioche bun that is soft on the inside yet nice golden and slightly crispy on the outside.
The best way to test the skills of the kitchen is to always go for a classic beef burger. The grilled patty – cooked nicely to medium – comes with cheese, tomato, mustard mayo, pickle and lettuce; all of which holds in place when picked up.
The Americano theme continues with the pulled pork burger accompanied with Chur BBQ sauce, which isn't too sweet, red slaw and fennel mayo.
But if neither beef nor pork sits well on the palate, the menu also gives the option of other proteins – crumbed fish, grilled lamb, marinated chicken and for the vegos, spiced chickpea fritter.
The burgers are on the smaller size; big eaters might consider ordering additional sides or nibbles to help tie the stomach over, like the sweet potato fries tossed in with a squeeze of lime and garlic, which could have done a little longer in the deep fryer.
But for $10 a pop, especially in Sydney, there's not much really to complain about.
48 Albion Street
Surry Hills NSW 2010
02 9212 3602
More stories from Aimee Chanthadavong can be found here (http://aimeechanthadavong.wordpress.com/blog)