Home of the Daintree
Queensland is a haven for those looking to get back in touch with Mother Nature, so what better way to start than by exploring some of the most lusciously green rainforests in Australia. Australia's tropical rainforests stretch an incredible 900,000 square hectares, internationally recognized as one of the world's most fascinating areas. Originally covering the entire continent of Australia, rainforests in north east Queensland run across 500 kilometers of coastline and are upon some of the oldest continually surviving rainforests in the world. Home to the World Heritage listed Daintree, Queensland's untouched rainforests are something every visitor should explore.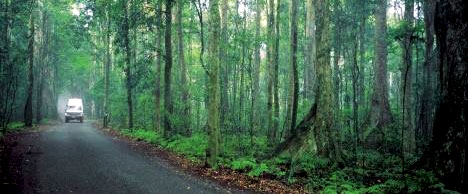 Where are some of the best rainforests in Queensland?
The hinterland of the Queensland Gold Coast is home to a stunning eco display of trees, plants and wildlife, with a variety of magnificent rainforests and national parks. To veer away from the glitz and glamour of the Gold Coast for the day, head toward Tambourine Mountain, Mount Warning or Lamington National Park to get up and close with nature, complete with picture perfect view from the top. One of the oldest in Australia, the Kuranda rainforest is another of Queensland's popular rainforest destinations, receiving thousands of tourists each week who arrive on the Kuranda Scenic Railway from Cairns.
For more information on rainforests in Australia, click here