October 12, 2012
Swish Recipes from Spain
During the 1990's Spanish style tapas bars began to emerge in the Australian restaurant scene, particularly in the Melbourne dining hub. The original few left a lot to be desired, however, visionaries such as Frank Camorra were later able to succeed by sticking with their vision in offering Australians a truly authentic Spanish experience.
From modern swish restaurants of Madrid to poverty times during Franco's regime, the combination of bread, salt, chocolate and olive oil in this classic Spanish Pan Con Chocolate recipe is unbeatable for simplicity and flavour.
Get into the spirit of Columbus Day, Spain's National Day on the 12th October, by trying your hand at Spanish recipes.

When Frank was starting up in 2002, he just did what felt right, rather than striving to meet other peoples' expectations - and it worked. To this day Frank Camorra consistently serves up some of the best Spanish food in Australia through his Movida Restaurants, movida meaning colloquial social gathering.
"Life's too important to take seriously."
-Frank Camorra,Movida Cocina
Spanish culture is generous and extroverted, and their casual way of dining emphasizes the strong connection between eating and social relationships. Dining in the style of Spain is traditionally very relaxed, and fun-filled restaurant environments often opt for flamenco music to set the tone amongst light-hearted laughter – savvy Spanish-style servers have a contagious sense of humour leaving customers in stitches.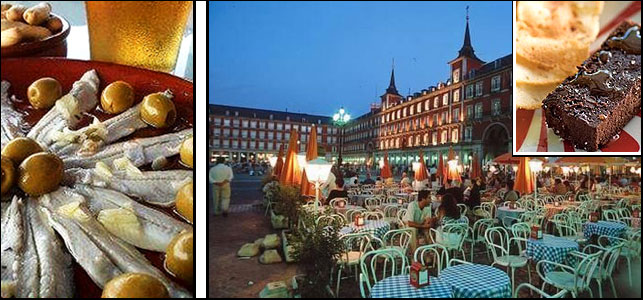 In Spain the tapas and raciones menu design is the norm, a series of small dishes that constitute a meal. Half the fun of this simple and delicious serving approach is selecting the dishes from many combination options. Spanish food is much more than paella and sangria; using whole carcasses, making sausages (such as chorizo or morcilla), and wasting nothing are a few characteristics of oftentimes humble food from Spain.
Traditional home-cooked Spanish food is represented today throughout Australia by the best professional chefs presenting food options as a fresh, flavourful and seasonal symphony. Spanish cuisine translates well in modern Australian dining culture because Spain, too, constitutes hundreds of kilometres of coastline and essential seafood recipes have a long lineage there.
Our AGFG Recipes section offers more Spanish recipes for you try by contributors such as Frank Camorra, Miguel Maestre and Rick Stein.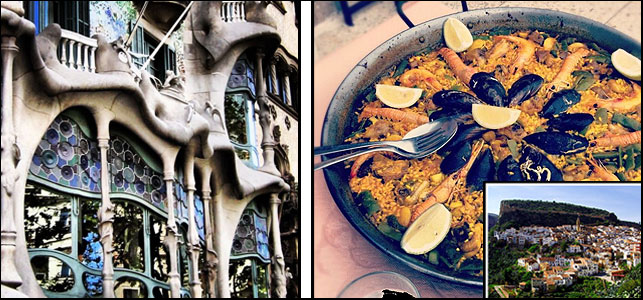 In English we refer to Cristobal Colon as Christopher Columbus and his official voyage landed in the Americas on 12 October. As he was an explorer under the auspices of Spanish Catholic monarchs, today this anniversary date marks Spain's official National Day and is commonly celebrated worldwide as Columbus Day or Dia de la Raza.
Seductive Spanish Trade Secrets
The Spanish are attributed to the early introduction of chocolate into European culinary culture, resulting from Herman Cortes forecast of its rich potential following Cristobal Colon's official discovery of the Americas and their trade route treasures. By 1580 Spain had its own chocolate processing plant (the first of its kind in Europe) that eventually evolved to produce dark, milk, and white chocolate amongst general cooking varieties and classic cocoa.
Just as the Spanish showed Europe the chocolatey way in the 16th century, this century traditional Spanish cooks are making themselves known in the modern Australian dining sphere. There's no better time than the National Day of Spain to take a closer look at Spanish food and culture down under.
Chocolate Fantasies and Seduction
Chocoholics know that chocolate consumption is a sensory expedition in and of itself, akin to making love all night long, the lingering after effects offering an addictive endorphin high. The subtle aroma instantly alerts your senses for the gastronomic orgy that the smooth textured cacao preparation promises.
Discover sexy Spanish Restaurants wherever you are in Australia, with chocolate, tapas, paella, churros and so much more on their heavenly menus.