Tours by torchlight
One of Australia's most culturally significant areas is that of Port Arthur, a small Tasmanian town with big history. Located south east of Hobart, Port Arthur was originally the destination for British and Irish convicts, with some of the strictest security measures of the British penal system. In more recent times, Port Arthur was also the setting for one of the worst mass murders in post colonial Australian history. A town brimming with history, Port Arthur is one of Tasmania's premier tourist destinations, a site to visit if you dare.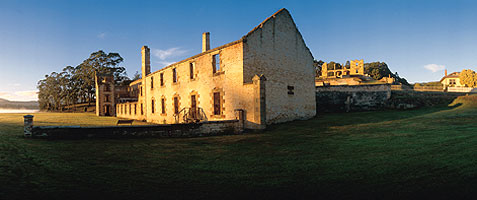 What is at Port Arthur?
The largest of the settlement buildings is that of the penitentiary, where convicts were forbidden to talk to or look at one another. Constructed in 1843, the penitentiary housed 480 convicts, complete with chapel, workshops, food hall and library.
Point Puer Boy's Prison, where three thousand boys were sent between 1834 and 1849. The first reformatory built exclusively for juvenile male convicts, this prison was renowned for its ruling of harsh discipline and stern punishments. The Isle of the Dead Cemetery is located in the harbour off Port Arthur, the burial site for around one thousand civilians and convicts.
However, no trip to Port Arthur is complete without a night time ghost tour. Join a lantern lit walking tour and discover Port Arthur's eerie ambiance while cloaked guides recount real people's stories of reported sightings and unexplained occurrences.
For more information on Tasmania's history, click here