To many of us, bacon is just another word for meat candy…bacon makes everything better!
Did you know Americans spend more than $4 billion annually on bacon? As we celebrate World Bacon Day on Saturday, September 2, we're dishing up six cafés to chow down on everybody's favourite breakfast temptation.
Bacon Day is held on the first Saturday in September each year, after it was conceived in 2004 by a group of Boulder, Colorado graduate students and typically includes consuming bacon for breakfast, lunch and dinner.
Don't go bacon your heart…head to these venues to get fried this weekend:
Neighbourhood favourite
23 Café Restaurant Bar
on Warrandyte Road in Ringwood North is the place to go for smart food in a relaxed setting. This café oozes charm with blond wood table settings, potted greenery, an eclectic mix of artwork and softly glowing pendents, ideal for lingering over brunch and a brew with friends.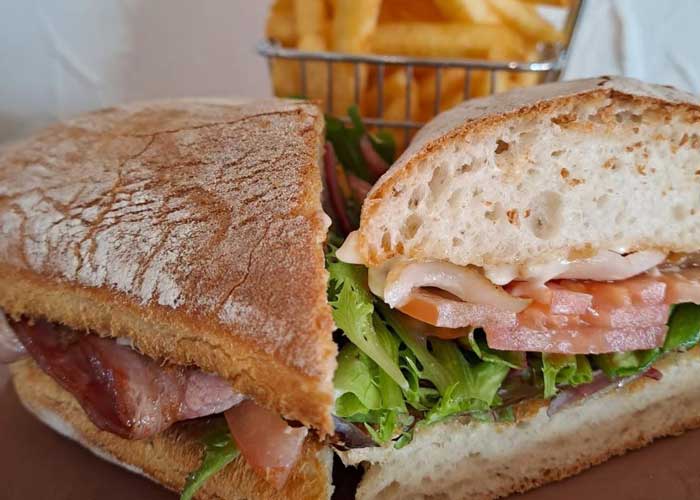 Stop in for lunch and wrap your hands around a classic BLT – bacon, lettuce and tomato on ciabatta with chips, or go the whole hog with a pulled pork burrito bowl, with rice, tomato, corn, beans, cabbage, carrot, sour cream and avocado.
Locals head to well-loved café
Garnish Fine Food
on Dalhousie Street in Haberfield to chill out in the courtyard with a coffee and catch up with friends. Order a Killer blend brew and relax in a bright, arty and airy space indoors as you wrap your hands around a bacon and egg roll to kick start your day.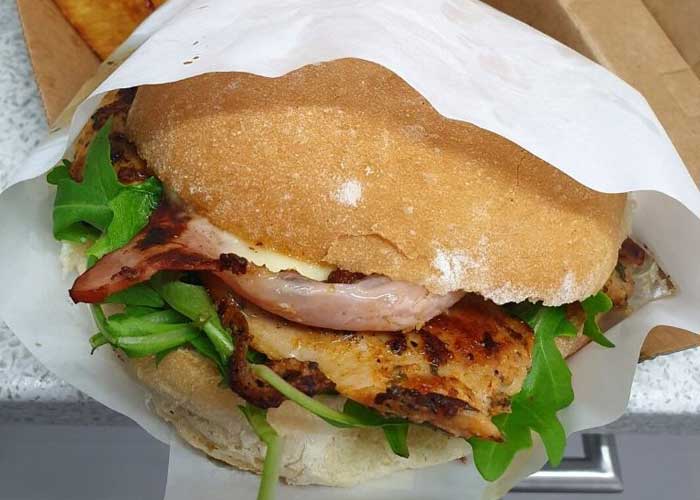 Perhaps sweet corn fritters hit the mark topped with bacon, poached eggs and micro herbs, or classic eggs Benny with smoked salmon, greens and housemade Hollandaise; stop in for lunch and devour a lemon marinated grilled chicken burger, with rocket, bacon, cheese and aioli.
Hearty meals, breathtaking views of rolling countryside and comfortable accommodation make
Neerim South Hotel
on Main Neerim Road a must-stop on a journey to Gippsland. Formerly the Kings Arms Hotel, this venue warms the soul with a central fireplace, rustic décor, updated bar and affordable dining.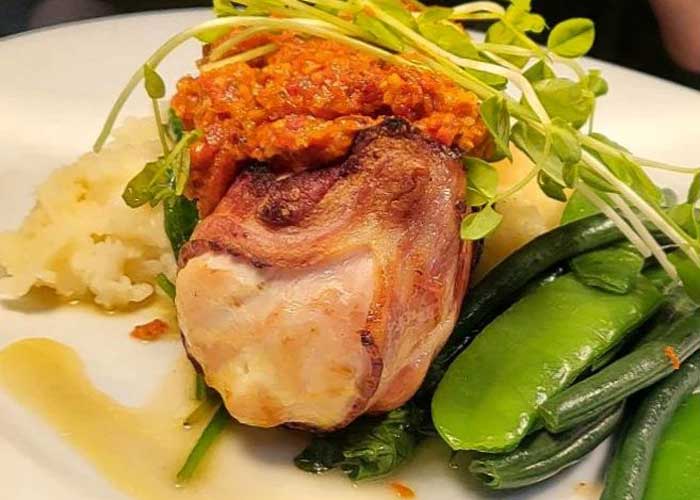 Sourcing fresh and local ingredients and a range of local wines, enjoy specials like succulent chicken breast stuffed with creamy brie cheese, wrapped in bacon with Romesco sauce, fresh steamed greens and creamy potato mash.
With a modern take on Melbourne brunch classics,
Bellboy
on Nicholson Street is the hippest café on the East Brunswick block. Named after owner Emilio's first job in the industry, you will find subtle nods to bellboys and hotels throughout the café, where a chic interior vibe of mature tones, stone, polished floors and solid timbers sets the scene for leisurely dining.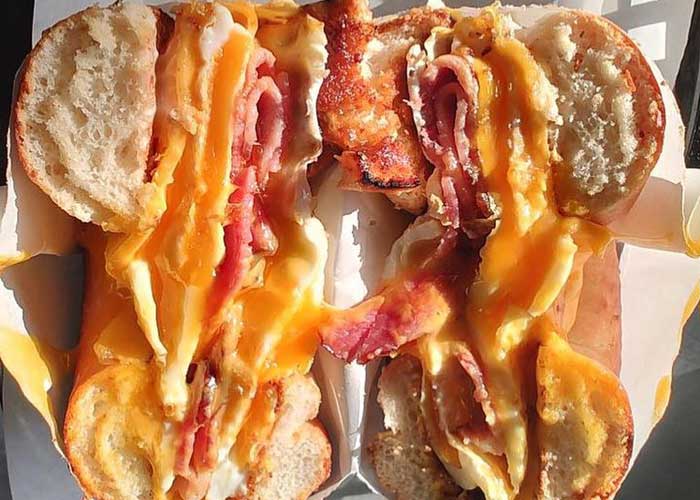 Drop in early with your fur baby for a bacon and fried egg bagel with caramelised onion relish, cheddar cheese and mayo or a chorizo sausage melt with cheddar, pickles, aioli and smoky tomato relish.
Tucked into the heart of Victorian country town Benalla,
Munro & Sargeant Café
on Bridge Street sits beside the banks of Lake Benalla, a peaceful place to dine for locals and visitors alike. Nestled in the Benalla Art Gallery, enjoy a view out to gently swaying trees fringing the lake's serene waters either from a sun-drenched table on a wide alfresco deck or from inside a spacious, contemporary interior adorned with large art pieces that emanate a lively energy.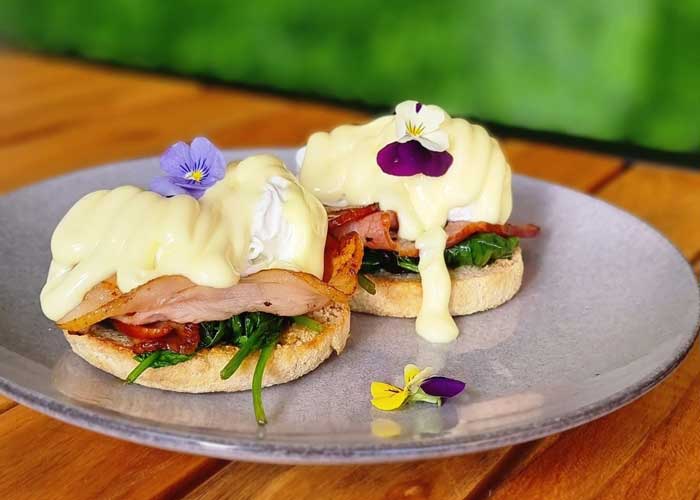 With a focus on sourcing local, sustainable produce, treat yourself to breaky plates like eggs Benedict, with sautéed spinach, bacon and Hollandaise on sourdough, while lunch-goers enjoy roast pork belly, Winter slaw, housemade pesto and mayonnaise.
Find leadlight windows, high wooden ceilings and a warm, inviting vibe at the
Old Dalyston Church
on Dalyston-Glen Forbes Road. This beautiful Bass Coast church has been transformed into a licensed restaurant, ideal for lingering over lunch or dinner indoors among softly glowing chandeliers, arched doorways and artwork-clad walls; while a large lawn is great for the kids and also pet-friendly.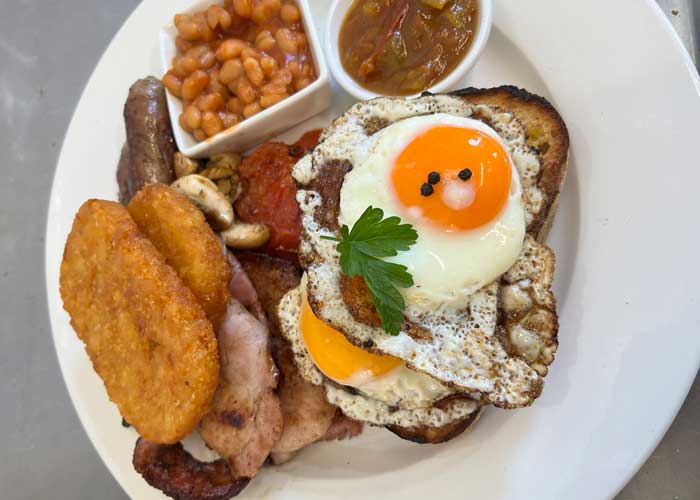 Start a memorable meal with Brett's breaky pot with baked beans, hash brown, sausage, bacon, mushrooms, fried eggs, toast and chutney, or a bacon and fried egg roll with cheese, relish and mayo in a milk bun.