Paneer? You ask.
Yes, paneer, aka cottage cheese. Paneer comes in many forms, as the source of protein in a curry, by themselves as a side or in a medley of vegetables and grilled on a skewer, however, we think that this Punjabi specialty is best enjoyed as the main event.
Punjab is a little different from its neighbouring Indian states; its heart lies within its traditional delicacies and showcases an array of rich, robust and full flavoured dishes that are synonymous with its lush green fields, earthy tones and colourful lifestyle.
Dishes in Punjab generously contain spices like garam masala, coriander powder, cumin and carom seeds and the people are also passionate about cooking with ghee and butter. Achari Paneer Tikka is our choice of dish to showcase paneer, although flavoursome by itself, we have paired it with five deliciously tangy (and spicy!) chutneys.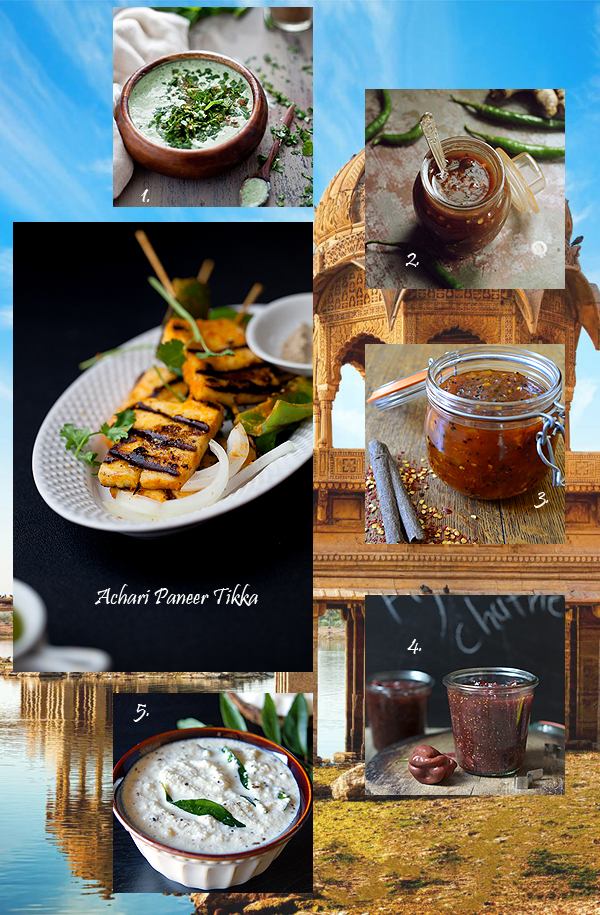 Achari Paneer Tikka: Achari is a condiment which often accompanies Indian food, in this recipe we've mixed the spices together to make an achari masala which will marinate the paneer before it is grilled on a skewer. Enjoy Achari Paneer Tikka at anytime – especially when entertaining guests and give them the option to dip the paneer in one (or five) of these adventurous chutneys.
1. Mint and Cilantro Chutney – want to cool down this Tikka? Then a mint and cilantro chutney is the perfect accompaniment, the blend of mint, cilantro and yoghurt will coat your taste buds and prevent your palate from being overwhelmed.
2. Allam Chutney (Ginger Chutney) – this is for the tangy spice lovers: think coriander, green chillies, ginger and tamarind paste all in a delicious, velvety chutney.
3. Spicy Mango Chutney – a sweet and spicy blend with a hint of cinnamon, this spicy mango chutney is a delicious pairing with cottage cheese.
4. Fig Chutney – it's said that Buddha achieved enlightenment under a sacred fig tree and in India, the Indian Fig tree (Ficus Benghalensis) is India's national tree, so it's only fitting the fig is paid homage at meal time. For a nutty but sweet accompaniment with paneer that isn't over powering, fig chutney is your go to chutney.
5. Coconut Chutney – really no explanation needed, coconut cools and delights the taste buds and is a perfect accompaniment to nearly all Indian dishes, give it a go, we think it'll be your favourite chutney yet.